SIGHTS & SOUNDS: Orioles, White Sox play in empty Camden Yards
The Orioles and White Sox played in an empty Camden Yards on Wednesday afternoon. Here are some sights and sounds from the game.
Due to protests and riots in Baltimore, the Orioles and White Sox played a game at Camden Yards in front of zero fans Wednesday afternoon. Literally zero. Fans were not allowed into the park for safety reasons. The O's won the game 8-2 (box score).
Watching the game live on television was both surreal and somewhat haunting. The novelty of watching a baseball game in an empty stadium quickly wore off because I remembered why the stadium was empty. The streets of Baltimore are not safe these days.
Wednesday's game was the first game with an official attendance of zero in baseball history. Here are some sights and sounds from the crowd-less game at Camden Yards.
"Ladies and gentlemen, please rise" for the national anthem. There are only people in press box, dugouts, field. pic.twitter.com/hlw4hMrm5M

— Meredith Shiner (@meredithshiner) April 29, 2015
Here's the view of the ballpark at the start of the game: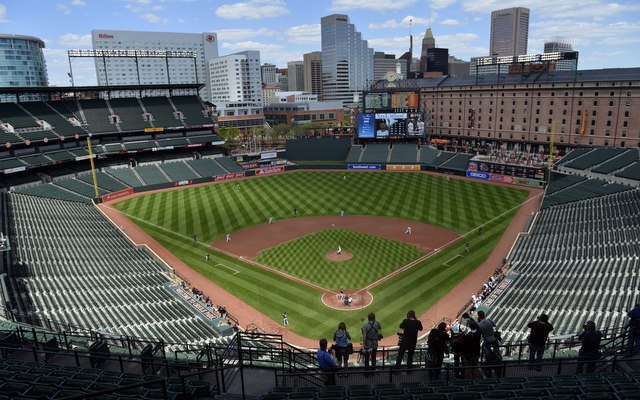 There were three people in the stands for the game: scouts on assignment.
For the record, there are three scouts in the stands. But official attendance: zero. pic.twitter.com/Uj2kJZ6IrN

— Brian Costa (@BrianCostaWSJ) April 29, 2015
O's first baseman Chris Davis launched a three-run home run in the first inning. Here is the call from MASN announcer Gary Thorne and relative silence as Davis rounded the bases:
Now here is the call from White Sox announcer Hawk Harrelson. Notice you can hear Thorne in the background because he isn't drowned out by crowd noise:
This is incredible. You can hear Gary Thorne on the White Sox's broadcast. Shades of #MiLBLife https://t.co/i5k7cBKBDd

— Steve Uhlmann (@SteveUhlmann) April 29, 2015
The ball landed on Eutaw Street and sat there near a restroom entrace. No one was around to pick it up:
Yup, @masnRoch, @CrushD19's 3-run homer landed on Eutaw St. And there it remains. #IBackTheBirds pic.twitter.com/MaSEbxx9xa

— Orioles on MASN (@masnOrioles) April 29, 2015
Someone is going to get a belated souvenir!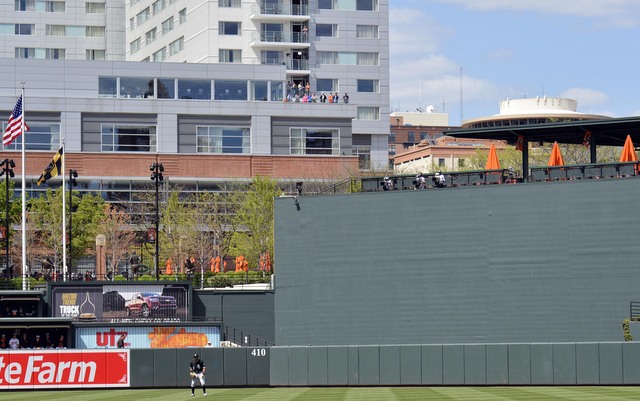 Others opted to stand by the gates, hoping to catch a peek of the action:
Those few fans could be heard in the background throughout the game, but for the most part it was silent. Watching a major league game with no crowd noise is weird.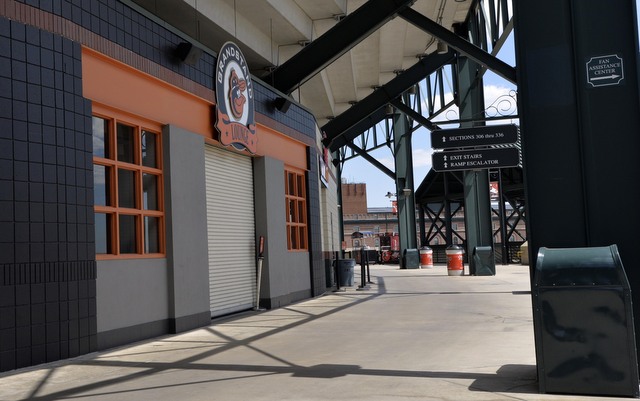 There was one stadium worker walking around the stands fetching foul balls:
There is a lone stadium employee (upper right) walking around picking up foul balls that landed in the stands. pic.twitter.com/ekNallN2CY

— Brian Costa (@BrianCostaWSJ) April 29, 2015
That's a thankless job, but at least the Orioles saved a couple bucks on baseballs, I guess.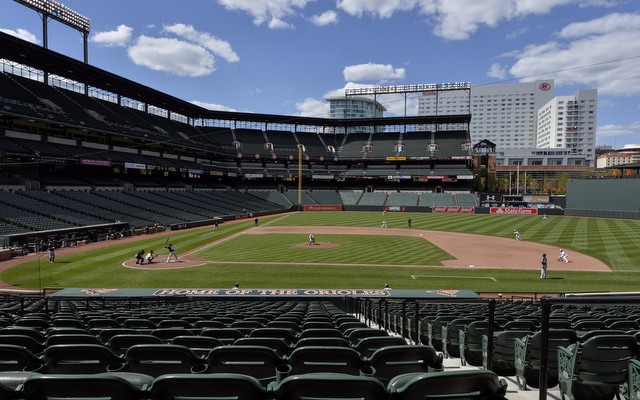 After recording the final out of an inning, O's first baseman Chris Davis chucked a ball into the stands as usual, except no one was around to catch it:
Chris Davis chucks ball into empty stands pic.twitter.com/b8FwyjYSOz

— Cespedes Family BBQ (@CespedesBBQ) April 29, 2015
Now the poor stadium worker has to go fetch that ball. Nice one, Davis.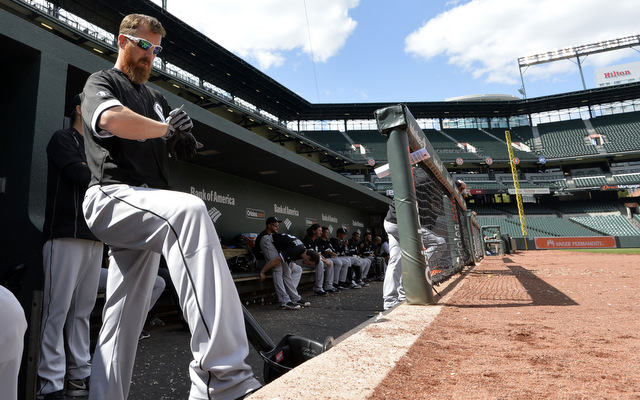 One fan managed to sneak into the park:
This Marlins guy is freaking everywhere pic.twitter.com/ZkUqMsov9e

— Cespedes Family BBQ (@CespedesBBQ) April 29, 2015
Okay, not really. But that was funny.
Once the score got out of hand in the late innings, Thorne had a little fun and worked on his golf announcer voice:
Just two hours and three minutes after the first pitch, the final out was recorded. So if MLB really wants to improve the pace of play, all they need to do is get rid of the fans.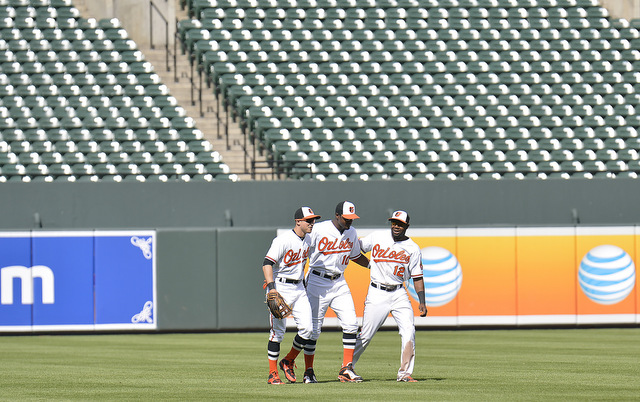 CBS Sports HQ Daily Newsletter
Get the best highlights and stories - yeah, just the good stuff handpicked by our team to start your day.
Please check the opt-in box to acknowledge that you would like to subscribe.
Thanks for signing up!
Keep an eye on your inbox for the latest sports news.
Sorry!
There was an error processing your subscription.
Here is everything you need to know about the day in baseball

Frank Viola will go down as the first victim of the automated strike zone

Also, watch SportsLine on CBS Sports HQ live at 6 p.m. ET for all today's best bets
Calf tightness forced Trout to leave Sunday's game

Here are all the latest rumors leading up to MLB's trade deadline

Checking in with the reigning champs as they kick off the second half