Stadium Series: Atlanta's Turner Field
Next up in our Stadium Series is Turner Field in Atlanta, home of the Braves.
by

Eye on Baseball staff

• 3 min read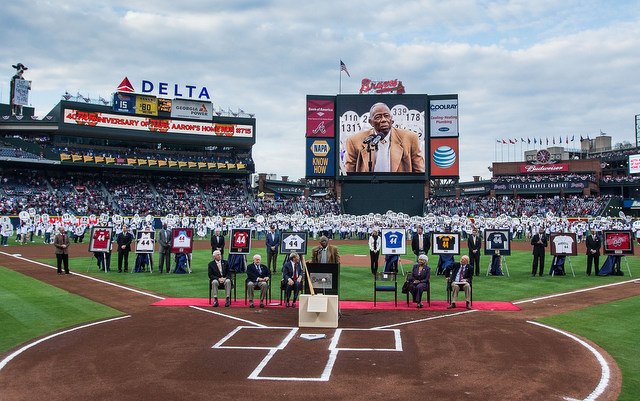 Stadium Series: Wrigley Field | AT&T Park | Busch Stadium | Yankee Stadium | Angel Stadium | Fenway Park | Globe Life Park

As part of a 10-week series, Eye on Baseball and Choice Hotels will be taking you around the major leagues, picking out the hits and highlights of some of the game's top stadiums. What to eat, what to drink and what to see both inside and outside the park will all be covered as part of the series. There's a lot to cover and uncover, so visit the comments section to let us know what we missed.
The Atlanta Braves have called Turner Field home since the 1997 season. It was originally built for the 1996 Summer Olympics, when it sat 85,000 people and was called Centennial Olympic Stadium. A big chunk of the facility was removed following the Olympics to create the 49,000 seat Turner Field.
The ballpark has been home to 10 NL East winners -- including nine in its first nine years of existence -- and one NL pennant winner (1999). It was also home to the 2000 All-Star Game. The Braves will be moving out of Turner Field and into a new ballpark further north in Cobb County following the 2016 season. The Turner Field site will be redeveloped after the team leaves.
Eats outside the park
For convenience, you can't beat the Bullpen Rib House. It is literally next door to Turner Field, serving BBQ at both lunch and dinner. The Pickle offers Tex-Mex, City Limit Cafe has burgers, Ibiza Bites is where you can get soul food, and Champion Cheesesteaks is the place to get, well, cheesesteaks. All are within a few blocks of Turner Field. For quick in-and-out meals, hit up Phipps Cafe, Gazebo Sandwich Shop, Yum's Sub Shop and Signature Cafe. They're also within walking distance. For dessert and ice cream, there is Le Granja.
Drinks outside the park
Turner Field is only about one mile outside downtown Atlanta, so there is no shortage of places to get a drink near the stadium. Museum Bar is a trendy lounge only a half-mile from the ballpark, though you do have to cross I-85 to get there. Grace's Tavern, T.J.'s Lounge and Good Fellow Bar & Grill are also walking distance to the park and great for pre- and post-game meet-ups. Willing to drive a short distance? The Glenn Hotel is roughly 10 minutes away and you can hang out at the rooftop SkyLounge.
What to see outside the park
Because Turner Field is so close to downtown, you have access to everything from Zoo Atlanta to the High Museum of Art without having to travel far from the ballpark. The area around the stadium itself doesn't offer much non-baseball entertainment, but like every major city, Atlanta has all sorts of culture and attractions to keep you entertained.
Food inside the park
In addition to the standard ballpark fare, Turner Field is also home to the Braves Chop House, a multi-level sit-down restaurant and bar in right field. You can get everything from burgers and pizza to pulled pork nachos and specialty items.
Turner Field also includes two Holeman & Finch's burger stands as well as a Kevin Rathbun Steak Sandwich stand. It's pricey ($15), but a sliced steak sandwich? Sign me up. The ballpark also has a Waffle House -- just opened at midseason last year -- and a Frozen Pints stand, featuring craft beer-based ice cream.
What to see inside the park
Along left field is where you'll find Scouts Alley, which is essentially a baseball themed arcade for younger fans. There are batting cages, a pitching cage, facing painting and the like. You'll have to buy tokens for the games (at kiosks) in addition to your game ticket.
Monument Grove features statues of Braves greats like Hank Aaron and Phil Niekro, the team's retired numbers, a Walk of Fame, as well as items from the 2000 All-Star Game. It is located near the ticket windows and the Ivan Allen Jr. Braves Museum & Hall of Fame. You can check out all sorts of memoribilia and exhibits and artifacts there.
And the team that first drafted Cole is interested

This scout was SUPER into Jeter

Stanton warned Marlins fans about the lean years that are forthcoming
The World Series champions aren't complacent

Stanton swiped at his old team on his way out

Your one-stop shop for all things MLB Winter Meetings-related