Stadium Series: Boston's Fenway Park
For the latest entrant in our stadium series, we've got one of the most famous venues in all of sports: Boston's Fenway Park.
by

Eye on Baseball staff

• 3 min read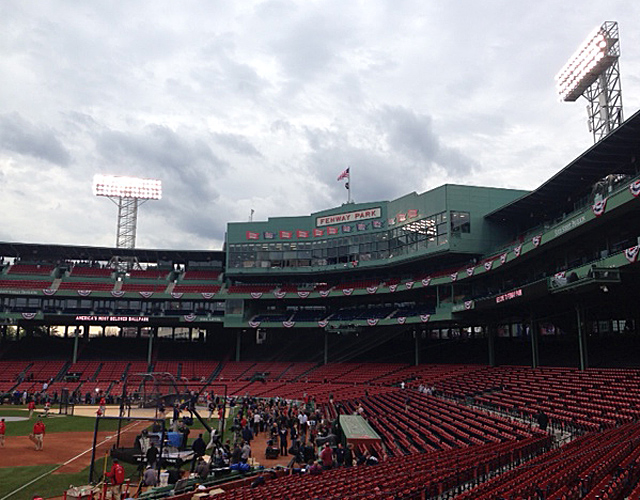 Stadium Series: Wrigley Field | AT&T Park | Busch Stadium | Yankee Stadium | Angel Stadium
As part of a 10-week series, Eye on Baseball and Choice Hotels will be taking you around the major leagues, picking out the hits and highlights of some of the game's top stadiums. What to eat, what to drink and what to see both inside and outside the park will all be covered as part of the series. There's a lot to cover and uncover, so visit the comments section to let us know what we missed.
Few venues in all of sports have the iconic stature of Boston's venerable Fenway Park. It could be argued none have the unique features so recognizable even to those who aren't die-hard fans of the sport.
The park opened on April 20, 1912 and has been home to many of the best players in baseball history. Let's take a quick gander.
Eats outside the park
Within just a few blocks of Fenway Park are a number of great places to eat. It just depends on what you're looking for. Seafood? Try Island Creek Oyster Bar. Mexican? How about La Verdad or El Pelon -- home of the "El Guapo" burrito! Italian? Canestaro is a few blocks away but well worth the walk, if this is your mood. Burgers? Tasty Burger is great. Cask 'n Flagon is a great sports bar just a block away from Fenway. Jerry Remy's Sports Bar and Grill is a popular option. There is so much more, too. Just walk around the neighborhood and take it all in.
Drinks outside the park
Bleacher Bar in left-center field is a must, even if just stopping in for one drink. It's actually located in an old batting cage under the center-field wall and there's a "garage door" type opening to see onto the field (more information here), but the only entrance is from outside the stadium, so don't worry about not having a ticket to the game. Also, on Yawkey Way on the third base/left-field side, the street is closed down to automobile traffic on game days and lined with food and beer stands.
Obviously, many of the places mentioned in the "eats" section are good places to grab a drink, too.
What to see outside the park
Walking from home plate to the right-field entrance, fans can see banners of Red Sox Hall of Famers in additon to all the retired numbers up on the bricks. There are also statues of Ted Williams putting a hat on a kid, Carl Yastrzemski tipping his cap and a "Teammates" statue of Williams, Dom DiMaggio, Johnny Pesky and Bobby Doerr. Here's the Ted Williams statue: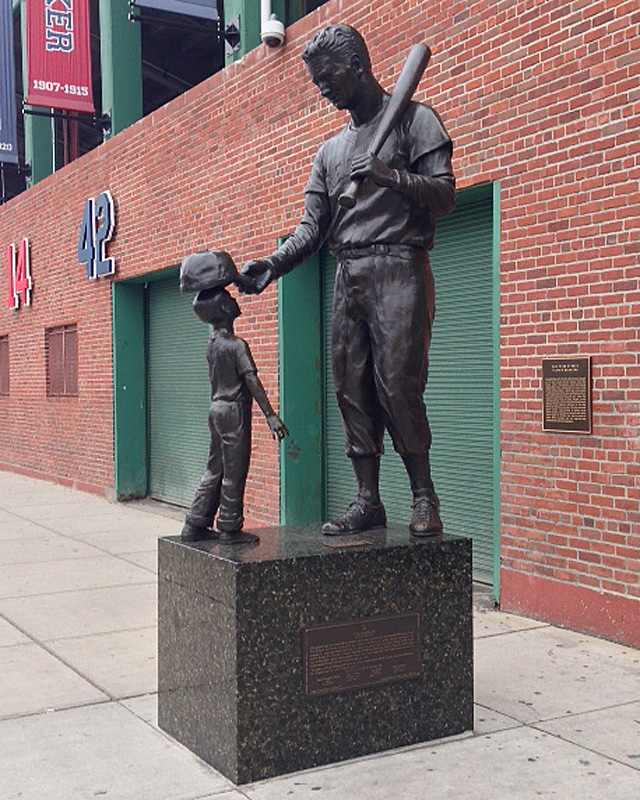 Swinging around to the left-field side, it's always pretty cool to see the Green Monster from the outside.
And, of course, as mentioned above, there's Yawkey Way. It's worth a look even if not planning to eat or drink anything.
Food inside the park
It's an old-school ballpark, so much of the stadium is your standard "ballpark" fare, such as burgers, brats, hot dogs, peanuts, popcorn, nachos, etc. Given that it's Boston, though, lobster rolls and clam chowder can also be found.
The best variety and selection will be found in right-center field, where one could find things like barbecue sandwiches, paninis, double burgers, steak tips, burritos and more.
What to see inside the park
If you're a fan of baseball history, get to the park as soon as possible and be prepared to walk, because there is so much to see throughout the ballpark. The obvious starting point is the green monster (the left-field wall). Get a good view of it facing it from the stands behind first base, but also go walk on top of it. There's also Pesky's pole (the right-field foul pole), which fans freely sign. Go sign it. While in the area, get a look of the bullpens over the short right-field wall and remember the "bullpen cop" celebrating David Ortiz's grand slam against the Tigers last ALCS. Check out the triangle in center from directly above it. There are so many quirks to see when walking around, it's a must.
Thoughout the concourses there are nods to past Red Sox eras. On a brick wall in one area, it goes through the years by team logos. There are also display cases for different eras in club history.
Finally, if you get there early enough, go sit in the Ted Williams seat (click here for more information on that).
Up next: Detroit's Comerica Park
Marcell Ozuna figures to be the next Marlins star on the move

Several relievers have signed in the last two days

Several teams are interested in the switch-hitting first baseman
Neshek and the Phillies are closing on a two-year contract

And the team that first drafted Cole is interested

This scout was SUPER into Jeter