Stadium Series: Los Angeles's Dodger Stadium
Let's wrap up our tour of notable ballparks with a look at the storied home of the Los Angeles Dodgers.
by

Eye on Baseball staff

• 4 min read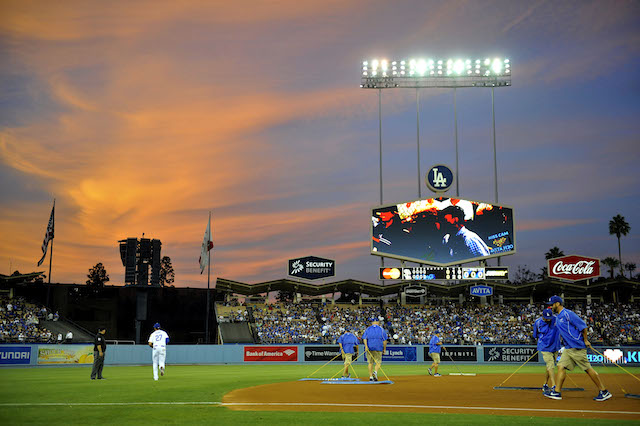 Stadium Series: Wrigley Field | AT&T Park | Busch Stadium | Yankee Stadium | Angel Stadium | Fenway Park | Globe Life Park | Turner Field

As part of a 10-week series, Eye on Baseball and Choice Hotels will be taking you around the major leagues, picking out the hits and highlights of some of the game's top stadiums. What to eat, what to drink and what to see both inside and outside the park will all be covered as part of the series. There's a lot to cover and uncover, so visit the comments section to let us know what we missed.
The Los Angeles Dodgers have been a fixture in Chavez Ravine's Dodger Stadium since 1962, four seasons after they relocated to L.A. from Brooklyn. Believe it or not, just Fenway and Wrigley are older among current big-league parks.
Dodger has played host to countless Sandy Koufax gems, Fernandomania, Kirk Gibson's legendary home run in Game 1 of the 1988 World Series, eight World Series overall and, more recently, the brilliance of Clayton Kershaw and the theatrics of Yasiel Puig. That's just a sampling, of course. 
Now let's take a walking tour of this true baseball gem.
Eats outside the park
It's L.A., the second largest city in the country, so dining options are aplenty. If you're in the mood for classic Italian subs before a day game, then the Eastside Market Italian Deli is open until 4 pm local time and located less than a mile-and-a-half from the ballpark (again, it's L.A., so we assume you won't be walking). 
Phillipe's, which has been a round since 1908 and features some must-see kitsch inside, also offers an array of classic sandwiches and desserts. It's less than two miles from the game. Cash only!
Southern California isn't typically known for barbecue, but The Park's Finest is one of the best and most unique BBQ stops you'll find anywhere. It's just over a mile from Dodger. 
For the vegetarian basebal fan (you're in L.A., remember?), Sage Organic Vegan Bistro is just over a mile away, and the menu is brimming with choices that are both tasty and healthful. Pizza? Two Boots on Sunset Boulevard is a top choice. 
Of course, it's worth mentioning that the surrounding neighborhood of Echo Park always has plenty of street taco vendors ready to provide you with a meal on the go. 
Drinks outside the park
Mohawk Bend is the choice for the craft beer enthusiast, as they have an extensive menu and are located roughly a mile and a half from Dodger. The beer connoisseur will also want to check out the Sunset Beer Company, which offers an overwhelming number of choices. 
If you're more of a dive bar type, then the Gold Room on Sunset is convenient to the park and offers a large selection of beers and tequilas on the cheap. Finally, if you're really looking to get into the spirit of things, then consider dropping by the Short Stop, which is a Dodgers bar down to the core and just a 10-minute walk to the ballpark. 
What to see outside the park
You're definitely going to want to take a stroll around the perimeter of Dodger Stadium. Doing so will allow you take in the charming 1960s architecture of the park, and you'll see the best landscaping and unique "entry points" of any big-league park. 
You'll get a great view of downtown L.A. as you circle the perimeter of the park, and you'll also take in the classic Dodger Stadium signage. As well, you'll want to take time to admire the giant bobblehead statues just outside the gates. 
Chances are the weather will be just about perfect. 
Food inside the park
You're not short on in-park dining options. Obviously, you'll need to have a Dodger Dog (and there's of course a veggie dog option, as well, and there's the L.A. Extreme Bacon Dog for the more adventurous sort).
Beyond that, Tommy Lasorda's Pizza is a popular stop. Also not hard to find is traditional fare like the nacho-filled batting helmet, burgers, giant pretzels, garlic fries, chocolate malts, peanuts, soft-serve ice cream and popcorn. Try the roasted corn available in the left field plaza (there's also BBQ to be found there), and sushi and salads are also options. You can top it all off with some gelato or a slice of tiramisu. 
You'll be well fed, in other words. 
What to see inside the park
The game, of course! Otherwise, there's always an arresting view of the San Gabriel Mountains to the north and the iconic "Think Blue" sign rising out of those same mountains. Even though Dodger is a classic venue, it's not short on modern comforts: wifi, giant HD video screen, widened concourses, premium seating. 
The other bonus is knowing you're in the same ballpark as the great Vin Scully. 
Harrison has a thing for ending no-hit bids

Hill was close to perfect across regulation but it turned out to be all for nothing in the...

Plus Hank Aaron weighs in on Colin Kaepernick, Trevor Rosenthal hits the DL, and more
Davis should help fortify the Red Sox outfield

Whether or not Mike Matheny will adjust is to be seen

Hammerin' Hank wants to see Kaepernick get another shot in the NFL