That didn't take long: Yankees re-issue Robinson Cano's No. 24
The No. 24 will not be taken out of circulation in New York, even temporarily. The Yankees have already re-issued Robinson Cano's old number. Who got it? The answer is inside.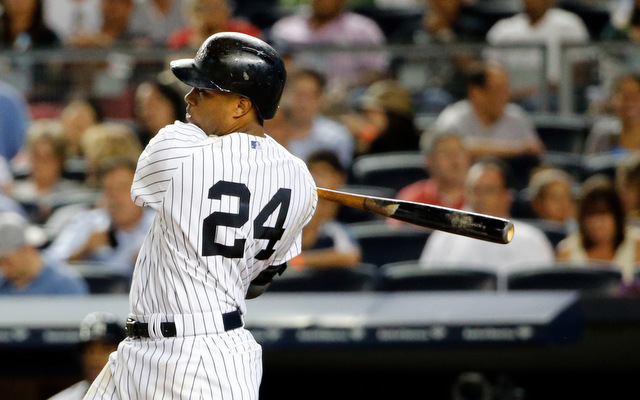 First the first time in nearly a decade, the Yankees opened spring training without Robinson Cano on Friday. Their pitchers and catchers reported to Tampa while Cano is still a few days away from having to show up to Mariners' camp after signing a 10-year, $240 million deal with Seattle this offseason.
So, with Cano gone after an extended run as the team's best player, his No. 24 would surely be taken out of circulation for a while, right? The Yankees retire numbers rather liberally and others like No. 21 (Paul O'Neill) and No. 35 (Mike Mussina) were put on the shelf for several years before being re-issued. Cano seems like a candidate for the same treatment. Right? Wrong.
Scott Sizemore was assigned No. 24, previously worn by Robinson Cano.

— Mark Feinsand (@FeinsandNYDN) February 14, 2014
So not only did they re-issue Cano's number, they gave it to a utility infielder coming off two serious injuries who might not even make the roster. That's cold.
Good news for all you Yankees' fans with an authentic No. 24 jersey though: your once-Tino Martinez and once-Robinson Cano jersey is now a Scott Sizemore jersey. That's bang for your buck right there.
Josh Harrison doesn't sound pleased Gerrit Cole and Andrew McCutchen have been traded away

The team's media contracts expire following the 2019 season

San Francisco could use more help in the outfield and at the back of the rotation
The White Sox, Athletics, Orioles and Marlins are the holdouts after the Blue Jays and Angels...

Molina's deal expires after the 2020 season

Sheffield has the numbers to make it to Cooperstown, but he has received very little suppo...