Perhaps unbelievably, it has now been more than 10 years with the whole "this time it counts" All-Star Game mantra.
And we have the 2002 All-Star Game in Milwaukee to blame for it.
After Joe Torre's AL team had burned through eight pitchers, he was set to have Freddy Garcia work two innings. Bob Brenly's NL team had used nine pitchers when he turned to Vicente Padilla for two innings of work himself.
In the middle of the 11th inning, both managers met down the first-base line with commissioner Bud Selig, explaining that they were out of pitching. Selig and the managers agreed that if the NL failed to score in the bottom of the 11th inning, the game would be ruled a tie.
And Selig gave the now-infamous shrug of the shoulders: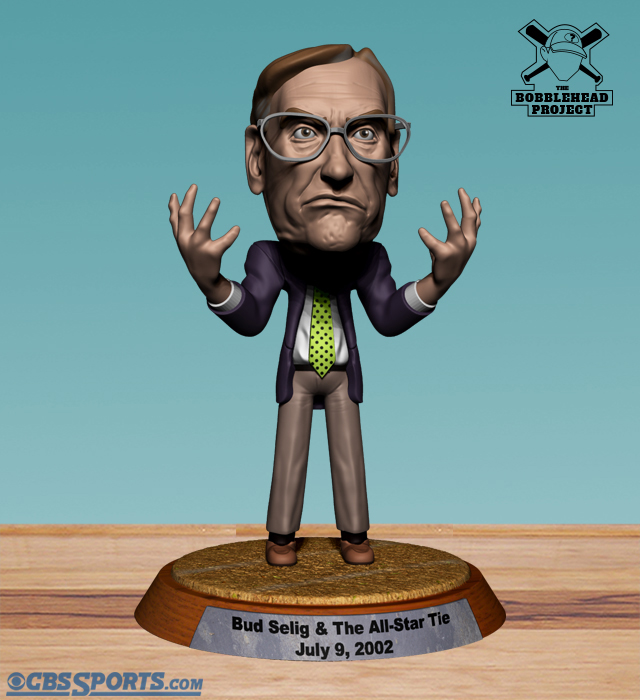 Needless to say, the fans weren't happy. Here's a quick video from the crowd as the game ended all locked up:
It's here that we should probably mention Torii Hunter's thievery of a potential Barry Bonds home run might have been the most impactful defensive play in baseball history. If not for the rob job, we might have never seen home-field advantage decided by the All-Star Game.
Regardless, this Bud Bobble would be one for the ages.
As always, big thanks to our artist, Jarod Valentin, for his continued amazing work on the Bobblehead Project.
Definitely feel free to hit me up (matt.snyder@cbs.com) with bobble ideas -- but be advised I've had hundreds of emails and already have a ridiculously long list.
Bobblehead Gallery (click on thumbnail) ...
Bobblehead Gallery (click on thumbnail) ...