The Cubs have fired their team psychologist
The Cubs' recently deposed team psychologist doesn't sound like your typical team psychologist.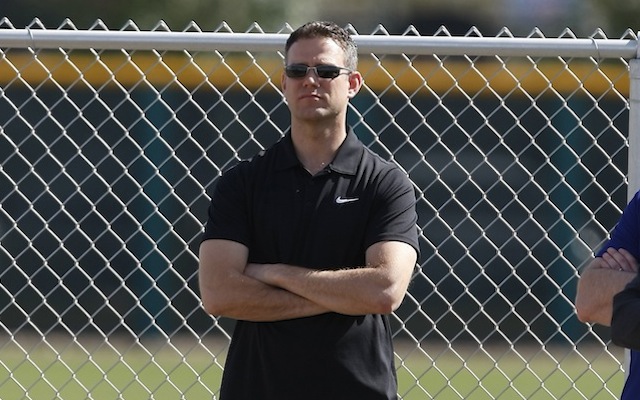 MORE: Spring Training | FA tracker: position players | FA tracker: pitchers
The Cubs will of course have a new manager for the upcoming season (Rick Renteria), and they'll also avail themselves of the services of a new psychologist. That's because the team shrink, Marc Strickland, has been fired. As Paul Sullivan of the Chicago Tribune writes, the Cubs' previous GM, Jim Hendry, had wanted to can Strickland, but ownership wanted him around. Current president of baseball ops Theo Epstein, however, apparently has enough pull to make Strickland go away. 
Why so much fuss over a team shrink? Sullivan writes:
Not only was Strickland available for consultation with players, the specialist in sports psychology had his own locker at home and on the road, dressed in team workout gear and played catch and shagged balls before games during batting practice.

Early in his first year in the majors, Strickland even stood in the dugout tunnel at Wrigley Field after victories, bumping fists with players as though he was part of the team.
That does indeed sound a bit odd and perhaps a bit too chummy. Similarly, when Sullivan asked Nate Schierholtz what Strickland's "purpose" was, the outfielder replied, "I'm not really sure."
In any event, Epstein says the team will be hiring another psychologist, but presumably the next one won't be taking Strickland's unusual approach. 
If the MLBPA wants to fix MLB's economic system, it should push for more money for young p...

Fans aren't happy Gerrit Cole and Andrew McCutchen have been traded away

Acuna is arguably the best prospect in baseball
Kent had a good career, particularly with the bat

This would undoubtedly be the worst trade in Miami Marlins history

The Pirates recently shipped Gerrit Cole and Andrew McCutchen to Houston and San Francisco,...