VINTAGE GIF: How the leisured first baseman mans his position
Let the Indianapolis Clowns teach us a thing or two about playing first base the easy way.
Courtesy of the barnstorming offshoot of the Indianapolis Clowns, this -- in action-news GIF format -- is how a gentleman plays first base without compromising his prevailing sense of leisure ...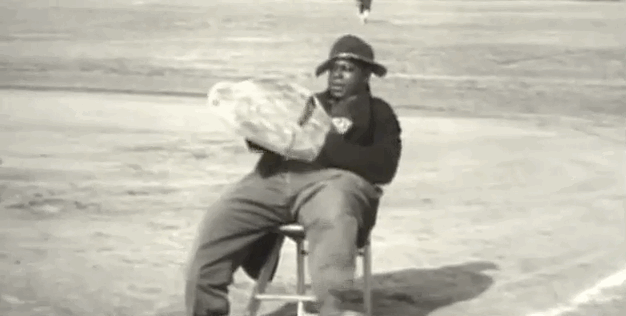 There should be no questions at this point. The oversized glove minimizes bending, crouching, ranging and leaping, and the comfy chair obviates the need to stand. As for downsides, there are none that I can think of. 
(Wink of CBS eye: @flipflopflying)
deGrom is set to become a free agent after the 2020 season

Perkins missed most of the last two seasons due to injury

Jonathan Singleton was suspended after a third positive test for a drug of abuse
Rodriguez will join Jessica Mendoza and Matt Vasgersian on the "Sunday Night Baseball" boo...

Jeff Wilpon talked about payroll on Tuesday, and it won't make any Mets fan happy

Yelich's agent recently asked the Marlins to trade him before the spring