Was Pedro Martinez's 2000 season best ever in modern era?
Pedro Martinez heads into the Hall of Fame Sunday, and he brings with him perhaps the best pitching season in baseball history.
Pedro Martinez was inducted into the Baseball Hall of Fame on Sunday in a no-brainer of a selection on his first attempt via the BBWAA vote. Last December and January, we discussed the merits of his career and even his insane seven-season stretch, but let's zero in on one single year right now: 2000.
There's an argument to be made that it was the single best season in baseball history for a starting pitcher. So let's make it!
Now, here it comes. I've gone and done it. The reactions from the old guard will range from temper tantrums to simple condescension. I'm either some young punk who doesn't understand the game, I'm ignorant or both. I use newfangled stats and blah blah blah.
How about simple context with the very simple long-standing run prevention stat, though?
Pedro Martinez had a 1.74 ERA in 2000 with the Boston Red Sox. Roger Clemens had a 3.70 ERA. Why do I bring up Rocket? Because he finished second in the AL in ERA. Clemens was the runner-up for the ERA crown by a wider gap than the 35th-best ERA was to Clemens. Only five pitchers in the entire AL had an ERA better than 4.00. Remember, this was the height of the PED era. And the spindly Martinez still had a 1.74 ERA.
Now throw out Bob Gibson's 1.12 ERA. Go ahead (in fact, I'm gonna guess people have already done so in the comments before even getting to this part of the article).
Gibson had one of the best seasons in baseball history and there's no argument here, but the 1.12 isn't better than 1.74 if we allow context into the discussion. First off, remember how there only five AL pitchers in 2000 with ERAs under 4.00? There were seven NL pitchers in 1968 at 2.20 or better.
In 1968, the average runs scored per game, per team was 3.4. In 2000, it was 5.3. And yet, Pedro is only a fraction behind Gibson while lapping his contemporaries in far more impressive fashion.
So, yes, 1.74 is better than 1.12 -- much like 60 is better than 73 or 755 is better than 762. It's the climate. You can't say Babe Ruth and/or Hank Aaron's numbers mean more than Barry Bonds without admitting that the lesser raw number can be more impressive due to the climate in which the numbers were accumulated. It's is a two-way street.
There's obviously more to Pedro's season than only ERA, but he checks out everywhere. He led the league in shutouts and strikeouts. He led with an insane 0.74 WHIP, which is the best mark in MLB history (Gibson's in 1968 was 0.85 -- and c'mon guys, it's just baserunners per inning not some tough WAR-like calculation). He had the lowest hits allowed per nine innings, highest strikeout rate and led the majors with 8.88 strikeouts for every walk (ninth best K/BB rate in MLB history).
We could do this with a number of Koufax years. Walter Johnson, too, along with upwards of two dozen immortal pitchers. Or Denny McLain if you absolutely insist we go nuts over a deeply-flawed statistic like assigning a team victory to an individual.
The exercise isn't meant to denigrate any of the all-time greats. Not in the least. It is instead to point out that Pedro Martinez's 2000 season is perhaps the most impressive season in baseball history, so long as we're correctly include the context of the climate in which he was pitching. I'm open to other arguments, but at least make good arguments. Most of the ones I generally see against Pedro's 2000 are terrible. Stuff like pitcher wins or the raw ERA figure or 'roids (shouldn't that part strengthen Pedro's argument?) or innings pitched.
The latter part is, of course, where we lose the reasonable dissenters. That's OK. The pitchers in this recent era aren't allowed to throw as many innings as back in the 1960s (how did Koufax's career end, by the way?). For many, that means Pedro's stats don't mean as much. My counter to that is that people have a tendancy to glorify things in the distant past and make them out to be better than they actually were. To those people who yell at me because I never saw Koufax pitch, I'd submit you never appreciated what you were watching in Prime Pedro, because he was the best ever.
And Sunday, he's rightfully joining the other all-time greats where they all belong: in Cooperstown.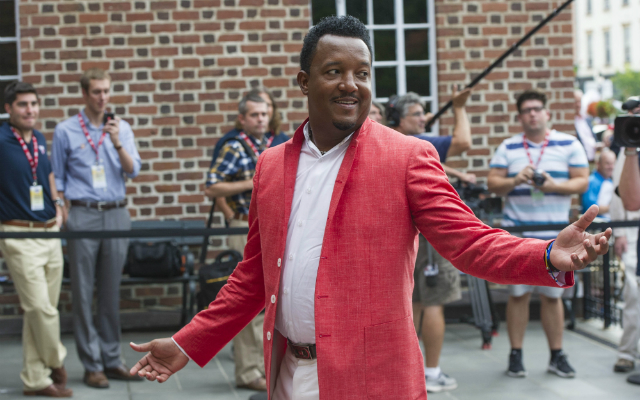 CBS Sports HQ Daily Newsletter
Get the best highlights and stories - yeah, just the good stuff handpicked by our team to start your day.
Please check the opt-in box to acknowledge that you would like to subscribe.
Thanks for signing up!
Keep an eye on your inbox for the latest sports news.
Sorry!
There was an error processing your subscription.
Here is everything you need to know about the day in baseball

Maldonado wrote the names of some friends and family members on the tie
Another home run hitter is heading to the Bronx

Here's what you need to know from the last seven days of MLB action

SportsLine's advanced computer model simulated Sunday's Cubs vs. Dodgers matchup 10,000 ti...