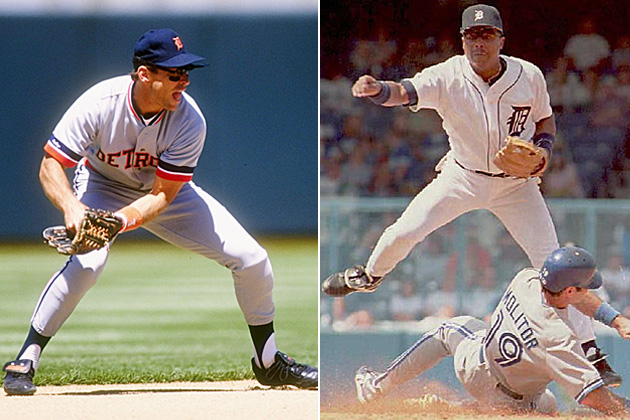 One of the greatest double-play combos in big-league history -- if not the greatest. (Getty Images)
RELATED: Ranking the 2013 Hall of Fame candidates: No. 7, Alan Trammell
Lou Whitaker and Alan Trammell were the Tigers' double-play combination -- that is, the second baseman and shortstop -- for more than a decade. They won a World Series ring together while racking up a combined 11 All-Star appearances, seven Gold Gloves and seven Silver Sluggers.
The two players might have flown under the national radar -- and still do -- but they provided the Tigers with invaluable longevity, continuity and, yes, greatness both defensively up the middle and on offense. Despite the modest accolades listed above, both Trammell and Whitaker were actually underappreciated in their time due to a few important factors.
Remember the 1980s? Think back to what was thought of as important for position players. Batting average, home runs and RBI. That was pretty much it, though massive stolen base totals were also praised. Nowadays, while many still cling to the archaic thought process, most realize that those categories are an important part of a bigger picture that also includes so much more -- like on-base percentage and defense.
Trammell and Whitaker were both high-on-base guys who played outstanding defense. And defense is more important than offense at second base and shortstop. The offense that Trammell and Whitaker provided Detroit -- which was a good amount -- was actually gravy.
Let's try to measure the greatest double-play combinations ever in terms of being great all-around players. And do you know what that means, sports fans?
Yep, we're gonna use WAR. Tigers fans who all season screamed about how stupid it was in AL MVP arguments now need to shift gears and embrace it to praise their beloved Whitaker and Trammell. Because WAR makes these guys look awfully great.
If I set the parameters to using only double-play combinations that were together for at least seven seasons and in which each player accumulated at least 20 wins above replacement player during the stretch (using baseball-reference.com's version; henceforth bWAR), I can pare a list that began with upwards of 40 double-play duos to 10.
Here they are, in table form:
Best all-around double play combos in MLB history
Sorted by combined bWAR
Combination (SS,2B)
Team
Years
SS bWAR
2B bWAR
total bWAR
Alan Trammell, Lou Whitaker
Tigers
1978-95
68.9
71.6
140.5
Pee Wee Reese*, Jackie Robinson*
Dodgers
1947-56
47.6
58.7
106.3
Jimmy Rollins, Chase Utley
Phillies
2003-12
35.9
53.5
89.4
Dave Concepcion, Joe Morgan*
Reds
1972-79
27.3
56.7
84
Billy Rogell, Charlie Gehringer*
Tigers
1930-39
22.7
59.3
82
Honus Wagner*, Claude Ritchey
Pirates
1900-06
54.4
23.3
77.7
Joe Tinker*, Johnny Evers*
Cubs
1902-12
42.8
34.5
77.3
Jack Berry, Eddie Collins*
A's
1908-15
20.9
53
73.9
Derek Jeter, Robinson Cano
Yankees
2005-12
26.5
34.8
61.3
Luis Aparicio*, Nellie Fox*
White Sox
1956-62
20.8
24
44.8
This obviously can't possibly be an all-inclusive list of the best double-play combinations in baseball history. It's just how I arrived at combining longevity, continuity and greatness. If you divided up bWAR per season, the Trammell-Whitaker combo wouldn't rank at the top, but doesn't organizational continuity count for something? The Tigers didn't need to worry about shortstop or second base for more than a decade while getting outstanding production from those spots both in the field and in the batter's box.
Some omissions due to the parameters:
Notable combinations that missed the list due to having at least one player fail to reach 20 bWAR: Gene Alley-Bill Mazeroski, Dick Groat-Bill Mazeroski, Bert Campaneris-Dick Green, Bill Russell-Davey Lopes, Bobby Richardson-Tony Kubek and Herman Long-Bobby Lowe (look that one up!).
Notable combinations that were together more than three years but fewer than seven: Mark Belanger-Bobby Grich, Ozzie Smith-Tom Herr, Joe Cronin-Buddy Myer, Lou Boudreau-Joe Gordon, Vern Stephens-Bobby Doerr, Robin Yount-Jim Gantner and Marty Marion-Red Schoendienst.
And, finally, major potential but played together at shortstop and second base for three seasons or less: Omar Vizquel-Roberto Alomar, Robin Yount-Paul Molitor and Phil Rizzuto-Joe Gordon.
One thing that really stands out on the above table with 10 duos is that Trammell-Whitaker is the only combination -- aside from the still-active players -- not represented in the Hall of Fame. Considering the success they had together compared to some of the other combinations, this alone makes me feel they are already historically underappreciated.
How one defines "the best double-play combination in baseball history" is subjective and thus open to interpretation. One thing is certain, however, and that is that in light of what they did together, the Trammell-Whitaker combination is pretty historically underrated and certainly has a case for being the best ever.
Now, feel free to use this as part of the argument to say Alan Trammell is deserving of Hall of Fame enshrinement.
For more baseball news, rumors and analysis, follow @EyeOnBaseball on Twitter, subscribe to the RSS feed and "like" us on Facebook.