What's the rush? Red Sox going for Farrell, who did barely better than Valentine
Here's a list of 16 candidates the Red Sox might want to look at it if they can't have Jays manager John Farrell.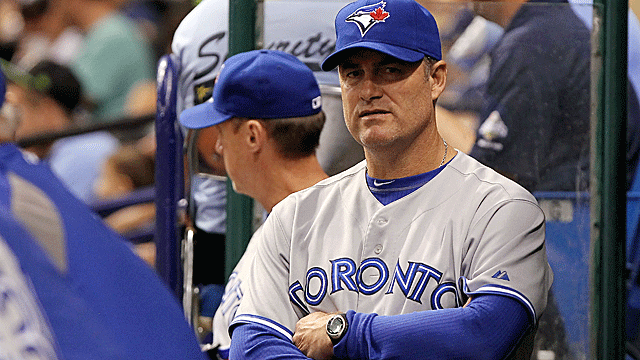 John Farrell is believed to be the Red Sox's top choice to replace Bobby V.
(Getty Images)
Word going around the game is that the Red Sox have targeted Blue Jays manager John Farrell to replace Bobby Valentine as manager. That won't surprise a soul.
"They love him,'' one rival GM said of the Red Sox and Farrell.
Whether they can have him is another question. Reached by text Thursday, Jays GM Alex Anthopoulos said simply, "Everyone knows our policies.''
More on Valentine firing
Related links
That doesn't sound like Farrell is going anywhere. But whether the Jays will stick to their no-lateral moves stance to keep Farrell or are just playing negotiation hardball with a year to go on Farrell's Jays contract remains to be seen.  Farrell has only one year to go on his deal in Toronto, and word around baseball is that he wouldn't mind to be in Boston.
Farrell denied a Sirius/XM report that there is a "disconnect'' between himself and Jays GM Alex Anthopoulos, but they are not viewed as especially close. But if there isn't at least some tension between a GM and manager in times of stark underachievement, that would be almost unnatural.
The Red Sox probably view Farrell as an easy fix if they can just negotiate a trade for him (and that's a distinct possibility). They surely don't want to repeat the fiasco of the year before, when it took forever to find a manager.  And they probably still wonder whether they can form a consensus on anyone else after ownership steered GM Ben Cherington away from Dale Sveum to Bobby Valentine last year.
Farrell worked for Boston, first in the front office and then as pitching coach, and the temptation to choose an insider is strong. They tried the outsider, and they probably want to play it safer with one of their own this time. In an atmosphere where ownership and front office is very involved, that makes some sense.
Farrell looks like the safe pick. But is he the right pick?
Boston's thinking here is understandable. But the bigger question is: What makes them believe Farrell will do a better job in Boston than he has in Toronto?
The Red Sox front office is filled with very smart people who came up with some curious choices last year (the ownership obviously thought so, too). It'll be interesting to see if Tim Bogar, the coach Valentine believed undermined him, makes the short list should Farrell not pan out.
But first, Red Sox people should stop to ask the question about whether Farrell is anywhere near as good a manager as he was a pitching coach. He's supposed to be a pitching guru, yet half his staff went down with injuries and his star Ricky Romero turned into the worst pitcher in the league.
He is supposed to run a tight ship. Yet, judging by a recent trip to New York, the Jays may be the worst baserunning team in the game.
But if not Farrell, then who? That is a major question. For one of the smartest groups going, they made some odd picks last time (the higherups obviously agreed).
It's understandable why they want to hire someone they already know and like, and do it quickly, but perhaps they should take more time to look around. It's understandable they want to go a safe route now.
But maybe they should stop and think about it. The Boston job is one of the hardest in baseball, someone who operates in a fishbowl along with all the players, many of whom are used to being coddled. The ownership is highly involved (see last year) and there are a lot of people to please. Maybe they shouldn't rush into a fellow who had basically the same year as Valentine.
Of course, they won't bring back Terry Francona, who's about to interview with the Indians, and we'll assume for now that Tony La Russa and Joe Torre are retired from managing. But here are a few names they might want to look at before rushing to hire the guy they know.
Mike Scioscia. Word going around is Arte Moreno really blames new GM Jerry Dipoto, not Scioscia. So it might not be easy to get him.. But may as well give it a try.
Tim Wallach. Word is, the Dodgers would let him talk to the Red Sox. Highly regarded.
Brad Ausmus. Team Israel's manager is a Dartmouth man from Connecticut.
DeMarlo Hale. Former Red Sox coach is credited with doing a nice job on the Orioles coaching staff.
Chili Davis, Mike Gallego, Chip Hale. The A's coaching staff is one of the best going.
Jim Riggleman. Solid guy deserves another shot.
Larry Bowa. Very smart and experienced.
Sandy Alomar Jr. If the Indians hire Francona, he'd make a great candidate.

Jason Varitek

. Ex-captain is popular but he's believed not to want to make the time commitment yet.
Brad Mills. Houston might have been the one job harder than Boston.
Dave Martinez. Can't hurt being a Joe Maddon disciple.
Joe McEwing. Passionate guy part of Robin Ventura's first-year staff.
Joey Cora. Shouldn't hold it against him that he's Ozzie Guillen's righthand man.
Tony Pena. Had one fabulous year in Kansas City, but seems to have fallen off the radar.
Ryne Sandberg. Got to admire a Hall of Famer who beat the bushes for six years (though I suspect he'd stay loyal in Philly, where he was just promoted to third base coach and looks like Charlie Manuel's heir apparent).
Jim Fregosi. The very experienced Fregosi has been working hard as a Braves scout, but for the right managerial job he might think about it.
That's just a short list of many they could consider. Probably doesn't matter. Boston seems to have its heart set on Farrell, finisher of four games better than Valentine.
Keep it locked right here for everything you need to know about the world of baseball Tues...

There have been several racially charged incidents at Fenway Park this year

Washington's right fielders have sputtered offensively since Harper went down
The good news? Wichita still has a chance to win the series Tuesday night

The 2017 season is going to shatter the all-time collective home run record

Ferrell somehow avoided going to the ground