Yankees have 11-run inning, end with 21 runs: By the numbers
After trailing 5-0 through the first inning, the Yankees scored 11 in the second and ended up with a 21-5 win.
The New York Yankees trailed 5-0 through one inning Tuesday evening. For many teams this season, it would be a tall order to simply come back and tie the game before it's concluded. For the Bronx Bombers, well, they did this in the second inning:
Yankees 2nd
Martin Perez pitching:
Chris Young:
Ball, Young doubled to left.
Chase Headley:
Ball, Strike swinging, Ball, Ball, Foul, Headley singled to center, Young scored.
John Ryan Murphy:
Foul, Foul, Foul, Murphy singled to left, Headley to second.
Didi Gregorius:
Ball, Foul, Gregorius hit by pitch, Headley to third, Murphy to second.
Brendan Ryan:
Strike swinging, Strike looking, Ball, Ball, Ryan doubled to right, Headley and Murphy scored, Gregorius to third.
Jacoby Ellsbury:
Ellsbury singled to center, Gregorius scored, Ryan to third.
Brett Gardner:
Strike looking, Foul, Foul, Ball, Ball, Gardner singled to center, Ryan scored, Ellsbury to second.
Alex Rodriguez:
Strike swinging, Rodriguez doubled to deep left, Ellsbury scored, Gardner to third.
Wandy Rodriguez relieved Martin Perez.
Mark Teixeira:
Ball, Strike looking, Foul, Ball, Ball, Teixeira struck out swinging.
Chris Young:
Ball, Ball, Ball, Strike looking, Young walked.
Chase Headley:
Strike looking, Ball, Headley singled to left, Gardner scored, Rodriguez to third, Young to second.
John Ryan Murphy:
Ball, Strike looking, Foul, Ball, Murphy struck out swinging.
Didi Gregorius:
Foul, Ball, Ball, Gregorius tripled to left center, Rodriguez, Young and Headley scored.
Brendan Ryan:
Ryan doubled to left, Gregorius scored.
Jacoby Ellsbury:
Strike looking, Foul, Ball, Ellsbury struck out swinging.
End of Inning (11 Runs, 10 Hits, 0 Errors)
Yikes.
They weren't done, though.
Chris Young hit a grand slam next inning and the Yankees eventually won the game, 21-5.
That's 21 unanswered runs after a five-run deficit. Not surprisingly, that's the first time in MLB history this has happened (via Elias).
A few more numbers:
•Since 1914 -- the era of reliable box scores -- this was just the 123rd time a team scored at least 21 runs. (As always, thank you baseball-reference.com play index).
•The Yankees have been the team to do it two of the last three times a team scored more than 20 runs. The Mariners (wait, what?!?!) had 21 runs on May 30, 2012, and then it was the Yankees with 22 runs on Aug. 25, 2011.
•The Yankees' franchise record for runs scored in a game is 25, which happened in 1936.
•This was the most runs scored in a game this season, surpassing the Orioles' 19-run effort on June 16.
•This was the most runs the Rangers have allowed since the aforementioned Mariners inexplicably scoring 21 runs game.
•The 11-run second marked the most runs the Yankees scored in an inning since July 30, 2011, when they scored 12. The franchise record for runs in an inning is 14, which happened all the way back in 1920.
•This was the first game since 1972 when neither starting pitcher recorded an out past the first inning (@STATS_MLB).
•Even more, from the brilliant Katie Sharp:
This is only time in last 100 yrs that 2 pitchers have allowed 7+ runs in 1 IP or fewer in a game against the Yankees.

— Katie Sharp (@ktsharp) July 29, 2015
That's a rough one, Martin Perez and Wandy Rodriguez.
The Rangers, by the way, were forced to throw 244 pitches in all.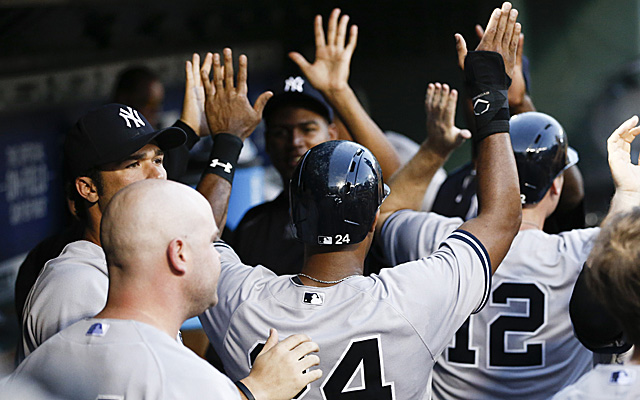 Granderson, Verlander, Beltran and more are looking to reach the top of the MLB world

Houston's top relievers have been shaky this postseason

Our experts have a unanimous World Series pick
Otani's rare ability to hit and pitch will need to be accounted for in realms beyond real...

Kenny White has won 8 of his last 10 MLB Over-Under picks and has a strong play for Game 1

OOTP's team ran some simulations for us on the 2017 World Series