Former Knicks executive Isiah Thomas fired by FIU
Former New York Knicks executive Isiah Thomas has been let go by Florida International University.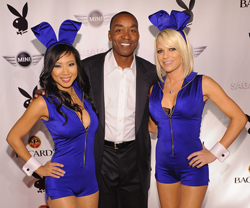 Isiah Thomas has been fired by FIU.
(Getty Images)
Goodbye Zeke.
Florida International University announced on Friday that it has parted ways with coach Isiah Thomas, Naismith Basketball Hall of Famer and former executive of the New York Knicks.
The university released the following statement.
FIU Executive Director of Sports and Entertainment Pete Garcia announced today that Isiah Thomas has been relieved of his duties as head coach of the FIU men's basketball program.

"We want to thank Isiah Thomas for his three years here at FIU," Garcia said. "However, we have decided to take the program in a different direction."

A national search for the Panthers' next head basketball coach will begin immediately.
Thomas, 50, was hired by FIU in 2009. He posted a career record of 26-65 during his three seasons at FIU.
He spent a 13-year
NBA
career with the Detroit Pistons. The 12-time All-Star point guard posted career averages of 19.2 points, 9.3 assists, 3.6 rebounds and 1.9 steals per game.
Thomas was hired by the Knicks in 2003 as president of basketball operations. He also served as coach during the 2006-2007 and 2007-2008 seasons.
Said to be a close friend of Knicks owner James Dolan, Thomas has been linked to the Knicks in rumors for years. In 2010, Thomas announced he was going to serve as a consultant for the Knicks while retaining his job as coach of FIU. He quickly backtracked. During his tenure in New York, Thomas was hit with a sexual harassment lawsuit and oversaw a basketball operations department that was fined by the NBA for conducting illegal workouts with college prospects.
The Bulls lead by three with 10 seconds left but lost 116-115

Larry Nance Sr. starred for Cleveland from 1988-94

The hotline comes in the wake of the 'Sports Illustrated' investigation into the Dallas Ma...
Giannis, who spent last weekend in L.A. for the All-Star Game, says he loves 'low-key' Mil...

We have all the scores, highlights and news from the first day back from the All-Star brea...

Smart, set to return Friday, said doctors told him he was very lucky that the glass did not...