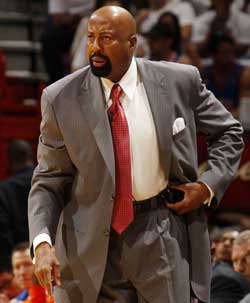 Mike Woodson can smile now. He got a new deal.
(Getty Images)
Right on schedule.
The New York
Knicks
announced on Friday that the organization has reached a multi-year contract extension with coach Mike Woodson. Terms of the deal were not disclosed but 
the New York Post reported
that it's "believed" that Woodson received a three-year contract.
On Tuesday, it was reported
that the Knicks and Woodson, who was promoted from assistant coach to interim coach when former coach Mike D'Antoni
resigned back in March
, were expected to reach a deal this week. 
"Mike took over the team under challenging circumstances and made it clear, starting on day one, that he was going to hold every player on our roster accountable," Madison Square Garden chairman James Dolan said in a prepared statement. "We saw a significant improvement since Mike took over and believe our team will only keep improving under Mike's direction."
"Mike has the respect of every person in this organization," Knicks GM Glen Grunwald said in a statement. "He and his staff led the team in an impressive push into the playoffs over the last 24 games and we believe he is the right man to lead the franchise as we move forward."
Woodson, 54, guided the Knicks, who were 18-24 when he took over, to an 18-6 record to close the season. New York was then eliminated from the first round of the Eastern Conference playoffs by the Miami Heat in 5 games. 
The Knicks never interviewed other candidates and it has been expected for weeks that they would wind up extending Woodson.
"I'm very humbled and honored to continue coaching the franchise where I started my
NBA
career," Woodson said in a prepared statement. "Our goal is to build off the success we had at the end of last season and to continue our quest of bringing an NBA championship to Madison Square Garden."
Woodson was selected by the Knicks in the first round of the 1980
NBA Draft
out of Indiana. He played in the NBA for 11 seasons, posting career averages of 14.0 points, 2.3 rebounds and 2.3 assists.
Prior to his coaching tenure in New York, Woodson served as coach of the Atlanta Hawks for six seasons. His career coaching record is 224-292 (.434).