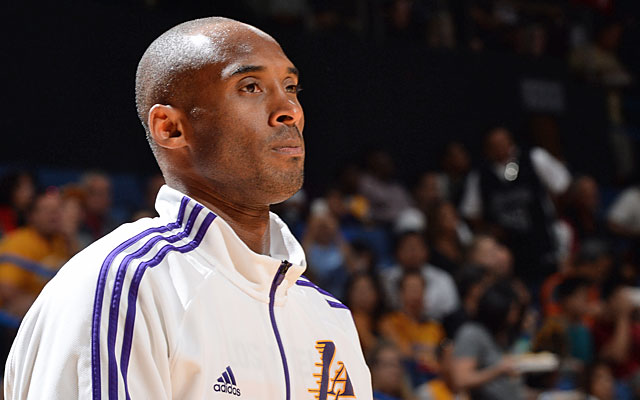 EL SEGUNDO, Calif. -- Kobe Bryant is embarking on more than a comeback; he's embarking on a two-year, $48.5 million contract that he signed with the Lakers last fall -- only weeks before getting hurt again six games into his comeback from a ruptured Achilles tendon.
Some have argued that Bryant's contract, which eats up a substantial portion of the Lakers' salary cap and could hinder their ability to rebuild, is an Achilles' heel of sorts; that perhaps the greatest player in franchise history is an albatross.
The story is much more complicated, though. Superstars like Bryant have long had their maximum annual earnings capped at a level far below what they're actually worth under a financial system that has trended in the owners' favor for decades. League revenues are projected to come in at $4.7 billion this season, and Bryant -- a five-time champion responsible for a sizable chunk of it -- will be paid 0.5 percent of that sum, or $23.5 million.
Oh, and at a time when franchise values are skyrocketing, the NBA recently signed a broadcast and digital rights agreement worth $24 billion over nine years starting in 2016. Under the current system, the players are guaranteed up to 51 percent of league revenues each year, but with another lockout looming in 2017, that formula could change.
The new TV contract caused Bryant to get a little salty on Twitter recently, when he chastised those who think players should take less when the money is rolling in. After practice on Tuesday, he took some more shots at the perception that players are greedy when they agree to receive the maximum compensation allowed under the collective bargaining agreement -- in contracts that the owners sign, too.
"We don't look at what the owners get paid and how much revenue they generate on the backs of these players," Bryant told reporters.
In an interview with CBSSports.com later Tuesday, Bryant went into more detail about what he views as a double standard -- and a missed opportunity for players to educate themselves about the business of the sport.
"Athletes are the ones that are in the public eye the most," Bryant said in the interview. "And so their salaries are constantly talked about, so it's very easy to look at the athlete and say, 'You should be doing more and you should be taking less,' when the reality is that your market value is so much higher than what people understand.
" 'Yeah, yeah, yeah, but you still should be taking less to win,' " Bryant said. "Why do we have to do that? Because the owners locked us out and imposed a hard cap where we 'have to' take less in order for them to generate more revenue. Right? But meanwhile, they go and sign a TV deal that's a billion dollars up from the last one, but that doesn't get talked about. Nobody complains about that."
The owners, of course, did not get the hard salary cap they sought in the 2011 labor negotiations. Instead, they imposed massive luxury-tax penalties and individual team spending caps that, in effect, behave like a hard cap. The issue will be revisited in the next round of labor talks -- which almost certainly will happen in July 2017, when each side has the option to opt out of the current CBA.
A labor expert told CBSSports.com last week that the owners are likely to push for the final frontier -- a hard cap -- in the next round of talks. Bryant agrees. And since he's almost certainly going to be retired by then, he's urging the players to wise up.
"Here we are where LeBron [James] is getting paid substantially less than what he's worth," Bryant said. "KD [Kevin Durant], same thing. All these players -- you could go all the way down -- yet the owners' revenue continues to increase. It's just about athletes becoming more aware and becoming tougher and becoming stronger in their business sense and in their business acumen and saying, 'No, this is not OK. It's OK for us to stand up and to actually be business people.' "
So as Bryant said, the issue of his contract -- and of player contracts in general -- is complicated. If you're going to suggest that Bryant's salary under the current system is a hindrance to the Lakers, so be it. But don't tell him that players are overpaid or greedy for signing contracts that owners willingly offer them -- contracts that, in the cases of the league's biggest stars, are worth a fraction of their true value.
"You can't be a business person if the decisions that you make are held hostage by the perception that others have of you," Bryant said. "You can't be a successful businessman, from my point of view, and sit in a room with these owners -- who are phenomenal business people -- and have a peer-to-peer conversation if they know at the end of the day you're going to capitulate to public perception."