Michael Jordan: 'More well-rounded' Dream Team would beat 'more athletic' 2012 squad
Michael Jordan says that the 1992 Dream Team was "more well-rounded" than the 2012 squad, although he conceded the London team was "more athletic."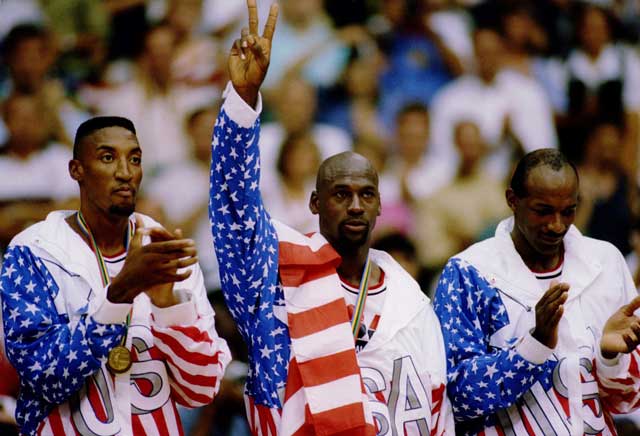 Michael Jordan digs deeper in the 1992 vs. 2012 Dream Team debate.
(Getty Images)
Finally, the Dream Team trash talk has escalated into more serious analysis. 
All summer, members of the 1992 Dream Team and USA Basketball's 2012 London Olympics gold medal-winning squad have gone back and forth about which team would win a hypothetical match-up. Kobe Bryant stood up most vocally for the modern era; Michael Jordan, Charles Barkley and Magic Johnson all shot back quickly, arguing that the legends would have no problem with the whippersnappers. 
Finally, one of the key players went a little bit deeper than "We're better". That someone was Jordan, who contrasted the two teams for SI.com, noting that the 1992 squad was "more well-rounded" while admitting that the 2012 squad was "much more athletic."
"I just felt like we had enough size that we could contend with the 2012 team," he said of the team that was without elite shot blocker Dwight Howard and relied heavily on the Knicks' Tyson Chandler at center. "I think one of the things the 2012 team lacked was size, you know? We probably would have attacked them from inside and outside, and I think that would have been pretty much solidified [for the '92 team's defense] with shot-blockers as well as perimeter defensive players.

"In [terms] of how the game is played from an offensive standpoint and a defense standpoint -- from a team standpoint -- I feel like we were much more solid defensively. We could definitely guard the perimeter and force them to penetrate to shot-blockers, which I felt like would've made a big difference with this team in 2012. They only had one shot-blocker. Granted, I know LeBron [James] and some of those guys can still block shots. It's not the same defense and it's not the same intensity."

"Granted, I think those guys are much more athletic than maybe we were at that particular time, but I'd like to think that we were a little bit smarter and well-groomed about playing at that level of basketball," Jordan said. "So in all honesty, I don't think we would've had any problems with them, as much as they think they probably would've given us a lot more difficulties. I think our team would've been a lot better in terms of all-around basketball game."
The issue of size came up back in July and there's really no argument there. Tyson Chandler got in foul trouble throughout the Olympics and the 2012 team played its best ball with smaller lineups that used James, Kevin Durant and Carmelo Anthony in the post. They caught a break in the gold medal game when Spain's Marc Gasol had to sit for a long stretch with four fouls, but they still really struggled to defend Pau Gasol, who went off for 24 points, 8 rebounds and 7 assists. You think David Robinson, Patrick Ewing, Karl Malone and Charles Barkley couldn't give these guys big-time trouble? Come on.
But the more interesting line of thinking is Jordan's "well-rounded vs. athleticism" dichotomy. Part of being well-rounded is experience, and thanks to Jordan, Scottie Pippen, Johnson and Bird (and later Robinson), the Dream Team has a clear advantage over the 2012 squad when it came to championship mileage. Outside of Bryant, the 2012 squad is going nowhere fast when it comes to veteran tricks of the trade. Even James, one of the smartest and best all-around players in the history of the game, is still developing in that regard.
If we're listing the most well-rounded players from a two-way basketball standpoint on both squads, six of the top 10 are 1992 Dream Teamers: Jordan, Johnson, Bird, Pippen, Barkley, and Robinson. James, Bryant, Durant and Chris Paul represent the 2012 squad in the combined top-10. The next tier sees Ewing, Malone, John Stockton, and Clyde Drexler versus Iguodala, Deron Williams and Russell Westbrook. In terms of overall two-way play, those are landslide wins for 1992 among both starters and reserves. 
The athleticism discussion, as Jordan concedes, isn't much of an argument. Outside of Jordan, Pippen, Robinson and Drexler, the 1992 team doesn't have much in the way of conventional athleticism. Barkley and Malone got it done in their own ways but this was an older-school squad whose role players (Stockton, Chris Mullin, Patrick Ewing) thrived on having high-level overall skillsets rather than being multi-positional phenoms who dominated with versatility, quickness or leaping ability. The 2012 squad, on the other hand, has a bevy of athleticism riches: James, Westbrook, Durant, Iguodala, Paul and even Anthony Davis. That's a win for the 2012 group but it's not a total blowout. Jordan and Pippen, in particular, help keep this a slight edge.
The takeaway here is that the 1992 squad is significantly better when judged by "well-roundedness" but the 2012's athleticism advantage -- while inarguable -- isn't overwhelming. If ever there was a player built to limit James, it was Pippen. If ever there was a match for Paul, it was the Jordan/Pippen duo that gave every smaller point guard fits. Ewing and Robinson manning the paint would be a solid deterrent for Westbrook's famous forays. 1992 would struggle with Durant's length, just like everyone does, but they would have plenty of scoring on the other end to offset his 30-plus a game. The overall headiness of the group -- especially Jordan, Johnson and Bird -- would cut down on 2012's strongest area: transition.
Meanwhile, 1992 would continue to pick on 2012's size disadvantage, pounding away at the likes of Chandler, James and Kevin Love in the post, a trio that wouldn't stand a chance. Once 2012 was forced to collapse with regularity on defense, shooters like Mullin and Bird would wreak havoc. And we haven't even gotten to Jordan, who would do just fine generating a shot against anyone on the 2012 squad, James and Iguodala included.
The result is the same, no matter how deep we dig. 1992 would own this match-up, no questions asked.
There's no shortage of moments to choose from

The Trail Blazers almost traded for Charles Barkley, but when they didn't, it put them in debt...

The self-proclaimed ASG snub Williams may be bitter about Butler requesting to sit out Sun...
The commish said they were overly conservative with the decision this year, but that should...

A dive into the NBA history books for every result from every NBA All-Star Game

James set the tone during practice that this year's All-Star Game was going to be differen...