New-look Wizards get solid Summer League showing from Bradley Beal
Washington Wizards guard Bradley Beal finished a strong 2012 Las Vegas Summer League on Wednesday.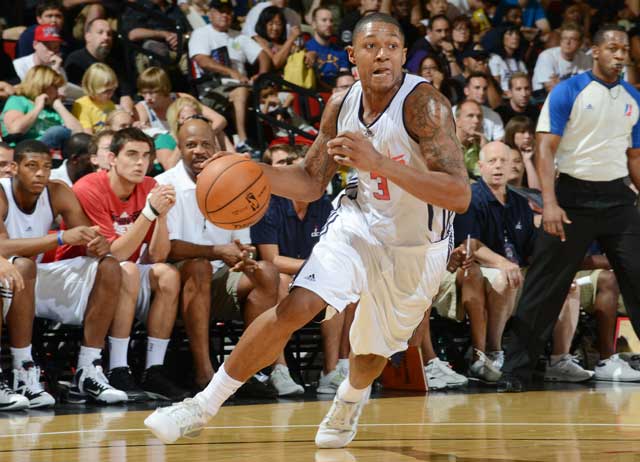 Wizards lottery pick Bradley Beal wrapped up a solid Summer League on Wednesday. (Getty Images)
LAS VEGAS -- Who knew the Washington Wizards, a punchline in recent years, could legitimately count on a teenager to improve their maturity?
When draftniks discuss "picking for need" the intent is usually to plug a positional hole, but when the Wizards selected Florida shooting guard Bradley Beal with the No. 3 pick in June's NBA Draft, they added a player whose personality is decidedly anti-knucklehead.
"He don't act like he's 19," Wizards point guard John Wall told CBSSports.com. "He acts like he's been in the league two or three years. It's great to have somebody like that with you."
Lord knows Wall hasn't had a sidekick like that in recent years, as he's watched JaVale McGee run the wrong way down the court, Andray Blatche host Lapdance Tuesdays and Nick Young check in and out of games, as the losses stacked up and his former head coach Flip Saunders was fired.
Appearances aside, Beal has been a professional for only a matter of weeks, not years. On Wednesday, The Wizards finished their 5-game Summer League slate with a 78-75 victory over the Milwaukee Bucks, pushing their record to 3-2.
Beal has been the class of 2012's most impressive top-5 pick, if only by process of elimination. No. 1 pick Anthony Davis was called up by USA Basketball for the London Olympics at the last minute, No. 2 pick Michael Kidd-Gilchrist has missed time with a sore knee, No. 4 pick Dion Waiters has yet to have a signature game and No. 5 pick Thomas Robinson hasn't looked totally comfortable and has also struggled with turnovers.
That leaves Beal, whose Summer League wasn't perfect but whose play still provided reason for excitement.
"Everything comes to him, he doesn't press and it all happens in the flow," one Eastern Conference talent evaluator told CBSSports.com. "Even here at Summer League."
"He just plays with composure," Wall said. "He's really relaxed. He don't force anything. Just make shots. Tonight he been struggling, I told him to just keep shooting."
Beal posted averages of 17.6 points, 4.6 rebounds, 1.8 assists while shooting 41.7 percent from the field and 30 percent from deep. He hit for double-figures in all five of Washington's games, including a high of 22 points in his Summer League debut against the Atlanta Hawks.
"I've got to improve on everything," Beal said after his final game on Wednesday. "I could have shot the ball a lot better. I definitely have to work on that and my defense more than anything. The work doesn't stop. I was happy, but I wasn't happy with my performance."
Summer League has always been more about flashes of potential than finished products. And Beal certainly had his flashes. Whether working off of curl screens, attacking the basket off the dribble or breaking down his defender to create a shot, Beal showed the overall offensive game that had him at the top of the Draft board after just one season at Florida.
Wizards Summer League coach Sam Cassell bemoaned the fact that Beal never truly got his jumper going and attributed it to his adjustment to the demands of NBA conditioning.
"I like what I see," Cassell said this week. "He just has to play. The kid hasn't played 5-on-5 basketball since March. His legs, some shots I know he can make, he's missing because of his legs. Playing four games in five nights, or three games in a row."
During this week's games, the always vocal Cassell rode Beal possession after possession on the defensive end, instructing him to fight hard over high screens and encouraging him to defend at full intensity through entire possessions.
"Defensively, he can get better," Cassell said. "It's a whole new process for him. In this league, you can have some great defense and guys will still make the shot. They get paid too to play the game of basketball."
Beal admitted that his conditioning could be better, although he said that he felt like he had made significant progress since the Wizards opened a pre-Summer League minicamp last week.
"I'm a lot bettter winded than I was coming into training camp," he said. "Now I'm getting used to it. My legs are actually fine. There's times I'm not making shots but the ball just isn't going in. The whole pace, I'm fine with it... It was physical, the speed was a lot faster. The games a lot longer... It was everything I expected it to be."
The shooting, of course, figures to be central to his NBA career arc. Blessed with a pure stroke and good mechanics, Beal shot 44.5 percent from the field at Florida but just 33.9 percent from the college three. The Wizards have been in desperate need of perimeter shooting, finishing 28th in the NBA in 3-point shooting percentage (32.0 percent).
The task at hand for Beal is to be a knockdown shooter who changes how defenses are able to defend Wall, who often finds a clogged paint when he attempts to attack off the dribble.
Beal said the two guards have known each other since Beal was an All-American high-schooler in Missouri and Wall was a freshman at the University of Kentucky. Wall attended Washington's games this week, watching intently from a courtside seat. 
"He's a great person off the court and on the court he's tremendous as well," Beal said. "He's given me tips on the sideline over there. he's been a big brother basically."
Washington looks to be an entirely different team heading into the 2012-13 season. Young and McGee were traded and Blatche was waived using the amnesty clause. In their place, veteran center Nene Hilario, big man Emeka Okafor and wing Trevor Ariza. No one will mistake the roster for the Miami Heat's but there are far fewer headaches and loose cannons.
The plan is clearly to build around Wall, the No. 1 pick in the 2010 NBA Draft, who is still just 21-years-old. Beal, who turned 19 in June, represents a major step in the culture shift, and he seemed fully aware of the responsibilities that go with being a top lottery selection for a team that hasn't made the playoffs since 2007-08.
"I think it will be great," Beal said of pairing with Wall in the new-look backcourt that figures to be the face of the franchise over the next half-decade. "We just want to win. We want to make each other better every day. That's what he wants, that's what I want. Our chemistry is already there."
"Hopefully we can surround [Wall] with positive attitudes and great character," he continued. "And hopefully be able to win some games as well."
There aren't many 19-year-old rookies that come out of the gate in the NBA preaching the importance of character. And there aren't many teams that can use a rookie like him more than these Wizards.
The singer of the national anthem at the Nets game took a knee at the end

This was the Lonzo Ball people were expecting out of college

Antetokounmpo finished with 34 points, 8 rebounds, 8 assists, and 3 steals, but the Cavs won,...
John Wall is proud of his ability to block shots and thinks nobody at his position has been...

Giannis went at LeBron on a fast break, but LeBron won the matchup

Boucek most recently was head coach of the Seattle Storm in the WNBA