Steve Nash denies report that his back is giving him problems
Phoenix Suns guard Steve Nash disputes a report that his back is giving him trouble.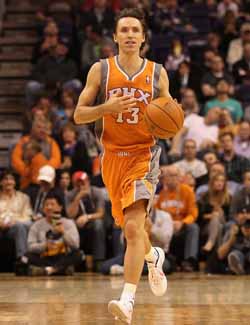 Steve Nash says he feels great despite a report to the contrary.
(Getty Images)
38-year-old Phoenix Suns point guard Steve Nash is either so injured that he can barely bring himself to attempt a shot or he's feeling so good it's like he discovered a time machine.
The New York Post reported
on Tuesday that Nash has been dealing with back pain that has limited his game.
At the risk of belaboring the subject, sources claim Steve Nash's back is as bad as it has ever been, and that it's affecting his shooting. In the last 10 games, the Suns point guard has taken more than eight shots once: 8-of-16 on March 27 against the Spurs.
Within hours, Nash
responded via ESPN.com
.
Steve Nash insists his back feels "the best it's felt in a decade." Nash, who turned 38 in February, also told ESPN.com in a phone interview before Tuesday night's game in Sacramento he intends to "sign for three more years this summer" and play beyond his 40th birthday when he either inks a new deal to stay with the Suns or finds a new team via free agency.

"It's been my best year physically from start to finish in a long time," Nash said. "Other than a little tweak (last week) against San Antonio, my back's been pretty close to 100 percent."
The Suns are 26-26 and on the outskirts of the Western Conference playoff chase. Nash has appeared in all but four games this season, posting averages of 12.7 points, 11.3 assists and 3.0 rebounds per game. 
Nash is leading the
NBA
in assists per game for the third straight season. His shot attempts are indeed down, as he's attempting just 9.1 per game, the first time he hasn't been in double digits since the 1999-2000 season. With the smaller volume, Nash is actually hitting a career-high 53.7 percent of his shots, a ridiculous number for a 6-foot-3 point guard.
Despite his advancing age and issues with his back, Nash has been remarkably durable as long as anyone can remember. He's never missed more than eight games in a season during his prime years. If anything, this has been a year of over-achievement for a mishmashed Suns roster and there's no one else to credit except the man who drives the boat.
If his back -- or anything else -- is bothering him, Nash is doing a great job of hiding it.
RELATED: Nash said recently he would survey his options in free agency this summer 
Our advanced computer model simulated Saturday's Thunder-Cavs game 10,000 times

The Jazz are reportedly looking into trading Rodney Hood before the Feb. 8 NBA Trade Deadl...

The Cavaliers are ready to reset everything if they have to. Their interest in Lou Williams...
It sounds like the Cavaliers are going to be active before the NBA trade deadline on Feb....

We've got all the scores, highlights and news for Friday night

George Hill, who is unhappy in Sacramento, could be a solution to Cleveland's backcourt si...