A first-round pick for Trent Richardson? No-brainer for Browns
The Browns weren't going places with Trent Richardson, so now they've stockpiled draft choices to make a killing next year.
• 4 min read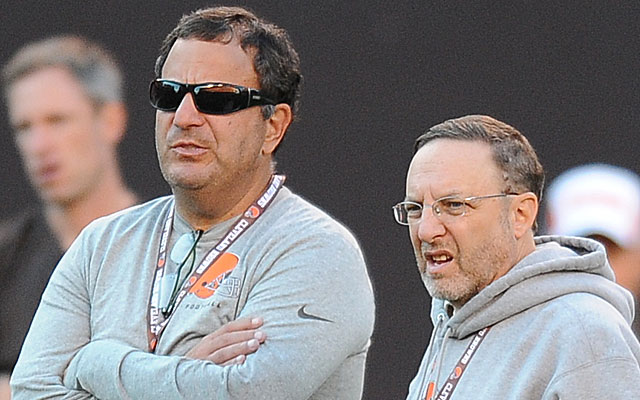 I think it's pretty fair to base an opinion of a trade off of the unsolicited opinions that tend to trickle in. And the overwhelming majority of the texts, calls and emails I received from GMs, scouts and execs was that the Browns did very well in this trade.
Receiving a first-round pick for a running back is pretty good work in this day and age, even for one who was a recent top-five pick.
One exec I respect deeply, who has watched Richardson closely during his brief NFL career, expressed his initial reaction to this deal: "The Colts panicked. A first-round pick? I don't believe it."
A scout who did plenty of work on Richardson was flabbergasted by the deal: "Weird trade by Indy," he sent via text. "A first for an adequate back with injury issues? They could get that player next year in the mid to late rounds. Get an adequate dude for a later pick. Everyone has depth at that position."
One GM asked who the Browns were going to go with at running back, and I explained they were bringing in free agent Willis McGahee. His response: "Why didn't the Colts do that first before giving up a 1?"
I was in contact with a few team sources who had running backs on their roster who are expendable, and all said they never got a call from the Colts to explore what it would take to get their guys. "I wish I had [called the Colts]," one noted, "especially after seeing this trade."
A defensive coordinator noted how hard Alabama head coach Nick Saban works his backs, pointed to Richardson's injury issues already in his brief career and texted: "If he can stay healthy, he's a good RB. But the injury bug is a big question mark."
So with that in mind, and noting the fact that Browns president Joe Banner and GM Mike Lombardi were not with the Cleveland organization when the team traded up to draft Richardson third overall, and given their singular vision to finally improve this franchise once and for all by finding a bona fide elite quarterback in this 2014 draft, it all makes total sense.
And I also understand why Colts GM Ryan Grigson, who had the golden touch in his rookie season, made the move, with running back long an issue for Indy and Richardson still just 22 years old. They surged last year to the playoffs and with Andrew Luck in place, have every reason to feel like they are close to something special and clearly feel like they were a player away.
But the Browns now have two first-round picks, two third-round picks and two fourth-round picks, plus all their normal picks in every other round. If they don't get the first overall pick (i.e. Louisville QB Teddy Bridgewater), they are in place to wheel and deal to secure the first overall pick if need be (not sure Jacksonville would be willing to deal it), or move up or down to get the quarterback they desire. They also can add more skill players with these picks -- and I agree that a very good starting RB will be available in rounds 2-4 -- and add a stud receiver with the Colts' first-round pick, and be able to retool quickly.
Richardson should benefit from the Colts' passing attack and safeties no longer able to crash freely into the box, but in Cleveland he was a 3.5 yard per carry guy. He never showed the ability to beat people in the open field. He was not explosive. He had two runs over 20 yards. He was indecisive. He looked more like a plodder than a feature back. Maybe all of that is due to the cast around him and the lack of a passing game, but never have running backs been more interchangeable than in this era.
The Browns' new regime doesn't get limited at all by the deal -- his $6.7 million cap hit is more than compensated by the $20-odd million in unused cap space they can roll into next year, and right now, nothing is more valuable to this group than draft picks. Now, they will have to use them wisely, but few teams will be better positioned to do so this spring, and given the quality they have on the defensive side of the ball and with teams like the Ravens and Steelers possibly a bit down, the insertion of one impact draft of skill players might finally reverse the fortunes of this long-suffering franchise.
This team wasn't going to the playoffs this season, even with Richardson carrying them on his back and running for 2,000 yards ... and judged by his less-than-pedestrian stats in his brief stay with the Browns, that wasn't happening, anyway.
He'll reportedly appeal the suspension

Rodgers is eligible to return after eight weeks and the Packers reportedly aren't giving up...

The Packers think the hit is dirty, but the NFL apparently disagrees
Here's every official injury designation for each NFL team for Week 7

If it wasn't already clear, the Packers are not happy with the hit that injured Rodgers on...

Passengers were treated to some explicit chants from the Oakland running back, too