Aaron Hernandez to be tried for Boston double-murder next May
Former Patriots tight end Aaron Hernandez now faces three murder charges in the next 11 months.
• 1 min read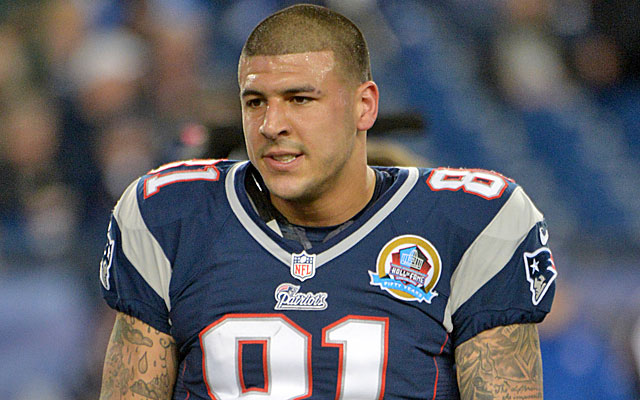 More NFL offseason: League minicamp dates | Latest news, notes
With former Patriots star tight end Aaron Hernandez set to go to trial for the alleged murder of Odin Lloyd on Oct. 6, Hernandez still faces two murder charges from a drive-by shooting outside of a Boston nightclub that occurred in 2012.
He was indicted in that shooting last month, and on Tuesday, he was given a tentative trial date of May 28, 2015, for those charges.
According to the Boston Herald, "The disgraced tight end laughed and smiled [Tuesday] as he spoke with his attorney Charles Rankin while a relative of one of Hernandez's alleged victims sobbed loudly moments before the hearing started in Suffolk Superior Court. The female relative had to briefly leave court before returning. Hernandez and the woman were only feet away from each other at the time. Hernandez's demeanor changed once the double-murder hearing began."
Hernandez was accused of ambushing victims Daniel Abreu and Safiro Furtado after Abreu allegedly spilled a drink on Hernandez and didn't apologize. After leaving the club about 2 a.m., the district attorney said Abreu and Furtado were stopped at a red light when an SVU carrying Hernandez pulled up next to them and Hernandez shot at them with a .38 caliber revolver.
Then, Hernandez allegedly said, "Yo, what's up now?" before yelling a racial slur at the men. According to the prosecutor, Hernandez later said, "I think I got one in the head and one in the chest."
"Mr. Abreu and Mr. Furtado were ambushed and executed as they drove home," district attorney Daniel Conley said. "Aaron Hernandez is the principal, the shooter, and the person responsible for taking the lives of the two victims."
It'll be at least 11 months before we find out if a jury agrees with him.
The Panthers quarterback will not play against the Titans in Week 2, but is feeling better

The Blair Walsh revenge game got out of hand

The Seahawks just took a serious hit to their offensive line
Let's call it the Blair Walsh revenge game

Jeremy Lane also stood near Bennett along with pass rushers Cliff Avril and Frank Clark

Bennett also dedicated it to 'all of the other athletes using their platform to promote ch...