Depending on how you feel about the Patriots, you either think Bill Belichick's dealings with the media during his weekly press conferences are 1) awesome (good job, Bill, screw those reporters!) or 2) ridiculously lame and a waste of time for everybody involved.
Obviously, I lean toward the latter, but during his meeting with the media Wednesday, he was kind of humorous in his typical non-humorous way. Not if you wanted any answers about what the Patriots problems are, but ... well, here take a look ...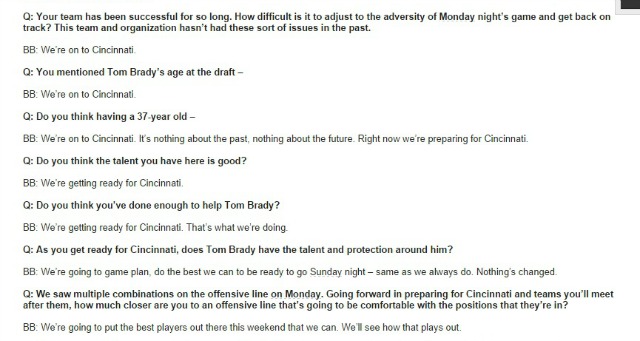 So, basically, Belichick would like everybody to forget about the (crappy) past and look ahead to Cincinnati, thanks very much.
Yet, all is not well in New England, especially after taking a blowout loss to the Chiefs on Monday night. But leaving aside Belichick's non-answers for a minute, we ask: Is this a long-term problem for the Patriots, especially considering the team ranks 23rd in total offense and 24th in points scored?
"I hope," quarterback Tom Brady told reporters Wednesday, "they're correctable."
The offensive line has been a mess lately for New England, and there has to be a real question whether the Patriots even have the talent on offense to improve.
"We'll see. I mean, we'll see here in a couple months where we're at. We've got a lot of football to play, and we're trying to find the things that we do well, and we're trying to find the things we don't do well," Brady said. "We've got to find ways to do a better job."
Like Belichick desires, the Patriots will get to see if they've improved when they face the Bengals on Sunday.