Bengals camp observations: Dalton enough to get to Super Bowl?
The Bengals are a deep, talented team. If they can get good quarterback play, they have a Super chance.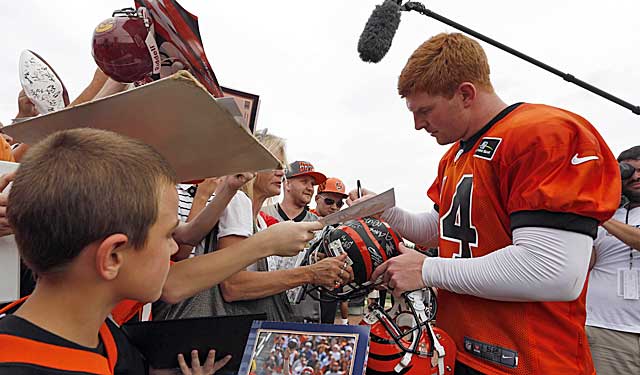 FLOWERY BRANCH, Ga. -- The Cincinnati Bengals are loaded with talent. Right there with the best teams in the AFC.
So why is there trepidation when it comes to making the Bengals a Super Bowl contender?
Look under center. That's where you will see quarterback Andy Dalton . Despite leading the Bengals to two playoff appearances in his first two seasons, Dalton has a ton of doubters.
Many say he's just a system quarterback, unable to make all the throws, and his inefficiencies will hold the Bengals back.
I say this: Dalton is good enough to take this team to a Super Bowl.
He might never be a top-five quarterback, but he has the tools to win it all -- if things around him go right.
"What everybody is saying doesn't bother me because I expect to be better," Dalton said after working out here against the Falcons. "I expect for us to improve. Our goal is to get back to the playoffs. And once we get there, our goal is to be our best, which we haven't done. I think we have all the pieces. Now we have to go play."
In his first two seasons, Dalton has thrown 47 touchdown passes, 27 last season -- five more than Super Bowl-winner Joe Flacco threw in 2012. Dalton averaged more than 3,500 yards each of his first two seasons and his numbers went up in 2012 across the board.
Yet there is this perception that Dalton isn't good enough. Critics say he lacks a power arm, but the Bengals were second in the NFL in plays of 40 yards or more last season.
"We'd like him to him to be more accurate on the deep ball," Bengals coach Marvin Lewis said. "We'd like to be better. We weren't where we'd like to be on the 20-plus plays. That's not arm. That's execution, not just by him, but by the people around him. I think he's had a great spring and a really good opening to camp."
If Dalton can get to 30 touchdown passes and 4,000 yards, the Bengals just might be in the Super Bowl.
More observations
• It will help Dalton that the team has added two important weapons on offense. First-round pick Tyler Eifert has been impressive at tight end, earning rave reviews from the coaches and teammates. And running back Giovani Bernard , the team's second-round pick, also has impressed. Both will help change the dynamic of the offense. Eifert gives the Bengals another pass-catching tight end to go with Jermaine Gresham , while Bernard is the speed back the Bengals have lacked. In Monday's work with the Falcons, Eifert beat Falcons linebacker Stephen Nicholas for a nice gain, and Bernard made a big play in a route in the middle of the field. "I think adding Tyler will allow us to go two tight end stuff rather than three receivers in some situations," Dalton said. "Gio is a guy you can move all over. I think adding both those guys were really big for us." Eifert has already drawn comparisons to a young Tony Gonzalez and a young Owen Daniels from some of the Bengals coaches.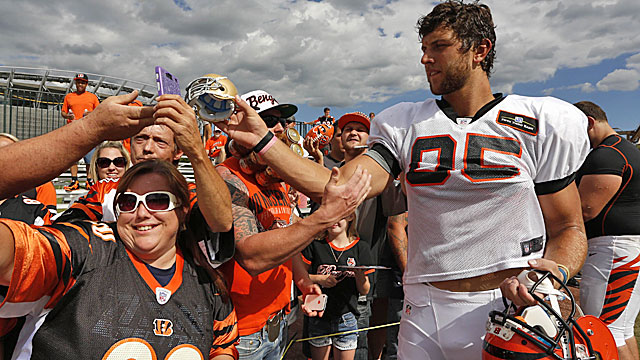 • There was a lot of talk about right tackle Andre Smith this summer and how he wasn't a part of the team's offseason work. But Smith has come to camp and has done a nice job, according to Lewis. Smith has his weight in check and he's doing a better job of bending his legs when making his blocks. Smith did have a slight calf injury that led to his opening on the PUP list, but he's fine now and has actually taken on more of a leadership role. Smith is coming off his best season and was one of the NFL's best right tackles in 2012. The Bengals re-signed him on the eve of the NFL draft. With second-year player Kevin Zeitler at right guard, the Bengals have a tough, physical right side.
• I said last year that defensive end Michael Johnson would be the top free agent if he hit the market. He never did. The Bengals put the franchise tag on Johnson to keep him off the market. But they then went out signed Carlos Dunlap , the other end, to a long-term deal. With defensive tackle Geno Atkins , their best defensive player, in the final year of his deal, it would be tough to imagine the Bengals giving Johnson a new deal in 2014. He is playing for the franchise tender in 2013 of $11.2 million. Johnson understands his situation. He knows if he can follow up his breakout season in 2012 with another 13-15 sack season, he will get paid somewhere. "I know what I have to do," he said.
• The Bengals added linebacker James Harrison in free agency and he will start on the strong side. But expect Harrison to have a role on third down as well as a fifth rusher at times. Harrison can be difficult at times, but so far the Bengals are pleased with him. He brings nastiness to a defense that already was nasty. The interesting thing to watch will be how teams attack him when he's in coverage.
• Star receiver A.J. Green , who didn't make the trip to Atlanta because of a leg injury, saw a ton of doubles in 2012, and sometimes even three defenders. That's why it is so important for another option to emerge as the No. 2 receiver. Mohamed Sanu , who flashed last year as a rookie before getting hurt, is working with the No. 1 offense this spring. But expect Marvin Jones and Brandon Tate to also get time there. Andrew Hawkins , who is also hurt with an ankle, is expected to be the slot receiver. The Bengals will be patient with Green, who is clearly one of the NFL's best.
• The Bengals got a pleasant surprise last season when middle linebacker Vontaze Burfict started as an undrafted rookie and played well. The concern was whether Burfict, whose career went downhill after a fast start at Arizona State, would be committed to doing it again. There should be no more concern. Burfict, who got heavy at ASU, has kept his weight off and the coaches are raving about him. Look for second-year player Emmanuel Lamur to also see a lot of action in the nickel defense. He can fly.
• There is a lot of depth at corner on this roster. The starters are expected to be Terence Newman and Leon Hall with Adam Jones as the nickel corner. But keep an eye on Dre' Kirkpatrick. After missing most of his rookie season in 2012 because of injuries, he has opened some eyes in this camp. The Bengals also like corner Brandon Ghee . That's as deep a group as there is in the league.
There, I said it
• The Bengals will be playing deep into January.
• Dalton will shut up a lot of doubters.
• Geno Atkins will be in the Defensive Player of the Year talk.
• Defensive coordinator Mike Zimmer should be a head coach.
Mitchell's claim that he was pushed into Smith from behind didn't fly with the league offi...

The Seahawks defensive end said 'the consequences are the consequences'

Who wins Sunday night's Super Bowl rematch in Foxborough? Here are are some clues
SportsLine tapped into its Vegas sources to see which NFL teams professional bettors like this...

The Falcons are sick of talking about the Super Bowl but they continue to blow big leads l...

CBS All Access allows viewers to stream every NFL on CBS game in their local market