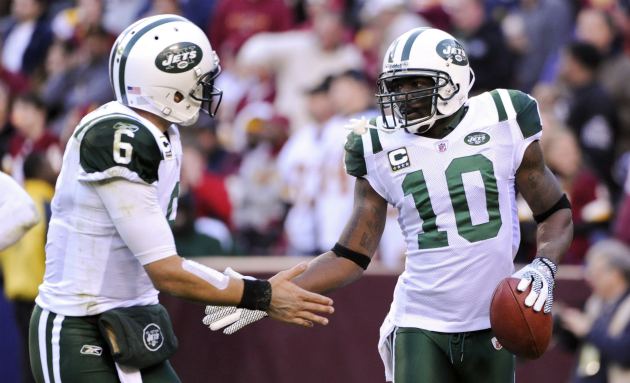 Sanchez and Holmes are obviously BFFs now.  (US Presswire)
The Jets locker room isn't the most stable place in the NFL, and that could be a deterrent for a free agent who might take one look at New York and say no thank you. That's pretty much what Chargers running back Mike Tolbert told Sirius XM NFL radio in a recent interview in which he said he wasn't keen on joining the organizational craziness.
"They do sometimes have that whole media circus thing going on and I'm not the type of person that gets into the whole limelight thing and throwing players under the bus and stuff like that," Tolbert said, via
ESPN New York
. "I like letting my play do the talking. I don't like to do a lot of talking off the field. I like to do it in between the lines. So that's a place that I would think about but I'm not too sure that I would end up going there."
Tolbert said he thought he could be a satisfying complement to Shonn Greene but that he's not sure he'd fit in the locker room.
"It feels like sometimes some of those guys seek out the limelight just so they can be seen," Tolbert said. "If that's their personality, if that's the way they want to do it, that's fine, but I'm not that type of guy. To each his own."
Perhaps Tolbert got the impression from what LaDainian Tomlinson had to say after the season when he told "Inside the
NFL
"
it was the worst locker room
in which he'd been around.
"And I've been around some locker rooms and quarterback-receiver situations and what-not," Tomlinson said. "But it was as bad as I've been around. You know it was at the point where I think the players could no longer do anything about it. There was nothing that the players could do. So when it gets to that point there are certain changes that need to happen. Can it be fixed, Cris?  I think absolutely it can be. But they're going to have to make some tough decisions."
One of the biggest problems toward the end of last season was the Santonio Holmes and his disruptive attitude. On that end, it sounds like Holmes is willing to play nice with his quarterback, tweeting the following on Monday.
Very happy for Mark & the entire team with his extension. Looking forward to getting back to work when I get back this amazing trip @nyjets

— Santonio Holmes (@santonio10) March 12, 2012
Of course, Sanchez started that with this message of love on Feb. 14 when he asked Holmes to be his valentine.
Sanchez further explained himself the day his
three-year, $40.5 million extension
was announced, saying, "We've been in contact really this whole offseason, and I think a bigger deal was made out of that than needed to be. But that's okay. With neither of us commenting on it, I think it got bigger."
Big enough where it might dissuade free agents that could help the team to look elsewhere? That's a distinct possibility.
For more NFL news, rumors and analysis, follow

@EyeOnNFL

on Twitter, Like Us on Facebook, subscribe to our NFL newsletter, and while you're add it, add our 
RSS Feed
.