Cardinals camp observations: Offensive line key to improvement
The Cards neither protected the QB nor opened holes for RBs in 2012. If Arizona moves up in the red-hot NFC West, it will do so behind a slow-to-improve offensive line.
• 7 min read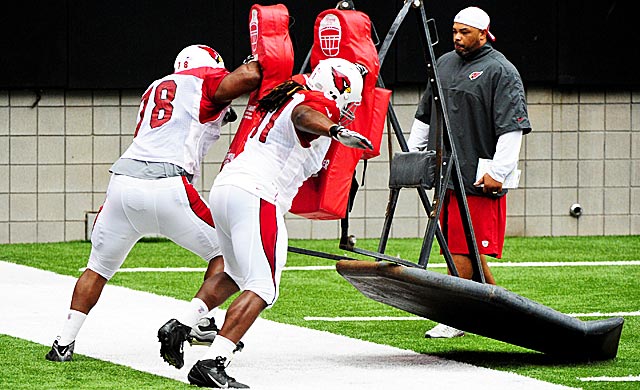 GLENDALE, Ariz. -- If the Cardinals are to make any gains offensively this season, it must start at the point of attack. The offensive line needs to be much improved if they are going to take steps with new aging quarterback Carson Palmer under center.
Head coach Bruce Arians wasn't exactly loving what he saw from his reconstituted unit at the onset of camp, though they have made some strides in the days since and are energized by the signing of first-round pick Jonathan Cooper, who was taken very high for a guard at No. 7 overall. Arians was beaming as he explained how Cooper "breezed through" the team's conditioning test, always a concern when a rookie has missed even a little bit of camp because of a contract impasse.
Cooper's outgoing nature and big smile have endeared him to teammates and the unique athleticism he brings to the position should give the Cardinals a baseline for progress as a unit.
"You can tell he's a great dude," Palmer said, adding he "loves his athleticism."
Recently-signed veteran right tackle Eric Winston brings some injury risk as well, but should at least solidify things there (I suspect he beats out Bobby Massie for that job). Levi Brown needs a strong year at left tackle. Nate Potter is pushing him hard for that spot -- also working with the starters -- and given Brown's injury issues, Brown might end up on the outside looking in.
The unit remains a work in progress, however. Arians was upset with the mental errors he saw overall, and it's no secret that at this stage of Palmer's career, he needs to be insulated. Mobility isn't a strong suit and Arians wants to stretch the field, which means keeping Palmer upright as he attempts five-and-seven step drops.
According to the STATS, Inc., protection index, an equation that factors in sacks, hurries, knockdowns, holds, false starts, and passing attempts, Arizona ranked 27th in the NFL as a unit protecting the passer. Factor in their utter inability to open up holes in the running game -- Arizona ranked dead-last in yards per carry on first down in 2012 (3.39 yards; the league average was 4.45 yards), and they look even worse. The Cardinals were one of only four teams to allow their quarterback to be hit more than 100 times, and the 58 sacks they allowed were seven more than any other club.
Duplicate that, and there's no question about whether Palmer sticks around here for more than one season. Chances are he would be pounded into submission in this division. The Seahawks loaded up on pass rushers. The 49ers still have Aldon Smith, Justin Smith and some of the best linebackers in the NFL. And the Rams quickly are becoming one of the fastest and most physical attacking defenses in the league. So the margin for error for the Cards' offensive line is particularly slim.
This group will bear watching ever so closely, and already veteran starting guard Daryn Colledge (who could get in the mix at center as well) remains out with a leg issue and "no timetable" for his return, Arians said. So, not the greatest start at what will be, far and away, the most important position group for this rebuilding team.
And with rookie general manager Steve Keim already showing his practice mentality running the front office, the Cardinals will continue to search for upgrades and depth as players falter and others become available once cuts are made around the league. They want to be aggressive to keep up in what's become a highly-competitive NFC West. As Arians put it, this time of year isn't about chemistry and cohesion in so much as it is about competition from within the roster and adding to it from the outside if need be.
"When we pick the 53 [-man roster), then we're a team," said the reigning NFL coach of the year, awarded his performance as interim coach with the Colts last season as Chuck Pagano battled cancer.
• While the Cardinals are thankful the MRI on oft-injured running back Ryan Williams came back showing no structural issues, there is always concern anytime his knee "flares up" as Arians put it, or becomes painful, as it is early in camp. He is no stranger to knee surgery and is seeking another opinion this week. After staying away from the MRI machine for a good stretch of time, Williams -- who will be pushed by free agent Rashard Mendenhall for carries -- is trying to stay upbeat despite the uncertainty about his return.
"It sucks, because I worked so hard to get to a point where I have don't have incidents like this," he said. Besides offensive line, running back would be high on the list of positions that still need to get sorted out, and step up.
• Add tight end to the list of positions where newcomers could be sought. Arians would like to be able to get multiple at that spot with a move guy and a more traditional tight end. If people aren't jumping up, then Arians said, "We'll continue to look at Door No. 2," meaning free agents (the crop of available tight ends is not very deep, but Dallas Clark is one name still out there).
• Much like their division foes, the 49ers, Arizona has an open competition in the return game and will give a handful of players opportunities in practice and the preseason games. Arians joked that any receiver other than Larry Fitzgerald could end up back there.
• Speaking of Fitzgerald, it's always worth a trek to the desert if only to see him. He is without a doubt one of the coolest, most well-rounded dudes in the NFL and a true ambassador for the sport. Fitzgerald said he's now visited almost 90 countries and did his usual forays to remote places this past offseason, starting in Antarctica and working north through most of South America, and then through Central America with stops in Honduras and Belize to name a few. Somehow, he told me, he still has zero skills when it comes to speaking Spanish, despite his travels.
• Fitzgerald is hoping for the best for injured Seahawks receiver Percy Harvin. The two played in a celebrity softball game recently, and Harvin as always blew away Fitzgerald with his athleticism. "He was chasing down balls like Willie Mays," Fitzgerald said, and he was shocked that Harvin was battling a hip issue now. He talks about Harvin's game-breaking ability in almost reverential tones -- and remember this is the best receiver in the NFL talking -- and believes that if healthy Harvin will be massive difference maker for the rival Seahawks.
•  It's very, very early, but Carson Palmer has been slinging the ball around. It's hard for some Cards officials not to get excited about how live his arm has been with the ability to spread it around to guys like Larry Fitzgerald and Michael Floyd, who is having a strong start to camp and is expected to break out this season. They also feel as if Palmer has a bit of a chip on his shoulder, in a positive way, motivated to show the league he isn't done and can still be a top-level quarterback as he was years ago with the Bengals. His accuracy is superior to anything Arizona has had at quarterback for quite some time, but durability and maintaining that form through a grueling season in a very tough division will be the challenge.
• With Mendenhall on a one-year deal, and running backs such valuable players for many teams, I have a feeling he ends up being one-and-done out here, especially if he produces to the best of his abilities. Arians knows the runner well from their time in Pittsburgh and will want to establish some semblance of a consistent ground game, and this is a "prove-it" contract for Mendenhall.
• At 32, some might think versatile defensive lineman Darnell Dockett is slowing down -- and he has endured some epic battles in the trenches in this division with such physical units as the 49ers offensive line -- but Arians sees a veteran who is still a huge part of everything his team will do on defense. Arians says Dockett still looks explosive.
• The Cardinals are beating the heat by holding camp indoors at sparkling University of Phoenix Stadium. They can create two playing surfaces with the way the trays they can use to pull out a practice surface that covers part of the normal playing field used on game day. There aren't two entire fields, as would be the norm, but one full practice field and then a 30-yard field next to it. The team also has practice bubbles and another field available at its training facility, but much of camp is taking place in their stadium with fans able to attend.
It's a little odd to see just a few sections full in a massive retractable dome facility, but, with temperatures set to push 110 degrees this week, I'm not complaining.
Brees is set to become a free agent next month but wants to stay in New Orleans

Gordon's various suspensions will once again prevent him from truly reaching free agency

The Colts traded for Brissett prior to the start of last season due to health concerns for...
Colvin was a big part of Jacksonville's defensive improvement but is likely moving on

Vinatieri is about to finalize a deal to return for his age-46 season

Freddie Roach is one of the most decorated boxing trainers there is