Cortland Finnegan calls Rams defensive system 'atrocious'
Cortland Finnegan had a forgettable two seasons in St. Louis and he blames it on the Rams' defensive system.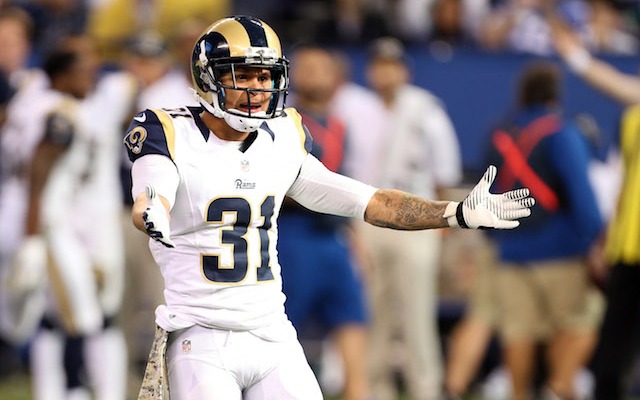 More NFL offseason: League minicamp dates | Latest news, notes
Cortland Finnegan, who began his NFL career in Tennessee, distinguished himself as one of the league's best young cornerbacks and in March 2012 parlayed that into a five-year, $50 million payday with the Rams. By March 2014, Finnegan had been released because, frankly, he had been awful.
According to ProFootballFocus.com, Finnegan ranked 109 out of 110 cornerbacks last season, and was 85th in 2012. But to hear him tell it, the problem was less about his diminishing abilities and more about former Rams defensive coordinator Tim Walton.
Finnegan, who signed a two-year deal with the Dolphins this offseason, told the Miami Herald that Walton's system was "atrocious."
"From the game plan to technique to fundamentals, they weren't in line with a defensive coordinator who knew what he was doing," he continued. "He was a great defensive backs coach, but when you're in over your head, it's kind of tough... (In Miami) coaches know to play guys to their strengths. I wish I had been here a long time ago. [Coordinator Kevin] Coyle is so good at dissecting offenses."
Finnegan sounded a different tone back when the Rams sent him on his way.
"St.Louis, thank you for your letting me play for a classy franchise and coach fish nothing but love thank you all," he tweeted on March 5.
In a surprising development, the Rams (reportedly) disagree with Finnegan's lateset assessment.
A source with knowledge of the situation told PFT's Mike Florio that Finnegan's problems had less to do with the defensive scheme and more to do with, well, Finnegan.
Whether the cornerback will rediscover his skills in Miami is another matter but he insists he's still capable.
"It's still there," Finnegan said. "But until I prove it, we'll never know."
The Falcons look like a team capable of repeating as NFC champions and returning to the Super...

The Giants couldn't get anything going offensively against the Lions

New York is 0-2 and could be in trouble in the NFC East after a brutal loss to the Lions
Jamal Agnew put the moves on the Giants' special teams

That might be the strangest field goal ever

Engram finds out there are still things you can't do under the new celebration rules