David Tyree: I would support any Giants player who identified as gay
The evolution of former Giants receiver David Tyree continues in his new job.
• 2 min read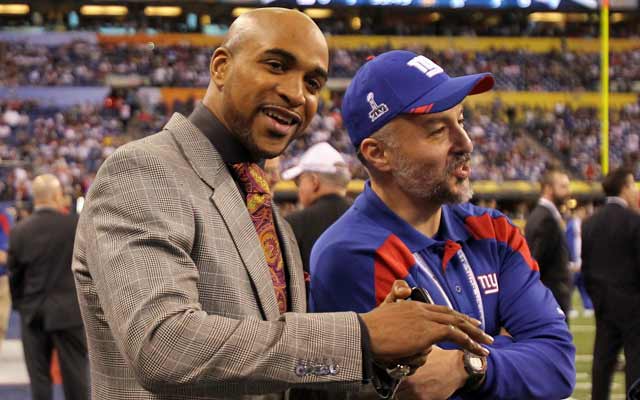 More NFL: Photos |   Videos & GIFs |  Stories | Training Camps | Johnny Manziel watch 
When the Giants earlier this week hired former receiver David Tyree as their new director of player development, the announcement unleashed a firestorm of controversy that focused on Tyree's past comments about marriage equality.
And with the fact that the first openly-gay player is beginning his rookie season, taking a look back at Tyree's anti-gay thoughts led to a hailstorm of negative publicity.
For example. This is what Tyree told the National Organization for Marriage in 2011 when talking about marriage equality.
"This will be the beginning of our country sliding toward, it's a strong word, but anarchy," Tyree said. "How can marriage be marriage for thousands of years and now all the sudden because a minority, an influential minority, has a push or agenda ... and totally reshapes something that was not founded in our country."
Perhaps the only former player to defend Tyree, though, was Wade Davis, who revealed himself as gay after a brief professional playing career. And writing for theMMQB.com on Thursday, Davis expanded on his thoughts on why he believed Tyree's mindset is beginning to change, and he quoted Tyree saying that he would welcome a gay player in the Giants organization.  
Davis wrote that he was hurt by Tyree's past views, but this offseason, Davis has spoken at a number of events to talk to players and coaches about LGBT issues. After one of those presentations, Tyree approached him, shook hands with Davis and said, "I want you to know I really respect what you do."
That meant a great deal to Davis.
"After having the opportunity to speak with David, I realized he is on a journey when it comes to understanding the LGBT community," Davis wrote. "He is evolving. Just as my mother did. Just as some of our most well-known supporters did. Just as I did."
The controversy that was brewed by the Giants hire also left Davis a little sad because he felt that people were judging Tyree too harshly for his past views.
"I paused to reflect on my initial resistance toward him and asked myself, 'Can we create the space for all individuals to evolve?'" Davis wrote. "Have we given up on understanding, engaging, and educating? Are we unwilling to offer compassion to those whose views may shock or offend us? Why has the default response now become to vilify and judge before we seek to ask questions?"
Tyree asked Davis to quote him for his story. "My interactions with Wade over the past few months are much more representative of my current beliefs toward the gay community than some tweets from several years ago. Christianity teaches us love, compassion, and respect for our fellow man, and it is in that light that I will continue to work with Wade and others to better serve the gay community. I would absolutely support any player on the Giants who identified as gay, in any way I could. And I will continue to stay in touch with Wade to ensure I am aware of the right ways to do that."
Here's hoping that everybody -- including Tyree -- will continue to evolve. 
The Vikings, led by Case Keenum, are one of the NFL's best teams

The Vikings' pass rusher revealed the latest addition to the family after sacking Matthew...

It's time to hook up that jersey of your favorite NBA player with some Black Friday deals
A Dallas Cowboys Salute to Service thermal pullover makes for the best early Black Friday...

It's time to hook up that jersey shirt of your favorite NFL player with some Black Friday...

Our computer model simulated every Week 12 NFL game 10,000 times with very surprising resu...