Giants DE Jason Pierre-Paul undergoes back surgery
Giants defensive end Jason Pierre-Paul had back surgery on Tuesday, and his readiness for Week 1 of the 2013 season is uncertain.
• 1 min read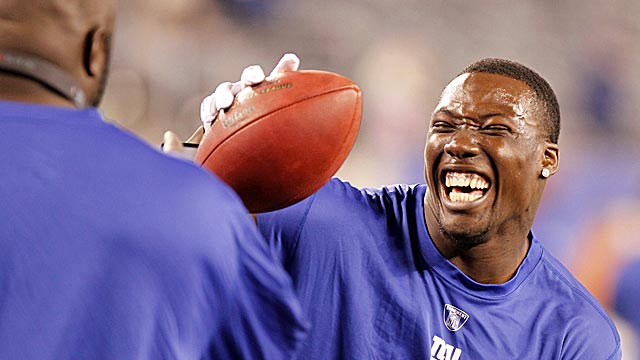 Going from his second season in the NFL to his third, Giants defensive end Jason Pierre-Paul had a tremendous drop in production. He went from 16.5 sacks in 2011 to 6.5 last season, and he accumulated 20 fewer tackles.
Now we might have a good explanation for why that happened.
According to multiple reports, Pierre-Paul played through a bad back injury last season, receiving multiple epidurals during the season just to get him through. He underwent surgery on Tuesday morning in Los Angeles to repair a herniated disc in his lower back, and afterward, the team called it successful.
The Giants say his recovery time should be 12 weeks, meaning he should return by the last week of August. That certainly will make it tough for Pierre-Paul to be ready to play by the start of the season.
"Jason has been experiencing lower back pain the past couple months," Ronnie Barnes, Giants senior vice president of medical services, said on the team's website. "He has managed the discomfort with treatment and core strengthening exercises. Last week, he was examined by Drs. Russell Warren and Frank Cammisa at the Hospital for Special Surgery. Both felt this procedure was the most prudent course of action. Dr. Watkins, after examining Jason yesterday, agreed. We expect a full and complete recovery."
Said Pierre-Paul: "My back has been bothering me for a while, and even last season I played through some back issues. The treatment I've been doing has helped manage the issue, but this procedure is going to get me fully healthy and there should be no more pain. I'm going to do everything the doctors tell me to do during my rehab so I can be back playing the game I love at a high level as quickly as possible."
As for why Pierre-Paul waited until June to have this surgery, CBS Sports' Jason La Canfora wrote, "He was training to manage and rehab it. Ultimately with [the] discomfort not subsiding and training camp approaching, the decision was made for surgery."
In 2012, the back pain started early for Pierre-Paul, but he attributed it to his normal body schedule and how he usually had back pain early in the season. He also had back problems in 2011.
Also featuring holiday-themed celebrations, a pit crew, the Ickey Shuffle, and some racewa...

The former NFL quarterback sounds like he's ready to move to the front office

Mike Tierney has owned NFL over-unders and just locked in a strong pick for 'Monday Night...
Davante Adams was forced from the game with a concussion after Davis' headshot

The Steelers' wideout was suspended for his hit on the Bengals' linebacker

Plus everything you need to know about the game