Junior Seau dead from apparent self-inflicted gunshot wound
According to the North County Times, former Chargers star Junior Seau has been found dead at his home from a self-inflicted gunshot wound.
• 2 min read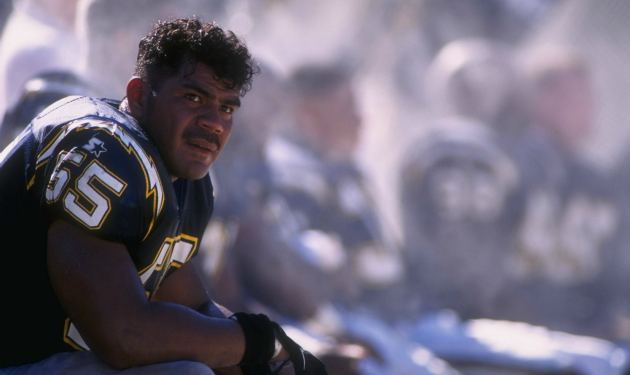 Seau was a 12-time Pro Bowler and a six-time All Pro. (Getty)
Former Chargers star Junior Seau has been found dead at his home from what appears to be a self-inflicted gunshot wound to the chest, Oceanside, Ca., police have confirmed.
Seau, 43, was a 12-time Pro Bowler and a six-time All Pro who looks to be a lock for the Hall of Fame. He retired after the 2009 season following a 20-year career.
In 2010, he was involved
in a car accident
after driving off a cliff. Earlier in the day, he had been arrested on a domestic violence charge.
Seau told police he had fallen asleep at the wheel of his car and had not tried to commit suicide.
"Everyone at the Chargers is in complete shock and disbelief right now," the Chargers said in a statement. "We ask everyone to stop what they're doing and send their prayers to Junior and his family."
The reported death of Seau draws comparisons to Dave Duerson. While it's too early to know whether Seau had similar intentions, Duerson
purposefully shot himself in the chest
in order to preserve his head for research. The former Bears standout suffered multiple concussions while playing in the league.
Before a scheduled news conference held by the Oceanside, Calif., police, Seau's clearly-emotional mother made a statement. "Show your love to my son. I don't understand who do this to my son. I pray to God, take me. Leave my son. But it's too late."
In a brief statement, police chief Frank McCoy said Seau's girlfriend found him unconscious at 9:35 local time and called 911. Police found him in a bedroom, and life-saving efforts were performed. There was a handgun found near the body, and police are investigating the incident as a suicide.
"This is still a very fluid situation," McCoy said. "Our investigators are still continuing their investigation in this matter."
Seau was drafted with the No. 5 pick in the 1990 draft by the Chargers and immediately became a starter. From 1991-2002, he didn't miss a Pro Bowl berth. He was named the 1994 Walter Payton Man of the Year.
In 2003, he went to the Dolphins, and from 2004-05, he played only 15 games. In 2006, he went to the Patriots, where played for his second
Super Bowl
title (the Patriots lost that one, the same as the 1994 Chargers), and lasted there four years before retiring.
For more NFL news, rumors and analysis, follow @EyeOnNFL on Twitter, and subscribe to our Pick-6 Podcast and NFL newsletter. You can follow Josh Katzowitz on Twitter here: @joshkatzowitz.
The Jaguars' cornerback doesn't want the team's top receiver to depart in free agency

The Broncos are one of the favorites to land Cousins in free agency

Gathers flashed signs of promise in the preseason, but has yet to play in a regular-season...
Carruth wants custody of his 18-year-old son, who was born with brain damage after the slaying...

Why pay big bucks when you can gamble on Austin Seferian-Jenkins, Tom Savage or Donte Monc...

Running backs coach Duce Staley and wide receivers coach Mike Groh will reportedly interview...