Just Because: Fight over Redskins name goes back 40 years
For those who thought the fight over the Redskins name was relatively recently, turns out that's not the case at all.
• 1 min read
If you think the groundswell of momentum to force the Redskins to change their name to something that doesn't offend a portion of our society is relatively recent -- and by that, I mean, in the last decade -- this AP article from the April 1 edition of the Gadsden (Ala.) Times in 1971 tells us differently.
Even way back then, citizens were clamoring for Washington's NFL squad to switch monikers so as not to offend Native Americans.
Take a look: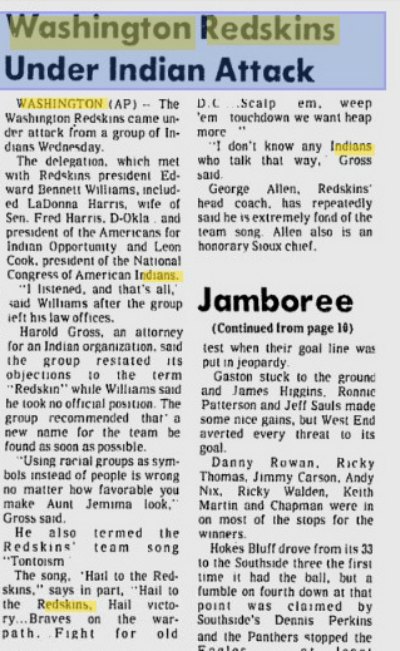 Couple things:

1. Jeez, nice lede, unnamed AP scribe. Would it have been too much to ask to lay off the jokes and stereotypes in this hard news story? (The answer is: apparently it was too much to ask.)
2. Forty-two years before Redskins owner Dan Snyder said, "We'll never change the name. It's that simple. NEVER -- you can use caps," then-team president Edward Bennett Williams said the following after meeting with the delegation: "I listened, and that's all." Yes, that was all, because this story rolls on three decades later. But then again, the Redskins historically have been resistant to change. After all, the Kennedy administration basically had to blackmail the franchise to get it to cross the color line.
3. As the article states, then-coach George Allen was an honorary Sioux chief. I have no idea if that's true, but Allen did coach college football at Morningside, which is located in Sioux City, Iowa.
Anyway, this Redskins name change is definitely not a new fight. But then we saw, via DC Sports Bog, this article from the NY Times' Arthur Daley from 1962. So, yeah, maybe you can see why some people might have been offended by the name and all it represents.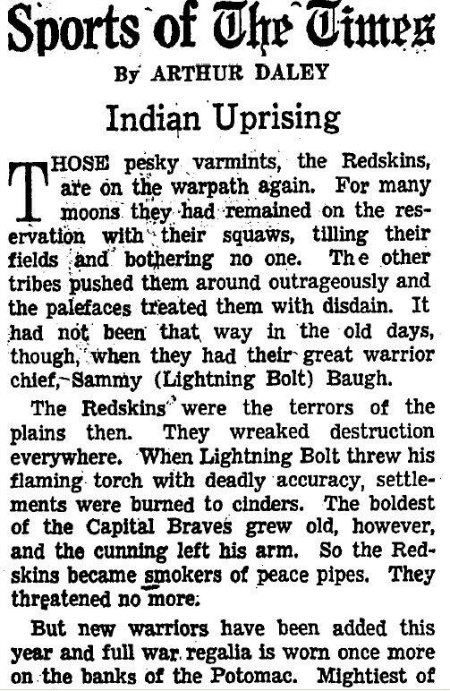 This matchup isn't quite as glamorous as it looked when the schedule was released in the s...

Patriots-Steelers highlights a week filled with playoff-caliber games

Cleveland's quarterback has recently improved, but his turnovers have been a big part of the...
Warren Sapp was one of several players named in a lawsuit against NFL Network

Check out the uniforms that Denver and Indianapolis will be wearing on Thursday

The Cowboys are going to need a few things to go their way to get into the postseason