For more news and notes from Jason La Canfora, tune into The NFL Today Sunday at noon ET on CBS.
Redskins offensive coordinator Kyle Shanahan, son of head coach Mike Shanahan, has not endeared himself to others on the staff and within Redskins Park, according to numerous team sources. According to current and former staff members, Kyle Shanahan has been granted virtual autonomy by Mike Shanahan to guide the team.
Conversations with several people within the organization have revealed a similar perception of Kyle Shanahan as someone who was empowered and enabled by his father, spending an abundance of time in his father's office, given a wide swath of power, and rubbing many people -- players, fellow coaches and members of football operations -- the wrong way. At the same time, Kyle Shanahan has been the most heavily rewarded of the team's assistant coaches, as team sources said the two-year extension Shanahan earned following the playoff run in 2012 will pay him $1.5M in 2014 alone. That's money he's almost certain to collect away from the team, with this regime widely expected to be fired after this season.
With the team in a 3-10 collapse, Robert Griffin III now inactive and the franchise in disarray, the composition of this staff has fallen under criticism, as has the work of the Shanahans in particular, with the lack of experience and pedigree on the offensive side of the ball seen as a particular problem both within the organization and outside it.
"Kyle is the head coach, it's just that no one knows he is," said one member of the organization. "He gets whatever he wants. And he has no relationship at all with (quarterback Robert Griffin II). So how could it work?"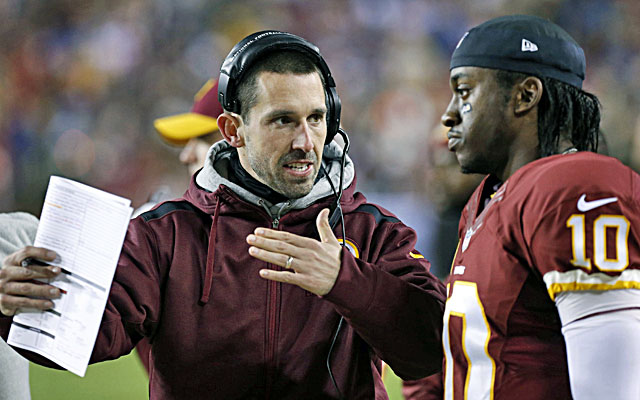 As a former member of the organization put it: "Kyle bitches about everything, and then his father has to fix it. He bitches about the food in the cafeteria, he bitches about the field, he bitches about the equipment. He complains and then Mike takes care of it. Kyle is a big problem there. He is not well liked."
Several members of the organization said Kyle Shanahan was a cause of internal strife, surrounding himself with young coaches with inferior experience, and allowing for no checks and balances of outside voices in the offensive coaching rooms.
"This is the NFL, it's not supposed to be a training ground for coaches," said someone who has worked with Kyle Shanahan in Washington. "It's ridiculous. Look at this staff. It sucks. Mike's best buddy is (longtime Shanahan assistant and current linebackers coach Bob Slowik), and Slowik's son is in his second year out of college and he's on the staff. Everyone on the staff is in his first or second year except for Mike and Kyle and Haslett (defensive coordinator Jim Haslett) and Raheem (Morris, the secondary coach), and everyone knows Raheem is there because he is close with Kyle. Those two go way back.
"Kyle's not that confident, so they set him up with a bunch of yes men rather than have some experienced coaches to push him. It's like Kyle is the pied piper and these kids just follow him around. I mean, Mike has been a head coach for 20 years -- usually a guy like that has a posse he can bring with him. So he's got Bobby Turner (running backs coach) here, and Slowik, and that's it. How does that happen? How does he end up hiring all of his son's buddies?
"What Mike has allowed to happen there, with that staff, there is no excuse for. There are guys on that staff who are just not qualified, and it shows up. Have you seen the quarterback develop? Look at (defensive ends Brian) Orakpo and (Ryan) Kerrigan? Are they progressing or regressing? Are you seeing the offensive lineman they drafted making it to the field?' How many players are getting the kind of NFL coaching you'd expect on that staff?"
The Redskins have had a succession of first-time wide receivers coaches on this staff, and the offensive staff has generally been devoid of experience other than Turner. Most of the offensive staff had less than two years of NFL experience before coming to Washington and even in those cases the two years weren't as actual position coaches, but as offensive assistants and low-level help.
Quarterbacks coach Matt LaFleur worked with Kyle Shanahan in Houston and had only two years experience as an "offensive assistant" with the Texans prior to becoming the Redskins QB coach. Similarly, receivers coach Mike McDaniel was a lower-level assistant on the Texans staff before coming to Washington. Tight ends coach Sean McVay's only prior NFL experience to joining Washington came in 2008 as an offensive assistant in Tampa.
"McVay is really the only one of those kids qualified to do what he's doing," said one member of the organization.
Several members of the Redskins traveling party were perturbed, when, following a win at Dallas on Thanksgiving 2012, Kyle Shanahan and several of his assistants were hollering loudly, crowing and alluding to Cowboys' coach Jason Garrett's job security on the team bus (hooting how they might get him fired) while heading to the airport after the win. The Redskins were just 5-6 themselves at the time and, according to sources, one member of the staff actually told them to "shut up" and diffused the staff.
Furthermore, Kyle Shanahan has long had a very strained relationship with Griffin, sources said, with one staff member saying Shanahan treats Griffin like, "a JV quarterback."
"Kyle knows ball, but he is just so petty and he picks fights and holds grudges over small stuff," the source said. "He's a mountain out of a molehill guy, and he's got entitlement syndrome. That's why we ended up hiring all of his close friends and buddies, so no one can challenge him. But it makes you worse in the long run, because there is no accountability. Ultimately, it's his father's fault for pacifying his son."
Kyle Shanahan had a good run as a member of Gary Kubiak's staff in Houston -- Kubiak was a longtime assistant to Mike Shanahan -- and with the Redskins crumbling, he could end up finding a spot under Kubiak elsewhere if Washington owner Dan Snyder makes major changes as expected (Kubiak was fired as Texans coach last week). But it has long been clear to many people in various corridors of the Redskins' organization that the pair of Mike Shanahan, with his son running the offense, in Washington, has been a doomed combination. Especially within the construct of the lack of other strong voices on the offensive side of the ball, and that nepotism has served to hinder, rather than help, the growth of this franchise and the development of RGIII.