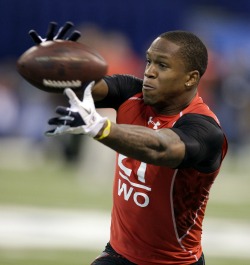 Murdock's brain will be studied. (US Presswire)
Late last month, Titans receiver O.J. Murdock died from an apparently self-inflicted gunshot wound, and afterward, his former teammates expressed shock at Murdock's actions.
As has become customary for football players who have died recently, Murdock's family will allow researchers to study his brain for possible head-related trauma. That's the report from the Tampa Tribune, which writes that Murdock's mother made the decision shortly after Murdock's death.
"I'm an organ donor and I just believe it's the right thing to do," Jamesena Murdock told the paper. "If O.J. can help someone still living, he was the type of person who would've wanted to do this."
She was contacted by officials from Boston University who are studying the effects of chronic traumatic encephalopathy. Like the brains of Junior Seau and Dave Duerson -- who shot themselves in the chest, leaving their brains unharmed -- researchers will dissect Murdock's brain to see how much damage, if any, has been done.
Apparently, Murdock only suffered one concussion from playing football -- a supposedly mild one at Fort Hayes State in 2010.
"He hit the ground with his head pretty hard and gave us a good scare," Al McCray, Murdock's college coach, told the paper. "But he was a tough kid. As soon as he got cleared by doctors a few days later, he said he wanted to play the next game."

For more NFL news, rumors and analysis, follow @EyeOnNFL on Twitter, and subscribe to our Pick-6 Podcast and NFL newsletter. You can follow Josh Katzowitz on Twitter here: @joshkatzowitz.