Peyton Manning sets NFL record for passing yards in a season
Peyton Manning broke Drew Brees record for passing yards in a single season on Sunday.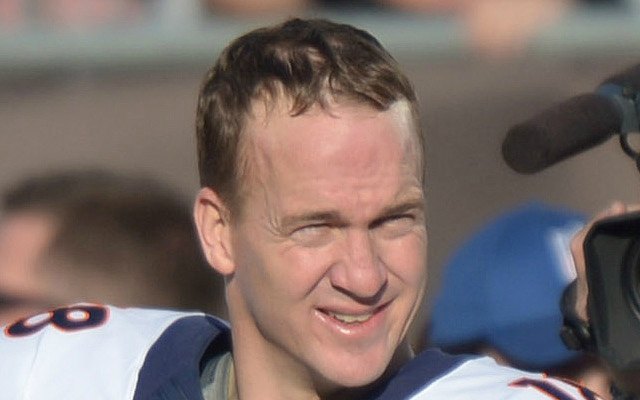 A week after he broke the NFL record for passing touchdowns in a single season, Broncos quarterback Peyton Manning entered history again, breaking Drew Brees record for passing yards in a single season. 
He broke Drew Brees' record of 5,476 yards set in 2011 with a 5-yard pass to Thomas with 13 seconds left in the half to make it 31-0. The Broncos went on to beat the Raiders 34-14.
Manning finishes the regular season with 5,477 yards and 55 touchdown passes
The Broncos also have the record for team points in a season, passing New England's single-season mark of 589 set in 2007. And Matt Prater also broke Stephen Gostkowski's record for extra points in a season with 75.
Fittingly, Manning set the record on a touchdown pass, hitting Demaryius Thomas for a five-yard score with 13 seconds left in the first half.
It was Manning's fourth touchdown pass of the game, giving him 55 on the season, also a new record.
Manning wrapped up one of the greatest single regular seasons in NFL history, at the age of 37 and is the front-runner for the MVP. 
The Seahawks defensive end believes someone from 'the other side' needs to step up

Our annual Madden sim is all kinds of crazy, from the Pats not winning the division to a wild...

Madden season is almost here again. Here's everything you need to know.
The youngest coach in NFL history isn't coming off as someone out of his depth -- just the...

Henry is ready to take on a more substantial role in the Titans' run-heavy offense

In the past week, Marshawn Lynch and Michael Bennett have both sat during the national ant...