Rams training camp: Sam Bradford once again in make-or-break mode
It's another make-or-break year for Rams QB Sam Bradford, who has plenty of weapons and an already nasty defense, boosted by rookie Aaron Donald, supporting him.
• 11 min read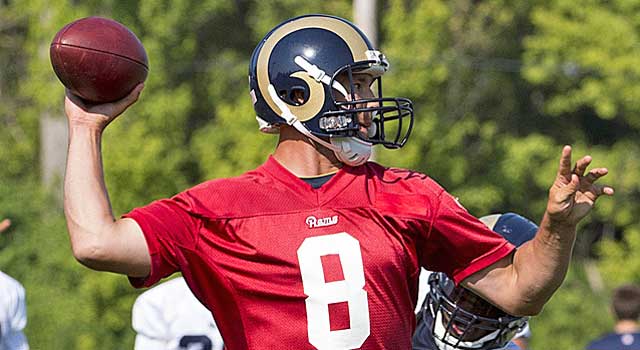 More NFL: Photos |  Videos & GIFs |  Training Camp updates | Manziel Watch
EARTH CITY, Mo. -- Large bodies were tumbling around the feet of Sam Bradford, and he never flinched. The Rams quarterback didn't pick up his feet or hop back, he completed the play -- aware of, but not spooked by, the scene around him as he practiced on his surgically repaired ACL.
Of course, those bodies were wearing the same gold and blue that he was, were not in full pads, and repeatedly had been instructed to stay the heck away from the $13M-a-year-quarterback's knee. Things will be very different later this week when the Rams make their preseason debut, and the speed and intensity of play rises exponentially from there in the regular season. While Bradford has wowed his bosses with his comeback to this point, the reality is the first year back from an injury like this, especially playing a position so very much in the line of fire, can be tricky.
This is yet another make-or-break season for Bradford, the 2011 first-overall pick who has yet to take the Rams to the playoffs, or even play at a consistently high level, and who is signed through 2015 on his rookie contract (set to make $13M in 2015). As per the old CBA, he's already made franchise money (he's pocketed his $50M in guaranteed money), and his growth, or lack thereof, could very well decide how far this organization goes in the near future.
The Rams have a deep roster. They are loaded with top-of-the-draft talent and may have the league's most physical defense. But playing in the loaded, brutally tough NFC West, they will need quality quarterback play to rise from the 8-8 type finishes that have become the norm.
From everything I've gathered, Bradford has been good -- not great -- in practices, which is to be expected at this point in his recovery. Expecting too much might be naïve -- even the great Tom Brady was not himself much of his first year back from an ACL tear -- but the Rams say they are pleased with their quarterback's progress. We'll see if this is the season Bradford and the Rams break out.
"Sam hasn't missed a snap," Coach Jeff Fisher said. "He had a great summer, was throwing with guys in Oklahoma, came back [and} smoked the conditioning test, which is a running test. He's having a good camp."
Fisher and the Rams did everything they could to publically support Bradford this offseason, when some (me included) thought it made sense to explore options via trade and perhaps dedicate one of their higher draft picks to a quarterback. The Rams did oodles of work on quarterbacks in the 2014 draft, and their intrigue regarding Johnny Manziel was very real. Had Johnny Football fallen a little bit deeper I wouldn't have been surprised if the Rams traded back into the first round to grab him.
I have a hard time thinking they won't be incredibly mindful of quarterbacks again as they prepare for the 2015 draft. It would be silly if they weren't. You either get an extension done with Bradford after the season, or you deal him, in my opinion. He's as good a kid as there is in this league, but he's not a novice quarterback anymore and every other team in this division has made a major upgrade at quarterback the past two seasons. Even if you keep him around through the end of his rookie deal (with the franchise tag a possibility), I'd want to be developing a potential replacement by this time next year just in case.
For years the issue was the cast around Bradford, but the upgrades are beyond noticeable now. The offensive line has been fortified through the draft and free agency, with veterans Jake Long, Scott Wells and Rodger Saffold all healthy now (and the hope is they will remain so). There also is no shortage of receivers making plays all over the field at camp, including several with great size. Kenny Britt has people around the team pinching themselves with what he is doing on the field and off, and there is a very strong buzz around third-year receiver Brian Quick and second-year receiver Stedman Bailey. If a few of them can keep it up, this offense has the potential to make significant strides.
"A few of them really look like they are for real," said one member of the organization. "If they are, then that's a major game-changer."
Quick, who is 6-foot-3, was making plays in the back of the end zone and showing elusiveness. Bailey doesn't have that kind of size, but has strong all-around technique and started to win over trust in the second half of last season. Britt, another big receiver, is in great shape and looks explosive again coming out of cuts, and while it is very, very early, and he has been quite troubled in the past, he seems like a changed man and a motivated player, which could be a huge boost for this offense.
"I feel so good. I feel healthy, and for me this is a fresh start," Britt said. "I'm excited about this team."
Given Britt's long track record of utterly unproductive seasons, coupled with repeated run-ins with the law and a suspension, I'm not going to go out on a limb in July. But he is exactly the kind of troubled player Jeff Fisher has had success helping rehab. Britt has a history with Fisher going back to the Titans, and he's been productive with Fisher as his coach.
"Fish lets me be myself and come out to practice and talk a lot, because that's me," Britt said. "And for him to let me do that, it's an honor."
There is no doubt that when he's in shape, Britt has a nice combination of size and speed he has flashed brilliantly at times. The Rams need big targets for Bradford, and considering how little he's played in recent years, Britt is actually a young 25. He had only 11 catches for 96 yards all of last season, and he's started only 17 games the past three seasons since grabbing nine touchdowns in 2010. But he's done enough so far to inspire optimism and I expect him to get plenty of preseason work. Not too long ago Britt looked like a guy who might fall out of the league. This might be his last real shot, and he knows it.
"For sure, and when I hurt my ACL that taught me a lot about that," Britt said. "This could be taken away from you at any minute and to get this chance, and to get back together with Coach Fisher, it's just great."
Donald to boost already stellar D: A year ago at this time I had a pretty good hunch a defensive tackle, of all positions, was going to be the NFL's defensive rookie of the year. I was correct, as the Jets' Sheldon Richardson had a beastly season and was deserving of the accolade. This year, I'd put my money on Rams rookie defensive lineman Aaron Donald.
The first-round pick arrived here already a man, ready to make immediate impact despite playing such a demanding position, and he hasn't disappointed. New defensive coordinator Gregg Williams will put this kid in a position to thrive, and with so much talent around him on the defensive line, the Rams might get as much A-gap pressure as any team in the league. Rams brass still can't believe Donald made it out of the top 10 picks, and look for him to boost to an already powerful group.
"He's absolutely a very polished rookie in pass rush," said Chris Long, a monster pass rusher himself. "One of the most polished rookies I've ever seen as far as his technique. Somebody along the line coached him up pretty well. We were sitting in the room the other day watching film, and I said to him, 'Who taught you to watch film and play with technique?' Not all kids coming in have that."
Donald began turning heads upon his arrival at offseason work, and he hasn't stopped making jaws drop. He's been a bear to handle in individual drills, and with Long, Robert Quinn (maybe the game's best pass rusher) and Michael Brockers around him, this might be the best 4-3 front in the NFL. The scariest part is that none of them has fully reached his prime.
"He's been all you could hope for," Fisher said of Donald. "You always wonder, 'Well, let's see what happens when the pads come on.' He is the real deal. He adds production to an already productive group."
"This is the best front I've ever had a chance to be a part of," echoed Williams, a lifetime coach who has had top-10 defenses with far less individual brilliance at tackle and end.
Williams, who is as multiple with packages and as creative as it gets, had already put his stamp on a talented group, with them playing with more intensity and speed, swarming to the ball, and trying to cause turnovers whenever possible. Some of his young defensive backs were even trying to knock the ball from running back Zac Stacy's hands as he ran back to the line after a drill was over. The message to hunt the football is getting through, and this already-beastly group looks poised for even bigger things.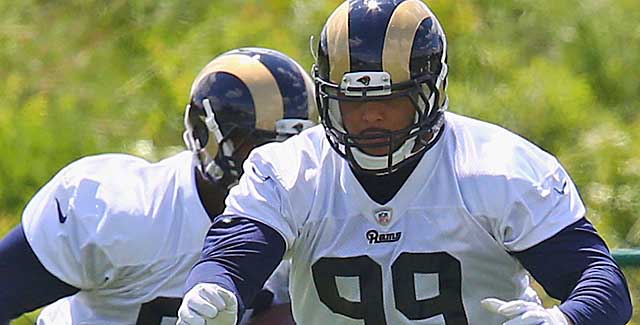 More camp observations: It's hard not to think this might be the Rams' last training camp in St. Louis. Lease-wise, the team is a free-agent at the end of the season, and the owner already owns a parcel of land in Los Angeles fit for a stadium. The rush to be the first team to go back to LA is heating up (Oakland, San Diego, among others), and with the sale price of the Bills only further indicating the worth of these franchise (the $2B purchase price for the flippin' LA Clippers did not go unnoticed in NFL circles), I truly believe 2015 is the year a team may actually get the ball rolling for that move. Considering the Rams used to be in SoCal, they'd have to be in that conversation.
• Michael Sam is anything but a distraction around here. He's just another guy trying to get a roster spot, same as any other seventh-round pick. His lack of size is a problem, he isn't dynamic when changing direction. And he plays a position where the Rams have abundant depth. He's going to have to show something on special teams I figure, or he could get caught up in the numbers game. The early returns haven't been all that strong from what I gather. Regardless, there is no shortage of people in this organization rooting for him, and the Rams have done a tremendous job helping him through his unique journey into the NFL. I'm just not sure it ends up lasting into September.
• I'm still not sure how much Tavon Austin will get the ball in his hands. The Rams gave up a lot to move up and get him in the first round in 2013, but he is so small, and I'm not sure the stuff he did in the backfield at West Virginia is going to really translate at this level. I figure he sees his share of bubble screens, and pops up occasionally on deep stuff downfield, but I'm interested to see if he can really be a big cog in this offense, which is being counted on to take a major step forward.
• The Rams are taking precautions with corner Janoris Jenkins, who has ball-hawking ability but is still learning, and are giving him some time off to rest a muscle strain. They're high on him, though third-year corner Trumaine Johnson has been making strides as well. Johnson had some technique slips early in the practice I saw, but the kid responded with a strong practice overall, picking off Bradford in the end zone in a red zone drill. The Rams feel their elite pass rush is going to help them continue to develop the young secondary on the fly. "T.J. is having an outstanding camp, and we've got some depth now, too," said Fisher, which is an indication of just how far the Rams have developed this roster since the arrival of GM Les Snead and Fisher. In 2011 they cut 37 players who ended up essentially out of the league; this offseason the first two players they released were snapped up by other clubs within a few days.
• I'd expect Zac Stacy to remain the bell cow of this offense after his breakout 2013 season, but there is a deep group of backs. No signs of Stacy taking a step back for him and the Rams continue to find ways to get Benny Cunningham on the field as well.
• The Rams seem very content to leave first-round pick Greg Robinson at guard, despite his massive size and the possibility of him projecting to an elite left tackle. His pass protection remains a big work in progress, but he is an absolute handful physically and will be an anchor on the interior offensive line. If the Rams suffered an injury to a tackle they'd move Saffold back to tackle in all likelihood rather than shift Robinson over. The return of center Wells, removed from the injured list this week, provided a huge boost of experience, smarts and know-how as well, though keeping him healthy has proved difficult. "They were two freak injuries but we're excited about where he is," Fisher said of Wells. If that tandem can play 16 games together, the Rams should be fortified up front for the upcoming battles they will have against NFC West defenses.
The Bills coach still hasn't decided whether Tyrod Taylor or Nathan Peterman will start against...

Matt Moore would start if Cutler isn't able to pass through the protocol

Okafor was in the midst of a huge season on the retooled Saints' defense
Jones was arrested seven days before a breakout performance against the Cowboys

The Chargers delivered a message by picking off Peterman five times in the first half

Plus everything you need to know about the game.