Report: Christian Ponder (shoulder) could play next week
Despite dislocating his left shoulder on Thursday, Vikings quarterback Christian Ponder might not miss much time.
• 1 min read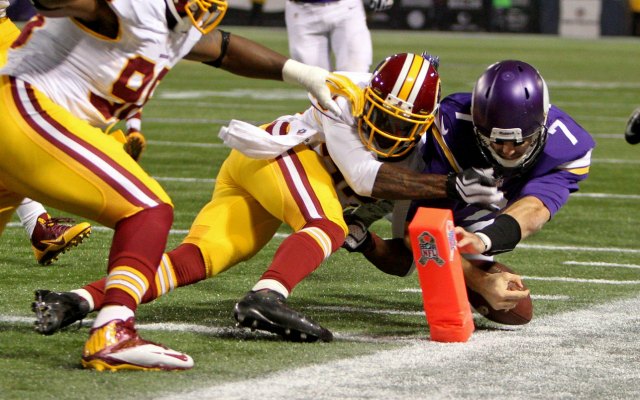 Although Vikings quarterback Christian Ponder dislocated his shoulder Thursday, leaving the game after unsuccessfully stretching out for a touchdown try, Minnesota still managed to beat the Redskins with some strong fourth-quarter defense and with Matt Cassel playing major mistake-free quarterback.
Now, it sounds like Ponder's shoulder injury might not force him to miss any time.
On Christian Ponder: Sources tell me his left shoulder dislocation is considered minor. Very possible he starts next week. Will know by Wed

— Ian Rapoport (@RapSheet) November 8, 2013
That, of course, would be good news to the team -- which seems to believe it's a better idea to use Ponder as the starter instead of Josh Freeman or Cassel. On Thursday, that decision seemed sound with Ponder completing 17 of 21 passes for 174 yards, two touchdowns and an interception before he was hit by Redskins cornerback DeAngelo Hall just before the goal line.
"My expectation is to be back next week," Ponder said after the game. "We have a great training staff."
Follow Josh Katzowitz on Google+
Check out the uniforms that Kansas City and Oakland will be wearing on Thursday

Cliff Avril's NFL career might be over

Oct. 18 is a very special day in NFL lore
The Falcons should not be making any plans for Minnesota in February

The Colts star quarterback could end up missing the entire 2017 season

Not even two Super Bowl wins is enough to get Eli Manning any respect