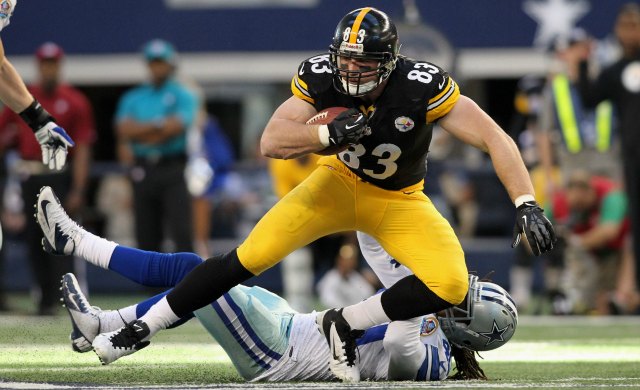 More NFL offseason: Mock Drafts | Prospect Rankings | Pro Days | Top free agents
With Heath Miller set to enter the final year of his contract in 2014, the tight end would have counted $9.5 million against the Steelers salary cap.
But the two sides have extended his contract, and according to NFL.com, the new deal lowers his base salary in 2014 to $1.02 million (with the rest of his base salary converted to a signing bonus) and drops his cap number to about $6.1 million.
Meanwhile, his base salary in 2015 and 2016 will be $4.5 million, but reportedly none of that money is guaranteed.
This comes on the heels of the Steelers also extending safety Troy Polamalu into 2016 as well.
Miller is coming off a solid year -- and maybe a little surprising considering he had so badly damaged his knee in the last game of the season before -- in which he caught 58 passes for 593 yards but also tallied only one touchdown.
Still, Bruce Arians, former Pittsburgh offensive coordinator and current Cardinals head coach, can see how valuable Miller is to the team.
"I still think Heath Miller's the best tight end in the National Football League, not because he catches 90 passes, because he blocks big defensive ends, and he catches about 60-70 passes," Arians said at the combine.