Titans' Johnson happy, eager to prove he can dominate again
Chris Johnson's production has steadily dropped and he's now 27 -- older for an NFL running back. But Pete Prisco says the Titans' star is determined to prove he's 'CJ2K' once again.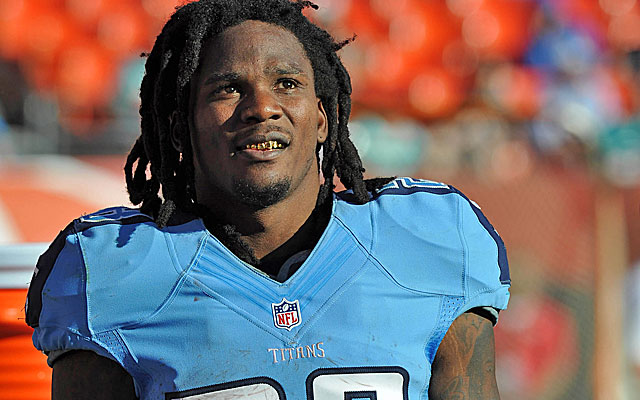 NASHVILLE, Tenn. -- Tennessee Titans running back Chris Johnson won't say who won his race against the cheetah.
"I can't tell you," he said. "You'll have to watch in November when it's on TV."
"I bet you didn't beat the cheetah," I said.
"How much you want to bet?" he said. "You might win some money, you might not."
That race was for fun, took place at Busch Gardens in Tampa this summer, and Johnson has had some big laughs about it. But there's another race that Johnson isn't laughing about, one he insists he's not losing -- the race against time, a much more important race.
The clock for NFL running backs moves faster than your watch does when you're racing to catch a flight. Twenty-seven is young by almost all job standards and even most football positions, but it's considered somewhat old by running-back standards.
Chris Johnson is 27 now. He's in his sixth season. Thirty is approaching fast.
Just don't try and tell him he's at that running back crossroads, where the body starts to slow, the speed isn't what it was and the explosion is gone.
"It's baffling to me when somebody can sit here and say I lost a step," Johnson said. "They don't know what they are talking about."
The numbers might lead one to say that. Johnson ran for 2,006 yards in 2009, his second season in the league, but in the three years since his best total has been 1,364 yards. Last season he rushed for 1,243 yards, putting him far away from the spotlight that shined on Adrian Peterson and his 2,000-yard season.
A closer look at Johnson's season shows the reasons why his numbers were down. It starts with carries. He isn't getting as many. After getting 358 in 2009, he had 276 in 2012. Peterson had 348 carries. In the first three games last season, Johnson ran for 45 yards, but averaged just 11 carries a game.
Then there's the offensive line. The Titans were hit hard by injuries last season and started 10 different combinations. The interior struggled again -- it was especially hit hard by the injury bug -- and Johnson had a lot of bodies at his feet when he took the handoffs. He is a runner that needs room to get going, so that impacted his style.
And so the question came: Is Chris Johnson's best football behind him?
"If you really know football, and really watch football, how can you ask me that question?" Johnson said. "Those guys on TV who said that have to say something. But if you really know football, and watch the game, you know I don't have to make any excuses. I am not that type of guy anyway. I've never been the guy who complains about the line or anything like that. You just roll with it. But look at the other backs in this league -- Adrian, (Arian) Foster, (Jamaal) Charles. Look at their tapes, they have room to run."
It is a notion that wasn't disputed by some of the guys up front or coach Mike Munchak.
"I look back some of the things we did and I can't believe what was happening up front," Titans tackle Michael Roos said. "It was tough in a lot of ways."
"Up front, we had a really tough year," Munchak said. "I thought last year he ran better than the year he held out. That was part of why he was as productive. He didn't have the opportunities he had in the past."
The Titans did sign veteran free agent guard Andy Levitre in free agency and drafted Chance Warmack in the first round to upgrade the inside part of the line. There is a chance that Rob Turner, another free-agent signee, or rookie Brian Schwenke could unseat Fernando Velasco at center. It could mean three new starters inside, which should make for more room for Johnson to run.
The carries should go up too. Offensive coordinator Dowell Loggains, who took over with five games last season, is more apt to get Johnson the ball than Chris Palmer did.
"We became more of a passing team," Johnson said. "They forgot about me at times."
As Peterson ran for 2,000 yards, pushing for the single-season record, Johnson kept an eye on a back he appreciates watching. But he did so with one thought on his mind.
"I did it first," Johnson said of 2,000 yards. "Not one time did I sit back and say he did something that I can't do. I did it first. He's a great back. But I can't sit here and say out of my own mouth that Adrian Peterson is better than me. All the things he's done, I've done the same things. I did them first."
Johnson's goals in 2013 are this: Make the playoffs and become the first man to rush for 2,000 yards twice in a season.
That's all.
"It's doable," Johnson said. "Of course, it's doable. I can't do it getting 11 carries a game. What motivates me is I want to get to 2,000 yards again. Be the first back to do it. I've been to the playoffs once, and I want to get back there."
So now 2,000 yards is a benchmark for backs?
"That's always my goal," Johnson said. "That's every back's goal."
In a passing league, where backs are getting fewer and fewer carries, it's a tough thing to do. But Johnson thinks if he can get 22 carries a game -- 25 is too many he said -- he has a real chance.  But it would mean his 4.5 per-rush average from a year ago would need to be a lot higher.
The Titans coaches see a Johnson with a chip on his shoulder. He wants back in the running backs limelight. He is a little heavier through some offseason work and he seems driven.
"A lot of times when you have success, it's hard to find things to strive for to motivate you," Johnson said. "What motivates me? Getting 2,000 yards again."
I asked Johnson if some of the young speed guys think they can beat him in a race now since he's older.
"They talk about it," he said. "But they wouldn't beat me."
So are you racing any?
"I don't race humans anymore," Johnson said. "I only race animals."
Johnson laughed. You get the idea Chris Johnson is happy again, and particularly eager to show that he can again be "CJ2K."
"A lot of people seem to forget real easy," Johnson said. "They forget what I've done. They forget what I can do. You watch. I've done some things that a lot of backs haven't done, and I will do a lot more."
In the past week, Marshawn Lynch and Michael Bennett have both sat during the national ant...

As expected, the internet had jokes about the Chick-fil-A at Mercedes-Benz being closed on...

Harrison is the franchise's all-time leading sacker, but J.J. Watt's brother will get the starting...
More than 17 percent of fans say they would never consider dating a Pats fan

Brady said that his lack of speed is why he fell so far in the draft in the first place

If Thomas is right, that means it's bad news for DeShone Kizer's chances of starting early