Trading frustrated Andre Johnson would make no sense for Texans
Andre Johnson might be unhappy, but the rebuilding Texans can't afford to lose his production and leadership, and trading him would yield little.
• 6 min read
NFL offseason: 2014 Draft Tracker, grades | Free agents | Minicamp, OTA dates
The Houston Texans shouldn't even consider trading Andre Johnson. And I highly doubt they will.
Johnson is obviously miffed. Being the kind of guy he is, he won't go much beyond his recent passive-aggressive flirtation with wanting to play elsewhere. But for anyone expecting him to come out full throttle and demand a trade, those who know him well don't believe that's how he is wired. Certainly he isn't thrilled with the turn the organization has taken the past year or so, and having to learn a new offense now with so much uncertainty at the quarterback position is hardly ideal for a franchise receiver.
But, alas, that is Johnson's plight, and his plight it shall be for quite some time. Because the Texans would be foolish to even try to shop him. For several reasons.
First of all, Johnson is the most decorated player in Texans history. He literally is the franchise (though obviously J.J. Watt is taking that lead now, too; not that Watt would be thrilled about having to actually play out a puny fifth-year option for the club in 2015). Johnson has been there more or less from the get-go, and he is still a very productive player on a team that isn't exactly overloaded with premium weapons in the passing game. He's the central cog, especially given the health woes of Arian Foster the past few years and the way the running game has regressed.
If indeed the Texans do end up giving immediate work to recent draft pick Tom Savage, that's all the more reason Johnson's presence would be of supreme import, especially considering this particular kid quarterback missed two years of precious developmental time in college due to transfers. They need Johnson to help bring the offense along, and let's face it, even if veteran Ryan Fitzpatrick is under center, you are looking at a fairly limited option at quarterback there, too, and one with a predilection for turnovers. Having a proven big-play receiver is a must.
New head coach Bill O'Brien is an offensive guru, but this was the NFL's worst team a year ago and it lacks a proven quarterback, and O'Brien isn't looking to start his tenure looking like an embarrassment on that side of the ball.
And the overarching reality is that the Texans and general manager Rick Smith have been very good to Johnson throughout his career, twice tearing up his contract when they didn't have to, treating him with the utmost respect and rewarding him for being the kind of person and player he has been through his distinguished tenure in Houston.
But enough is enough.
You can capitulate only so many times, even for a star of Johnson's caliber, and this team needs a few pieces to build around. O'Brien would be sending an awkward message to the rest of his team -- and striking a dangerous tone to begin his NFL coaching career -- by dealing one of his best players just because he is a little unhappy and dared to gripe about it a little bit. That's an awfully slippery slope to start going down so soon. And it runs counter to every fiber of O'Brien's coaching DNA.
This is a product of Bill Belichick at the pro level, and ain't no way Belichick would be wasting any time worrying about what he should do to placate Johnson is a situation like this. Um, that's anything but the Patriot Way. Belichick would just as soon bury you before he thought about placating you, and I can't see O'Brien subscribing to any touchy-feely whining about doing the right thing by Johnson.
And Johnson is anything but disrespected in the pay department. Yes, several other receivers have surpassed the contract since he signed his last extension in 2012, but this is a man who is averaging just under $10 million a season. He is set to make $7.5 million this season and then has two more years left beyond that, worth $23.5 million. That's serious coin, folks.
Now, if a year from now the Texans aren't comfortable paying him that kind of money and opt to target his position more significantly in free agency and/or the draft, then so be it. You can always move on from him then.
But if this past offseason told us anything at all about players on the wrong side of 30 who make big money being offered up in trade, it's that there isn't any real value there at all. In a league where a younger DeSean Jackson ends up just being released because there are no trade options and no one will trade for Julius Peppers or DeMarcus Ware because teams will just wait for them to be cut, the marginal future draft pick the Texans might get for Johnson wouldn't be worth it. Not for the huge gulf they would have in their offense this season.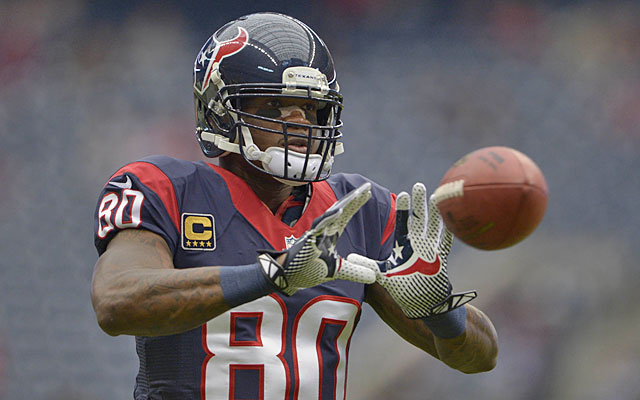 Let's just consider exactly how big of a loss Johnson, who will be 33 when the season starts, would be:
The man caught 109 balls a year ago, despite having a revolving door at quarterback. That's 57 more receptions than anyone else on the team, with rookie DeAndre Hopkins a distant second at 52. Johnson had 1,407 receiving yards, or 605 more than anyone else on the roster. (Don't forget, this team already parted with longtime stalwart tight end Owen Daniels due to contract and cap issues, losing a key target in the process.) You can knock Johnson's touchdown totals all you want (five in 2013) but there weren't too many quarterbacks throwing too many touchdowns anywhere in a Texans uniform last fall.
Johnson has been good for 1,200 yards any season in which he has been healthy -- and he has been plenty durable -- and he is a guy who shows up big at big moments. But given his age and salary, getting a reciprocal value back in trade isn't going to happen, and he will be worth more to a developmental quarterback these next few years in practices and the offseason and the average off-day Tuesday than he might be even on the field. You need this guy around as you change staffs. Period.
And this receiving corps desperately needs Johnson, too. There isn't anyone else on that roster close to filling a leadership void. No one else to show these young guys the way. The next most experienced holdover receivers are entering their third season. The only other "veteran" even on the roster is Mike Thomas, the former Jacksonville receiver who hasn't played since 2012.
Try to name the Texans' receiving corps. I dare you.
Besides Johnson and Hopkins -- who had a promising rookie campaign -- the Texans currently have Thomas, Alan Bonner, Andy Cruse, Alec Lemon, Keshawn Martin, Devier Posey and Uzoma Nwachukwu.
Yeah. That's it. Kind of scary, actually.
That's one of the least experienced receiving groups you are going to find. Most of these guys haven't played a meaningful snap in the NFL, ever. And while tight end Garrett Graham made some nice strides last season, he doesn't have an established pedigree, either.
The quarterback is going to need someone to throw the ball to. He's going to need Johnson.
Johnson has 61 career receiving touchdowns; the rest of Houston's receivers have combined for 11 (and that's including seven from Thomas, who might not make this team).
So let Johnson grouse and grumble if he likes. Show him, over time, how quickly your offense can evolve, and go into the season with your best receiver on your roster. Because he hasn't slowed down yet, and that potential mid-round pick in 2015 won't do a damn thing for the Texans this year, if ever.
Vegas legend Micah Roberts has his finger on the pulse of Doug Pederson's team

If the Eagles can control the line of scrimmage and minimize Foles' risk, they can spoil Minnesota's...

Reaching a new agreement may not be a smooth process for the 39-year-old quarterback
No one respects the Eagles apparently, plus Super Bowl LII odds for Pats-Vikings and all m...

Patriots, Jaguars, Vikings and Eagles bring (mostly) experienced leaders, old-school value...

Minnesota and Philadelphia are both built for the playoffs with defense, backup QBs and re...