Q&A: Cincinnati coach Mick Cronin
Cincinnati coach Mick Cronin talks with Jon Rothstein about sustaining success at Cincinnati and how the Bearcats can improve.
• 6 min read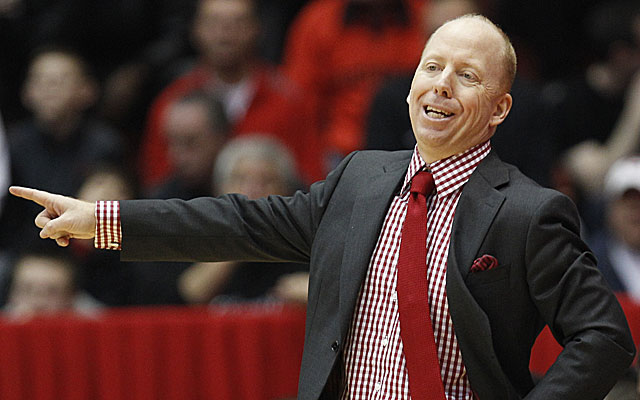 Mick Cronin has quickly become one of college basketball's elite coaches. After inheriting a depleted situation at his alma mater in 2006, Cronin has led Cincinnati to three consecutive NCAA Tournaments and a 21-2 overall record this season heading into Thursday's game against UConn. Jon Rothstein sat down with Cronin to discuss the challenge of sustaining success, Justin Jackson's dramatic improvement, and what it's going to take for the Bearcats to continue to improve throughout the rest of the season.
CBSSports.com: You're 21-2 right now, but you lost back-to-back games in December to New Mexico and Xavier. What did message did you send to your team after those two losses?
Mick Cronin: I just told them that we need to circle the wagons and look in the mirror. We gave up 50 percent shooting and 56 percent shooting in back-to-back games. We didn't defend. Good teams are going to make it hard on you. Those two teams made it hard on us to score. You can't win if you can't score, but the problem was our not scoring was affecting our defense. I told them that we had to stay focused because offense is going to come and go. We talked about toughness. To continue to defend, rebound, and play hard every day, that's what toughness is. You can't beat good teams if you don't score, but you have to always defend at a high level if you want to have a chance.
CBSSports.com: Did you think at the start of the season that this team had these types of capabilities?
Cronin: I thought we had the chance to be the best defensive team I ever had because of our interchangeable parts and because of Justin Jackson as anchor. We had enough depth to play enough guys and keep guys that were on the floor fresh. I knew we had the ability to be really tough to score on. So far that's been the case.
CBSSports.com: You've made Cincinnati a perennial NCAA Tournament team. Is it harder to build a program the first time or sustain once you've had some success?
Cronin: I think it's harder to build because when you're building and you have to recruit, it's very hard to recruit to negativity and a losing record. You're asking to kids to take a leap of faith. When you're recruiting to winning, it's a lot easier to recruit to winning. Recruiting is the key success. The type of kids you're getting is going to determine the type of team you have. Building a program is really, really hard. Sustaining it is really hard. Neither one is easy because people with a lot more wins than myself would tell you that your fans will come to expect a certain level. What Jim Boeheim has done is beyond remarkable. What Jim Calhoun did is beyond remarkable. People take it for granted. All you have to do is ask the programs that aren't winning how much they would like to play in the NCAA Tournament. Nolan Richardson said "you build the beast and then the beast turns on you." Success becomes expected and then success turns on you. Look at the Patriots right now in the NFL. If they don't win the Super Bowl, it's like they didn't have a good year. It's because of what people have come to expect.
CBSSports.com: The win last week against Louisville was one of the more wild atmospheres we've seen this year in college basketball. Where does that win rank in terms of the best you've had in your career, especially because since it was against your mentor Rick Pitino?
Cronin: It was the best road win I've ever been a part of. During the postgame stuff, all the Louisville people said that was the loudest and best atmosphere they've had since they opened the Yum Center in the second half of that game. To be able to withstand their unbelievable shot making and the tremendous crowd that they had is a tremendous achievement for my players. Coach Pitino wasn't happy after the game but he did call me Tuesday to congratulate me on our ranking. He told me to take a day to just think about where we are and where the program was when I first got here. We're obviously very close.
CBSSports.com: The game winning shot against the Cardinals was made by Justin Jackson, whose quickly went from role player to potential AAC Player of the Year. What's allowed him to become elite after being just a piece to the puzzle earlier in his career?
Cronin: Maturity. That's the number one word. Maturity to not be in foul trouble. Maturity to realize that his strengths are to be close to the basket. Maturity to realize that he needs to be in the paint to be effective. Too many 6-8 guys want to be jump shooters. The one word is maturity. That's allowed him to realize who he is and what makes him effective.
CBSSports.com: How much does he epitomize the Cincinnati brand and the style of play that you've built over the past few years?
Cronin: He's my kind of guy because he plays with no fear. He never gives up. You can say the same thing with Sean Kilpatrick and Titus Rubles. Those guys are soldiers. That's the best word to describe them. They're soldiers.
CBSSports.com: You keep winning games, but people continue to say that your roster isn't very talented. Why is that a common theme?
Cronin: Because certain teams boast certain lottery picks. Or guys were maybe ranked highly coming out of high school. The fallacy is that you have talent because recruiting services rank certain players high. The reality is your play does the talking. What I've said to my guys is that you have to get to the point where you have all eyes on you and then you have to deliver in the clutch. Then people will respect you. That's what we did at Louisville. I don't know after watching that game how people can say that Sean Kilpatrick isn't one of the best guards in college basketball. I just don't know how they can say it. He's going be the second-leading scorer in the history of Cincinnati basketball behind Oscar Robertson and he's going to be the second guy in the history of our program along with Oscar to score over 2,000 points. That's some good company.
CBSSports.com: What separates him (Kilpatrick) from other players that you've been around during your career?
Cronin: He has what every NBA player that I've coached has. He is self motivated. Every draft pick that I've been around was self motivated. Unfortunately there's not enough guys like that today. I know I'm only going to be around these guys for so much longer. I've kind of used the Ray Lewis term with our guys in regards to Sean Kilpatrick, Justin Jackson, Titus Rubles. This is "the last ride". And it is. This is the last time all of us are going to be together. I'm well aware of it and I know they are too.
CBSSports.com: You got a taste of what it's like to play deep into the NCAA Tournament two years ago when you reached the Sweet 16. What's going to be the key for Cincinnati to be just as good over the next six weeks and through March as its been so far this season?
Cronin: We've got to get better. That's the biggest thing I've learned from Rick Pitino. As a coach you're searching for ways to get better. Every possible detail, whether it's conditioning, or getting more out of your eighth or ninth man. You have to get better and you have to get better every day. We'll practice less this time of year and do more skill work. We'll try to get guys like Jermaine Sanders and Shaquille Thomas better than they are now. That's what we're going to need to be really good when it matters the most. To win in March you have to learn to play different ways and you have to focus on different styles. That's what we're doing right now and that's what we're going to continue to do.
Gary Parrish and Matt Norlander discuss the latest in college basketball

The university also maintains that Pitino was appropriately fired

Price only made it nine games into his third season
The Wildcats won't play another currently ranked team until Jan. 10

The BC fan has a ton of apparel and gear headed his way after this putt

Durant's made a habit of making sure his alma mater is set with the latest customized gear