Spring Practice Primer: Vanderbilt
Can Vanderbilt coach James Franklin continue working miracles in Nashville?
College football never ends, and during the next few weeks teams will be getting ready for the 2013 season in their spring practice sessions. Here's a look at the Vanderbilt Commodores and what they'll be working on this spring.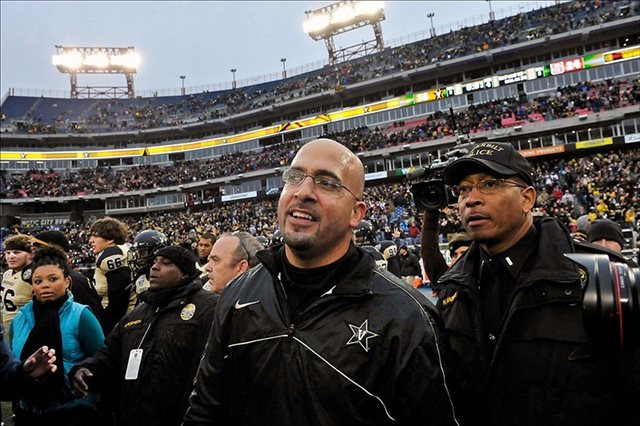 Spring practice began: March 15
Spring game: April 13
2012 record: 9-4 -- 4th SEC East, Music City Bowl champions. (Yes, Vanderbilt accomplished those things.)
Returning starters: 13 (7 offensive, 6 defensive)
The Least You Should Know About Vanderbilt This Spring
-- The backfield is being rebuilt. James Franklin's stunning record at Vandy -- 15-11 overall, with back-to-back bowl berths in his first two seasons since taking over a 2-10 disaster zone in 2010 -- might still be less jaw-dropping than this simple fact: He's created a highly efficient passing game at Vanderbilt. Since Jay Cutler left, Nashville has been where productive quarterbacking has gone to die ... at least until 2012, when Jordan Rodgers averaged 8 yards an attempt and finished with a 15-to-5 touchdown-to-interception ratio in his senior season. Now Franklin has the task of maintaining that success with either Patton Robinette, who is a redshirt freshman (and former recruiting coup), or Austyn Carta-Samuels, a senior transfer (and former Wyoming starter).
Rodgers wasn't the only major loss in the backfield, though, as vastly underrated tailback Zac Stacy has graduated. Between Brian Kimbrow, Wesley Tate and Jerron Seymour, though, running back shouldn't be a problem. Without a big spring from Carta-Samuels, Robinette or a third candidate, though, Franklin can't say the same about his QB situation yet.
-- The defensive line is being rebuilt, too. The good news: the Commodores haven't had any business fielding a productive defensive line the past two seasons, and they finished fourth (fourth!) and a still-respectable eighth in the SEC in rush defense anyway. The bad news: At least on paper, they still don't have any business fielding one, not with three starters gone and Jared Morse -- the team's most experienced returning tackle -- a gigantic question mark after being forced off the team (and leaving school) this spring.
But in ends Kyle Woestmann and Walker May and a host of tackle candidates (including sophomore Vince Taylor), there appears to be as much raw material for line coach Sean Spencer to work with as there was the past two seasons. Spring camp will go a long way towards determining if that's actually the case.
-- The receiving corps is preparing to be one of the SEC's best. A major part of Rodgers' successful time under center, of course, was that he was throwing to a cadre of wideouts that vastly outperformed expectations -- and unlike Rodgers, those wideouts are back. Jordan Matthews and Chris Boyd both seem to have NFL futures ahead, with Matthews the Commodores' first All-SEC receiver since Earl Bennett. Now a senior and junior, respectively, Matthews and Boyd have to continue improving this spring to make the Vandy receivers not only one of the best units in the SEC but one good enough to occasionally carry whoever wins the quarterback battle along for a few big-play rides.
-- Ditto the back seven. Yet another mind-blowing stat from the 'Dores resurgence: they finished sixth in the FBS in opponent's passer rating last year, one spot ahead of none other than Alabama. While defensive coordinator John Shoops loses standout corner Trey Wilson and linebacker Archibald Barnes, the other five members of the back seven -- including top-notch safety tandem Javon Marshall and Kenny Ladler and leading tackler Chase Garnham -- all return.
The formula for another postseason run at Vandy seems clear: get some big plays from the wideouts to establish a lead and hurt the opponent's attempts at running on the defensive line, then let the running game and withering pass defense close things out. Hone it to a polish this spring, and the first 10-win season in school history isn't out of the question.
Led by Heisman Trophy winner Baker Mayfield, the Big 12 finished with seven first-team sel...

Schiano would have made $4.4 million in Year 1 with annual raises as part of a six-year de...

Dykes spent this season as an offensive analyst at TCU
The 'Wyoming Wild Man' notched six tackles for loss as a junior in 2017

Zaycoven Henderson was charged with aggravated assault with a deadly weapon

Patterson is a former No. 1 recruit in the country