Draft fail: Whispers from 2012 drive Bengals LB Vontaze Burfict
The Bengals' Vontaze Burfict went undrafted in 2012 over 'character issues,' but he's now one of the best linebackers in the NFL.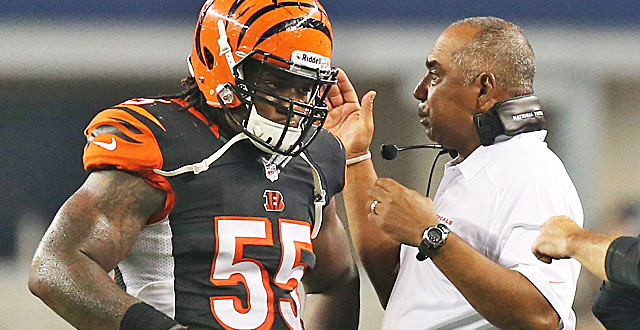 More NFL offseason: Mock drafts | Prospect rankings | Pro days | Top free agents
CINCINNATI -- Vontaze Burfict watched the 2012 NFL Draft. Of course he did. He's not going to sit here and lie to you, or to me, and tell us that he was too cool to watch his own humiliation. The guy has a pair of tiny dogs he dotes on likes princesses. He eats tilapia and broccoli. We'll get to that in a minute, but understand this: Vontaze Burfict isn't too cool for anything.
He watched the 2012 draft with his mother and an uncle in the house for moral support. Because they knew what was going to happen, too. They knew, everyone knew, that Vontaze Burfict -- projected as a top-10 pick in 2012 before his junior season at Arizona State -- wasn't going to be drafted in the top 10. Or in the first round.
So truth be told, Burfict didn't watch the first day. He went to the gym instead, and spent hours there. Punishing weights, letting this first day happen without him. But he was there in front of the television on the second day, when Rounds 2 and 3 were called. And he was there on the third and final day, for Rounds 4-7.
And he was keeping a list, a mental list, of the linebackers called. Boston College's Luke Kuechly went ninth overall to Carolina. Utah State's Bobby Wagner went to the Seahawks in Round 2. On and on it went, one college linebacker after another being summoned into the NFL, most of them guys Burfict was pretty sure then -- and is positive now -- weren't as good as he is.
One linebacker was picked on the third day, and this one sent Burfict over the edge. He wouldn't tell me which linebacker it was, and that's fine. Hell, that's progress. Shooting off his mouth, burying someone else in a fusillade of immaturity, those are vestiges of the Vontaze Burfict whose draft stock fell from the top 10 to ... nowhere. Because Burfict never heard his name called in 2012. And it was this one guy, this one college linebacker whose name Burfict won't share, who sent him over the edge. That guy was picked, and it happened.
"I had to get out of there," he said. "Got up off my couch, told my mom I was going to the gym, and I was gone. I couldn't watch anymore."
Humiliating.
Two years later, imagine being the general manager of an NFL team that didn't want Vontaze Burfict in 2012. Imagine being a scout for one of those teams, telling your boss that your team can do better than Burfict.
Humiliating.
Because after going undrafted in 2012, Vontaze Burfict led the NFL in tackles in 2013.
•
•
•
That's the ugly side of the story, what happened to Burfict's draft stock in 2012, and much of it was self-inflicted. He was the country's top recruit at inside linebacker in 2008, a freshman All-American at Arizona State in 2009, a sophomore star in 2010. Then he tumbled in 2011, buried by a flurry of personal-foul flags and a rumor that he beat up a teammate and a notoriously bad showing at the NFL combine the following spring. Then came the three days of the 2012 draft without his name being called. Ugly, all of it.
But there's something beautiful about Vontaze Burfict, too, and it looks like a 6-foot-1, 255-pound truck walking into his house and scooping up two tiny dogs and cooing and going upstairs to bathe them and shave them -- he has a Pomeranian and a Chihuahua -- and even brush their teeth.
Burfict is telling me about the teeth when I interrupt him. Brush their teeth? Like, with Crest?
"Doggy toothpaste," he told me.
Of course.
That's a perfect night, and a typical night, for Burfict. Home with his girlfriend, Brandie LaBomme. Spoiling his dogs. Relaxing with a dinner of tilapia and broccoli, a glass of wine -- really -- and some video games.
He's a different kind of cat, or two different kinds of cats, because on the field he is one way, violent and aggressive, and off the field he is something else. And it's off the field where everyone was wrong. Go to Google and type in "Vontaze Burfict" and "character issues." Heck, it's not even that hard. Go to Google and type in "Vontaze Burfict" and the letters "ch." Google will do the rest, auto-filling in the search that has been done so often. See the results. It's staggering, and even funny, like this story headlined "Draft Nightmare Scenario: In Which Vontaze Burfict Is Selected 2nd Overall."
I throw those two words at Burfict.
Character. Issues.
Up to now he has been smiling and soft-spoken. But I say those two words and he starts scowling. His voice gets a little louder. This is hitting close to home, and from his perspective, this is unfair.
"Never been arrested," is how he starts. "Never even been pulled over. Character issues? Man, I'm a football player. I'm aggressive and physical on the field, but character issues? I don't have character issues."
Fair enough, I say. But what about the rumor that started your downward spiral in college, the one about the teammate you fought in the locker room?
"I beat him up," Burfict said.
You ... what?
"Punished him," he said. "We were doing seven-on-seven [drills], and you can't hit the wide receiver, but he hit me. We exchanged words [on the field], and he continued blabbing his mouth in the locker room. The way my mom raised me, if someone comes at you, you can protect yourself. He came at me, and I punished him. Because I beat him up so bad, everyone said it was my fault. But the players who were there and who saw it, they know."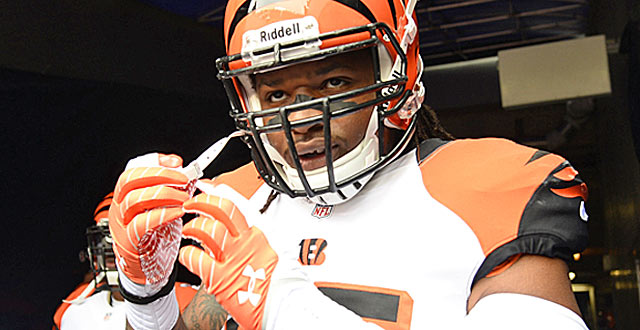 Burfict is too honest, you know that? It was during the 2012 draft combine, where he showed up weighing 260 pounds and then ran the 40-yard dash so slowly -- 5.09 seconds -- that the phrase "things faster than Vontaze Burfict" was trending on Twitter. And then, somehow, Burfict made it worse. When teams asked him if he smoked marijuana, Burfict told the truth: Yes. But he also told teams that he didn't smoke it anymore. Was that the truth? Didn't matter. Combine his slow time in the 40 with his 22 personal-foul penalties in 37 games at Arizona State with that locker-room fight with his admission that he had smoked marijuana, and Burfict's draft stock was in the dumper.
This is how ESPN draft guru Mel Kiper Jr. put it the week before the 2012 draft:
"You look at Vontaze Burfict as a guy that has probably dropped as much in this draft in terms of his rating as probably any prospect in recent times."
Bengals coach Marvin Lewis saw something in Burfict -- Lewis compared him to a guy he coached as an assistant in Baltimore, a slow-ish, emotional, violent linebacker named Ray Lewis -- and invited him to camp as an undrafted free agent. By the end of the season Burfict was starting at linebacker, and he led the team with 127 tackles.
Last season Burfict led the NFL with 171. He made the Pro Bowl, where he made this diving interception of an Andrew Luck pass tipped by Robert Quinn.
Thirty-one teams didn't want this guy.
"Character issues," Burfict sneers.
•
•
•
To our left is a commotion. Bengals middle linebacker Rey Maualuga and cornerback Terence Newman are arguing over the way to read a certain formation. Seriously, this is happening about 40 feet away from Burfict and me. It's not an angry argument, nothing scary, but Newman thinks the proper read is one thing, and Maualuga thinks it's something else, and for Newman this matters because it's part of the offseason work the Bengals ask of their players. Literally, Newman is holding some papers in his hand because today it's the cornerbacks' turn to be tested, and Newman wants to get this call right.
Newman has been in the NFL for 11 years, the most experienced player in the locker room. Maualuga is a five-year veteran and also the middle linebacker, the guy who calls defenses. Both walk over to the second-year pro, Burfict, because they need him to settle the tie.
"If the two and the three are close," Newman says to Burfict, "is it an 'alert push' or 'hi-low?'"
"Hi-low," Burfict says, and Newman nods and disappears around the corner.
I'm watching Newman, and when I turn back to Burfict he's smiling.
"Man, I love that," he said. "That means everything to me, him coming to me for a question. That's what I want to be, a leader for this defense."
He is that, because he is motivated. His draft snub from 2012 bothers him to this day. He'll watch the 2014 draft next week, and he has already pestered Marvin Lewis by telling him which college defensive lineman he wants -- Lewis texted him back a smiley face and the words, "I like him too" -- but he's still angry about what happened in 2012.
It's notable that he takes no responsibility for his fall, agreeing with me when I ask him if he was targeted by other teams and even officials for all those personal fouls, and saying his 40 time is irrelevant -- show him a ball carrier, he says, "and I'll run him down" -- and calling the combine a complete waste of time.
But it is that snub, and that belief that the rest of the NFL misjudged him -- he led the league in tackles this season; the man has a point -- that drives him. Also, it is the names of the linebackers taken ahead of him. He lists three for me, three linebackers he knows and respects and monitors: Luke Kuechly of the Panthers, Bobby Wagner of the Seahawks, Lavonte David of the Bucs.
In 2012, Kuechly led the NFL with 164 tackles. Wagner was seventh (140). David was eighth (139). Burfict had a good season, shockingly good for an undrafted free agent, finishing 15th in the NFL with 127 tackles, but he wanted more in 2013.
"I'm competing with those guys," he said. "I'll always be competing with their numbers."
Some of the guys taken over Burfict, they've never made an NFL tackle. Some of them, they've never made a team.
"I know that," he said, and he's not smiling.
It was a pretty good week for the Dawson High School kicker from Pearland, Texas

The NASCAR Playoffs Round of 8 field has been decided

Kyle Busch is in danger of being eliminated just weeks after dominating the Round of 16
Talk about covering ground on the court: You've never seen anything like this

Kevin Harvick and Joey Logano will have a chance to tie Jimmie Johnson's wins record at Ka...

This is good parenting, folks