Mom didn't have a lot, but it never stopped her from doing so much
She was a single parent, worked two jobs and knew how to pinch her pennies. She didn't talk or play sports, but knew just enough. My mom didn't have a lot of things, but she gave me everything I needed -- and much more.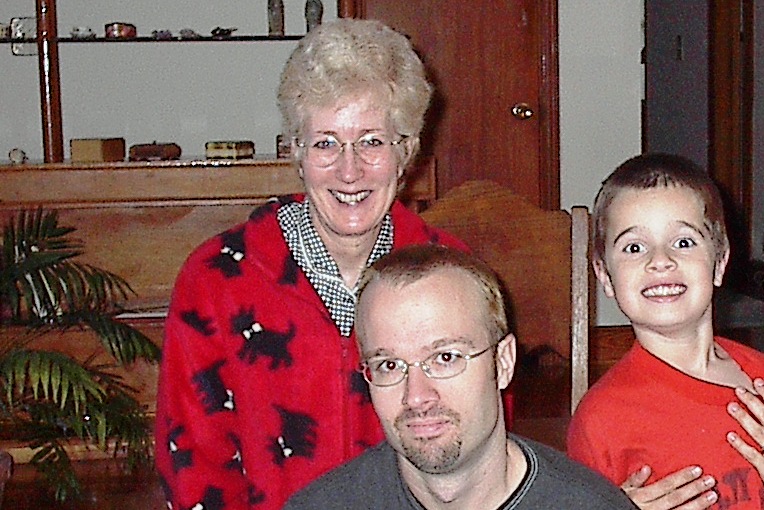 Mom couldn't talk sports. Not my mom, anyway. She grew up in a 1950s home with 1950s parents and she learned how to cook and sew and play the piano. She could do 120 words a minute on a manual typewriter, she could play The Entertainer like Scott Joplin reincarnated and she could patch denim jeans so well that I had to "lose" them to get a new pair -- but she couldn't talk sports.
Well, she could talk Oklahoma football. We lived in Norman and Barry Switzer had that thing rolling, and it mattered to me. So it mattered to Mom. Maybe she didn't know about Charles White at Southern Cal or Chuck Fusina at Penn State, but she could hang in there when I was chattering on and on about Billy Sims and J.C. Watts and Reggie Kinlaw. I remember that.
Mom couldn't play sports. She was 5-foot-7 and 125 pounds and able to run long distances, but she couldn't shoot a basket or throw a football or hit a forehand. Not that it stopped her from taking me to the tennis court and trying to volley with me. Or going in the back yard to play catch.
This was the late 1970s, and one of my favorite shows was Alice -- single mom, waitress at Mel's Diner -- and another waitress was Flo, this wise-cracking redhead with a twangy accent. Don't tell my mom this, but every time Flo told someone to "kiss my grits," I thought of her. One time Flo was so mad at Mel, she threw biscuits at him, one after another. Pow! Pow! Pow! Flo threw like, well, you know. She didn't throw like a baseball player, put it that way. She threw just like my mom. I remember that.
Mom couldn't coach sports. I mean, she had no shot. But Dad coached me in soccer and baseball and basketball, and he taught me to play golf, and he took me to Vaught-Hemingway Stadium at Ole Miss every Sunday and shagged punts and field goals and threw passes into the corner of the end zone. Mom couldn't do any of that, but she was at every game I played, and she was the one I could hear yelling, "Come on, Gregg!" I remember that.
Mom couldn't graduate college. She was more than smart enough, believe me, and she started at DePauw University in Greencastle, Ind., and transferred to the University of Oklahoma to be closer to her Shawnee (Okla.) High School sweetheart -- my dad -- but she dropped out. Dad went to Vietnam and then to law school, and the family needed money. So mom worked at a bank in Norman. It was Steve Owens' bank, which was the coolest thing ever, because Steve Owens was a Heisman Trophy winner for the Sooners in 1969 and Oklahoma football was my world, and my mom worked at his bank! She worked there so my dad could go to law school. And so my sister and I could have a nice home on Lenox Drive near Jackson Elementary. I remember that.
We moved to Oxford, Miss., and my parents split up and mom was a secretary at Ole Miss, and she supplemented her income by typing school papers -- 120 words a minute -- for college kids. But she wanted a degree of her own, so she went to Ole Miss at night and got that diploma in her late-30s. I remember that.
Mom couldn't write. At least, she didn't write. Not professionally, not in a diary or a journal. She didn't have a book she was working on -- it wouldn't have taken long, not at 120 words a minute -- tucked away in a desk drawer. But she wrote a letter every week to her parents back home in Shawnee, and she wrote her brother in Dallas, and she wrote me cards. She wrote like she talked, fast and with a mixture of humble bravado, and she loved to set off thought after thought -- one after another -- kind of like this -- with dashes.
And let me tell you something: My mom is the best writer in the family.
Mom couldn't be with me once I reached high school. Dad moved away to live his life, and Mom stayed in Oxford to live hers. The kids had to choose, and my sister Kathryn chose Mom and the life she knew in Oxford. Dad was pursuing another law degree and then a new job, and I didn't want him to be alone so I followed him. I was in eighth grade when we went to Memphis. Ninth grade was New Glarus, Wis. Sophomore to senior years were in Macon, Ga. Then college at Florida.
Everywhere I went, mom's handwriting followed. She mailed the sports page from the Oxford Eagle, which I appreciated, and a letter -- lots of dashes -- sort of like this -- which I loved. If it hurt her feelings that I chose Dad, she never showed it. If they split up for any reason that would reflect negatively on him, she never showed it, either. I remember that.
Mom couldn't afford to send me money. She was a single parent, working two jobs, going to school, then she was putting a daughter through the University of North Carolina. She reused plastic bottles when it was economical, not green. She bought me little containers of grape-flavored water, once, and for years I'd come in from outside and open the fridge and pull out one of those bottles. Chilled water.
She did stuff like that all the time, like driving a beige 1978 Chevy Monte Carlo well past the point of embarrassment, stuff you'd call "cheap" if she had more money, but since she didn't you'd call it "frugal." To this day she doesn't have cable or a microwave, but she does have her 1970s Tupperware, where she puts last night's leftover and takes it to work for today's lunch. She believes in a penny saved being a penny earned, but she's the best giver I know. Every year on my birthday there was a card with a letter -- and funny asides in dashes -- kind of like this -- with a check for a few bucks that I know she didn't have. I remember that.
Martha Boynton couldn't do a lot of things, but dammit she did them anyway. Love you, Mom. Happy Mother's Day.
It's probably better to just buy your shoes online these days

How to watch the Professional Rodeo Cowboys Association's 2017 National Finals Rodeo event

John John Florence and Gabriel Medina will look to catch the wave to a championship
Settle in for the holidays by watching other people do grueling obstacles like the Funky M...

Talladega is all decked out in white and all of Twitter wants to see some snow tire racing

CBS is excited to announce that Jordan Peele is producing a reboot of 'The Twilight Zone'