System works for Harrison twins; media projections were way off
Twins Andrew and Aaron Harrison decided to return to Kentucky for their sophomore season, joining Willie Cauley-Stein, Alex Poythress, Dakari Johnson and Marcus Lee and a recruiting class featuring Karl Towns and Trey Lyles to make the Wildcats the preseason No. 1 team for 2014-15.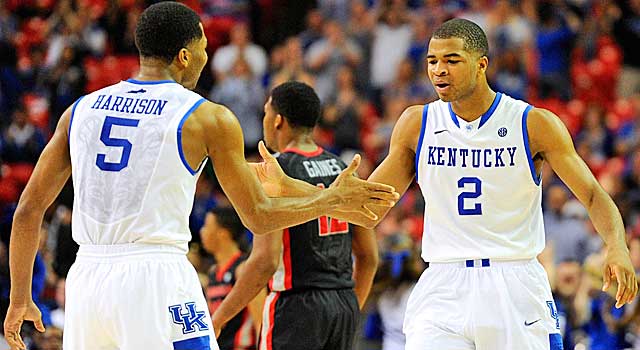 More hoops: Early entries | NBA mock drafts | Latest news
The system worked for Aaron and Andrew Harrison. That might not be what people are hearing and reading. It might not even be what people are thinking, but that's because people aren't thinking. They're doing what they do, which is rooting for this program or against that one, and Kentucky is the new Duke, the new scary-good monster to hate, and so people are hating on Kentucky by mocking the Harrison Twins as overrated failures.
When the failures were us.
Us in the media, mainly. People like Chad Ford of ESPN and Gary Parrish of CBSSports.com, two people who are exceptional at their jobs, but it's an impossible job. Projecting the NBA Draft status of a kid in high school, as the Harrison Twins were at this time last year? Impossible, unless that kid is LeBron James. And nobody ever said either of the Harrison Twins was the next LeBron James.
But everyone did say one or both of the Harrison Twins were lottery picks. Chad Ford said it last summer. Gary Parrish said it. Someone was telling them that, too. It's not like Ford, Parrish and mock drafters everywhere were just, on their own, deciding that a pair of 6-foot-5 high school seniors from Fort Bend, Texas, were better NBA prospects than all but a handful of players in college basketball and the amateur ranks around the world.
NBA scouts talk to Ford and Parrish, is my point. NBA scouts were telling them, and others -- like ESPN's Jeff Goodman, another dude I love -- that one or both of the Harrison Twins were lottery picks.
So it was said, so it was written.
So it was believed ... by the Harrison Twins.
Can you blame them? Seriously. Take off your "I hate Kentucky" shirt -- or your "I hate one-and-dones" hat -- and try on empathy for a second. Imagine that instead of being 22 and in college or 35 and employed, imagine instead that you're 17 and you're 6-feet-5 and you've been dunking on kids since seventh grade and you've been the best player in your school, except for the identical twin sleeping in the same room, forever. Imagine you're being told by classmates that you're heading to the 2014 NBA Draft after one year in college, and then reading the likes of Chad Ford and Gary Parrish and Jeff Goodman writing the same thing:
You're headed to the 2014 NBA Draft. In the lottery.
Wouldn't you believe it?
Dammit I would. I'd believe it, and I'd never correct anyone in the press or on social media who speculated that I was gone after one year. Because I would be gone after one year. Chad Ford said so. And Gary Parrish and Jeff Goodman. Because NBA scouts told them.
And then the season comes, and the Harrison Twins are very good college players -- good enough to start on a Kentucky team that reached the national title game, and good enough in Aaron's case to hit a 3-pointer in the final minute to win games in the Sweet 16, Elite Eight and Final Four -- but they're not NBA lottery picks. Not yet. Maybe not ever.
Because people were wrong. NBA scouts were wrong. The media who listened to those NBA scouts were wrong. The fans who read what the media wrote were wrong.
We were wrong. All of us. I was telling everyone I knew that the Wildcats would be 40-0 last season in part because the Harrison Twins were lottery picks. And lottery picks at guard, combined with a lottery pick at forward (Julius Randle), equals 40-0. It's math. But the numbers were wrong.
Chad Ford, who called Andrew Harrison a top-10 pick a year ago, was wrong. Gary Parrish, who had both Harrison Twins in his 2014 mock top 10 in June 2013, was wrong. Everyone was wrong.
The Harrison Twins were the last to know, but so what? They figured it out before the draft deadline. They're coming back to school for another year, and maybe longer, because it turns out they're very good -- but not quite NBA lottery good.
Good for them for figuring it out. The system almost failed them, as it failed so many others who came before them, high school kids who were told they were ready for the NBA Draft and who believed it. Chad Ford, bless his heart, had the gumption to tell Kyle Tucker of the Louisville Courier-Journal that Andrew Harrison, the point guard, "saw his draft stock fall from a top-10 pick into the second round" without explaining that the failure wasn't Andrew Harrison's. He didn't show up at Kentucky, surround himself with the best coaching, teammates and competition of his life, and somehow get worse.
The mock drafts just got better. They were wrong about Andrew Harrison, just as they were wrong about Aaron Harrison, just as they've been wrong in years past about high school kids like Grant Jerrett and Omar Cook and Shavlik Randolph.
Wrong happens, and the system was wrong about the Harrison Twins. But the system redeemed itself when it told the Twins that, as it turns out, you're not ready for the NBA. You're not going to be picked in the 2014 lottery, probably not even in the first round.
And the Harrison Twins listened. Had to be hard to do. Had to be hard to believe. But they listened, and they're coming back to college. That's something to smile about.
But that college is Kentucky, so go ahead and do what you do. Just understand why you're doing it.
Petty says 'anybody that don't stand up for the anthem oughta be out of the country'

Kyle Busch claims a big win Sunday while Kyle Larson clinches a spot in the Round of 12 on...

New England native will start from the rear of the field in Sunday's playoff race
A playoff driver could join Martin Truex Jr. in the Round of 12 with a win on Sunday

Denny Hamlin and Kevin Harvick will look to build off momentum in order to catch Martin Truex...

The team of children agreed among themselves to follow Colin Kaepernick's stand against in...