UFC 165: Jones defeats Gustafsson via unanimous decision
We will bring you round-by-round coverage of every single UFC 165 fight including the online prelims.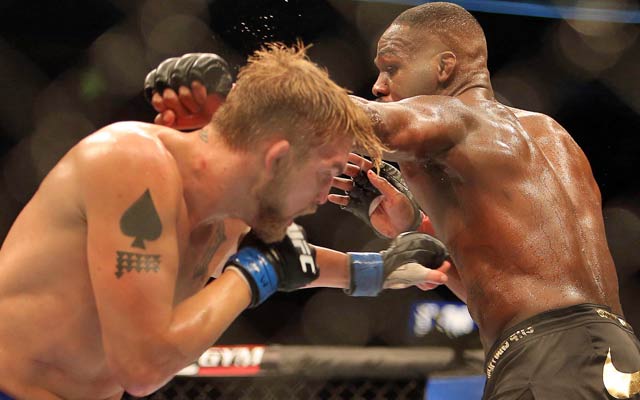 In one of the most exciting and tightly contested title fights in UFC history, Jon Jones retained his UFC light heavyweight title, earning a unanimous decision (48-47, 48-47, 49-46) over Alexander Gustafsson, Saturday night in Toronto. 
In the early rounds, Gustafsson gave Jones all he could handle, winning the standup battle and even hitting a couple of takedowns on the champ. However, Jones managed to keep the fight close enough in the first three rounds for one judge to score two of those rounds for the champion and two other judges to each gave him one.
Jones turned the tables in the fourth round as he landed a spinning elbow to the top of Gustafsson's head that rocked the challenger. Jones followed the elbow up with a flurry to end the round, which he clearly won. In the fifth and final round, Jones again got the best of Gustafsson, who appeared to be completely out of gas, battering the tired but game challenger.
The title defense was Jones' sixth in a row, setting a new record for the UFC light heavyweight division. Anderson Silva owns the overall record with 10 consecutive title defenses. Up next for Jon Jones is a title defense against Glover Teixeira who has won his last 20 fights, including five in the UFC.
---
Gregg Doyel's Live Blog:
Main Event - Light Heavyweight Championship (205 lbs)
Jon "Bones" Jones (c) - 18-1-0 vs. Alexander Gustafsson - 15-1-0
12:43 a.m. Scoring occasionally is awful in boxing, and scoring occasionally is awful in MMA, and while I disagree with this decision, I'm not sure this decision was awful. These were mostly close rounds. The last two rounds were fairly clearly Jones', but the first three -- all close -- were Gustafsson's ... I thought. The judges thought differently, and all I can say is this: There should be a rematch.
12:40 a.m. We have ... the same champion at light heavyweight. Judges scored this 48-47 (twice) and 49-46 (once) for Jon Jones and the crowd was booing, and I don't blame them. This was an example of judges giving close rounds to the champion.
12:36 a.m. Round 5: On his 10th attempt, Jones finally took down Gustafsson with three minutes left in the fight ... and Gustafsson got up right away. Jones' face is a mess, swelling above his eyes and on his mouth. He landed a head kick that Gustafsson just sort of ignored. Insane, how tough Gustafsson is tonight. Jones landed another head kick, and Rogan thinks Gustafsson is hurt a lot more than he's letting on, and I think Rogan is right. But this is fight of the year stuff here, this round. I had Gustafsson ahead 39-37 entering this round, and while Jones won Round 5 pretty clearly, I'd score this fight for Gustafsson 48-47. Which I cannot believe. Official scoring soon.
12:30 a.m. Round 4: Gustafsson is starting to bleed from the face, and Jones is landing a jab, but Gustafsson is consistently landing a straight right. And that power punch scores better than a jab. Jones' face is starting to swell, and Gustafsson is actually taking it to Jones. Gotta tell you, this round was the round most clearly in favor of Gustafsson all fight -- until Jones landed a spinning back elbow and rocked Gustafsson, then chased him around the cage and hit him with more elbows. Jones won this round 10-9, maybe 10-8 but not to me ...because Gustafsson won the first 4 minutes clearly.
12:24 a.m. Round 3: Jones' best strike all night has been a chopping front kick to Gustafsson's lead leg, going for a hyper-extension of Gustafsson's knee, and Jones followed another of those in Round 3 with a body kick that had Gustafsson gasping for air. But Gustafsson landed more clean strikes in this round, specifically a series of straight rights through Jones' guard, into Jones' face. None did significant damage, but Jones didn't even do that much to Gustafsson. I'm going to be wrong, but I've got Gustafsson winning this round 10-9, and this fight 30-27.
12:18 a.m. Round 2: Gustafsson caught a kick and tripped Jones to the ground early, and again Jones popped up -- but he was ticked. He scrambled to take down Gustafsson and couldn't, and looked perturbed at the turn of events. Gustafsson looks comfortable and confident, and Jones looks frustrated, like he can't believe this guy is giving him such a hard time. Jones wraps his arms around Gustafsson and gets his hands together but can't finish the takedown. They stand some more, and it's even. Can't believe I'm saying this, but I'm giving this round 10-9 to Gustafsson also. He controlled the cage better. But it was clooooose.
12:11 a.m. Round 1: Jones landed two spinning kicks to the body in the first minute on Gustafsson -- who didn't look uncomfortable against that rare fighter who has a huge (5-inch) reach advantage on him. Gustafsson hit him with jabs and leg kicks and hit Jones with a shovel punch (sort of an underhanded jab) that cut Jones above one eye. I'll be damned, Gustafsson is winning this fight on the feet after four minutes ... and then takes down Jones just inside the final minute. That was the first takedown suffered by Jones in the UFC, and while he got to his feet quickly, still, that happened. Wow. The fight paused for a minute after Jones poked Gustafsson in the eye, and McCarthy scolded both for sticking their fingers out. I tell you what, Gustafsson won that round 10-9.

11:51 p.m., pre-fight: About a year ago someone asked me if Gustafsson could beat Jones. I remember saying something like this: If his family loves him, they won't let him walk into the cage with Jones because I'm not sure he'll walk out. For whatever reason, maybe because Gustafsson has no choice but to stand with Jones -- he can't beat him anywhere else -- I see this fight ending with a spectacularly violent KO for Jones. Gustafsson is good on the feet, very good even. But ... no. I just can't see it ending well for the Swede.
---------------------------------------------------------------------
Co-Main Event - Interim Bantamweight Championship (135 lbs)
Renan Barao (c) - 32-1-0 1NC,  vs. Eddie Wineland - 20-8-1
11:45 p.m. Round 2: Holy ... Barao landed a spinning back kick to Wineland's head just 20 seconds into round two. Wineland was all but out, and after a few undefended ground strikes the fight was stopped for a Barao KO. The kick was directed toward the upper chest, but Wineland ducked right into it.
11:44 p.m. Round 1: This was a mostly uneventful round of feints and strike attempts, with Wineland landing more often than Barao and definitely landing the hardest shot of the round, a straight right just as Barao was kicking him in the groin on an inside leg kick. Oops. Thru one round they look mostly even on the feet, possibly an edge to Wineland, and I have this round to Wineland 10-9. But barely.
11:28 p.m., pre-fight: Wineland is very good, but Barao is very great. And great trumps good most of the time. The winner gets champion Dominick Cruz, if he ever heals. Poor guy.
------------------------------------------------------------
Heavyweight Division (265 lbs)
Brendan Schaub - 10-3-0 vs. Matt Mitrione - 6-2-0
11:24 p.m. Round 1: Mitrione wouldn't touch gloves as they came out for the fight (Schaub held out a hand, got nothing but a headshake "no"). Both fighters were bleeding after some early exchanges, though Schaub landed the best punch of the first few minutes. Schaub landed a flurry that had Mitrione smiling -- smiling guys are hurt guys -- and Schaub scooped him up and dumped him with 1:30 left. And then Schaub choked him unconscious with a D'arce choke. Left him out cold with about a minute left.
11:13 p.m. I can't wait for this one! These guys were friends in the TUF house when they were on the (Kimbo Slice-season) show. Both are former NFL players with unreal quickness for their size. Mitrione is better standing, Schaub on the ground ... but both are effective in either place. Can't wait. Hurry up, Buffer! Call it!
------------------------------------------------------------------
Middleweight Division (185 lbs)
Costa Philippou - 12-2-0, 1NC vs. Francis Carmont - 21-7-0
11:09 p.m. The judges saw it as everyone (I hope) saw this: 30-27, times two (with a 30-26), for Francis Carmont.
11:06 p.m. Round 3: Carmont waited nearly a minute of pointless standup before taking down Philippou for the third time, the first time he has been taken down that many times in one fight. Carmont screamed awfully damn loud as he tried to hit Philippou with ground strikes. Seriously, I've never heard a fighter grunt like that. It was Monica Seles-like. Ahem. But really ... Philippou on his back is about as dangerous as a turtle, and Carmont was smart to put him there for most of the fight. He achieved a mount late in the round, but lost it. Still, Carmont won this round 10-9, and surely he won this fight 30-27, but it was not exactly a feast for the eyes. Official scoring coming soon.
11:00 p.m. Round 2: Thirty seconds into this round Carmont took down Philippou again and landed a quick elbow before maintaining position (translation: laying and praying) for the next two minutes. Philippou is said by Joe Rogan to have the best boxing in the division, and while that seems a bit much -- Anderson Silva is in this division -- Philippou is a gifted boxer. But he's a lousy wrestler, and only a decent grappler. Referee John McCarthy stood them up for the final two minutes, but Carmont won another takedown at the 1:30 mark and controlled the rest of the round as the boos got loud. Another 10-9 round for Carmont, and a clear 20-18 lead entering Round 3.
10:55 p.m. Round 1: Carmont scored an early takedown on Philippou, who rarely gets taken down ... and avoided major damage on the ground. But still, takedowns score points, and Carmont did rain down some punches on Philippou against the fence before threatening (briefly!) with a rear-naked choke. Off his back Philippou has nothing, and Carmont kept him there, hitting him from time to time and wearing him down while being threatened almost none. Carmont earned north-south position and side control, and while he didn't do anything in those positions, he got them. And that matters. This was an easy 10-9 round to score for Carmont.
10:42 p.m., prefight: Carmont is 5-0 in the UFC; Philippou is 5-1. Both are better on their feet than the ground, and Carmont is better with the kicks. I'm picking Carmont and his more versatile striking, which often allows him to finish a hurt foe on the ground.
---------------------------------------------------------------
Lightweight Division (155 lbs)
Pat Healy - 31-15-0, 1NC vs. Khabib Nurmagomedov - 20-0-0
10:37 p.m. Nurmagomedov spoke in the Octagon, telling Joe Rogan: "Hello Canada. Listen to me: 21-0, 5-0 in UFC. UFC, give me title shot. I am ready."

10:35 p.m. The judges saw it as I did -- it was pretty clear -- giving Nurmagomedov a 30-27 victory on all three cards. Nurmagomedov will get an even better opponent next time, and I suspect Nurmagomedov loses that one. He's good, not great.
10:33 p.m. Round 3: Healy's tough and fearless, but Nurmagomedov was just too quick for him, slightly beating him to the punch on the feet and scoring another takedown early in the round and roughing up Healy on the ground. Highlight of the fight came midway through the round when Nurmagomedov pulled off a Matt Hughes slam, lifting up Healy and carrying him across the cage before diving sideways onto him. From there, he controlled the rest of the fight from the top position. This was a clear 10-9 round for Nurmagomedov, and a fairly clear 30-27 decision for him, in my eyes. Official scoring soon.
10:27 p.m. Round 2: Nurmagomedov got the first takedown of the fight late in the first minute, almost got Healy's back, then grinded out some scoring against the fence before they split up with 4 minutes left. Healy kept walking forward, trying to hurt Nurmagomedov's hands with his face, and maybe he did that. But his blood kept flowing, and Nurmagomedov looked fresh and untouched ... and then grinded out some more scoring against the fence, Randy Couture-style. Healy scored more as the round went on, victimized maybe by Nurmagomedov's chin after a 1-2 from Healy didn't seem to faze Nurmagomedov. Close round, but Nurmagomedov scored a late takedown, and even without that I saw it 10-9 for Nurmagomedov, which gives him a 20-18 lead entering Round 3.
10:21 p.m. Round 1: Nurmagomedov is a lot faster than Healy and darted in and out with flying knees and punches, none of them really landing but all of them looking better than Healy's methodical, stalking ... nothingness. Most exciting moment of first three minutes? Nurmagomedov lost his mouthpiece! After the reset, Healy started making contact with punches and taking control of the octagon. Tough round to score, but I'm giving it to Nurmagomedov 10-9 because, to be honest, Healy is bleeding from the face. And Nurmagomedov isn't. Close round like this, damage counts.
10:11 p.m. Here we go!!! Stay with me. I got you. Nurmagomedov won't go undefeated forever ... but Healy won't be the one to make that 'O' go.
------------------------------------------------------------------
Lightweight Division (155 lbs)
Mike Ricci - 9-3-0 vs. Myles Jury - 12-0-0
9:59 p.m. The judges gave it to Jury in a split decision: 29-28, 29-28, 28-29. Main card's up next. Thank goodness ... And I'll be here, so if you can't afford the PPV tonight, I got you covered!

9:55 p.m. Round 3: Another dud round. What a dud fight. Jury went for the takedown early, sort of got it, and then lay there with Ricci against the cage for about two minutes. They scrambled on the ground, neither establishing any dominance for another minute, before Jury had him against the cage again. And the crowd was booing. Again. Ricci had some form of control for the final 45 seconds, which might fool the judges but won't fool me. I'll hold my nose and give this round to Jury, 10-9, and this fight to Jury, 29-28. Official results coming soon.
9:49 p.m. Round 2: This round was worse than the first, and the crowd was booing for the final three minutes. Ricci wasn't exactly aggressive, but he was more interested in exchanging than Jury, so Ricci gets this round 10-9. They enter Round 3 tied, 19-19.
9:43 p.m. Round 1: An uneventful first round on the feet, with neither fighter showing much aggression. This was light sparring for most of the round, though Jury landed some leg kicks and one big right before taking down Ricci at the 2-minute mark. Taking a page from Wilson Reis, Jury did absolutely nothing but control Ricci for 1:50. It's a 10-9 round for Jury, one I hope isn't repeated. Boring.
9:35 p.m., prefight: The Martian? Ricci's nickname is The Martian? No way he wins with a nickname like that. Awful. Just awful.

9:30 p.m., prefight:  This fight's coming soon. My pick is Jury, who has beaten Ramsey Nijem and Michael Johnson, two fighters I think are better than anyone Ricci has beaten ... and better than Ricci, too.
----------------------------------------------
Bantamweight Division (135 lbs)
Ivan Menjivar - 25-10-0 vs. Wilson Reis - 16-4
9:28 p.m. It's official, Reis won the decision on all three judges' cards: 29-28. Best win of his career. But you can't make me watch this fight on replay. I refuse.

9:23 p.m. Round 3: After a slow opening 2 1/2 minutes, Reis got the full mount and -- you won't believe this -- did nothing with it. But a dominant position is a dominant position, and again, Menjivar did even less than Reis. And Reis did control Menjivar, though he didn't do anything. No way around this being a 10-9 round for Reis, though, and a 29-28 Reis victory that won't have anyone wanting to see either fighter any time soon. Official results coming ...

9:17 p.m. Round 2: Reis got Menjivar down again early, and again he did zero with it. Then he got Menjivar down a second time, and he lay there some more. I suppose he won this round on Octagon control, but he damn sure didn't do anything from the top position (the crowd was booing eventually). Nonetheless, Menjivar did even less, so it's a 10-9 round for Reis, and a 19-19 tie entering Round 3.
9:11 p.m. Round 1: Menjivar is better on the feet, and this round was contested mostly on the feet, which means it was a 10-9 round for Ivan Menjivar in my estimation. He landed a mixture of scoring, but not damaging, kicks and punches. Reis didn't land much, but got a late takedown and finished a fairly close round on top. Judges will give it to Reis, but I'm sticking with Menjivar.

8:55 p.m. Some more on Menjivar and Reis, prefight ... Reis was 5-4 in Bellator, a Double A league. Menjivar is 6-2 in the UFC, the majors. Does that mean Menjivar has to win? No. But it means he sure ought to be favored.
8:48 p.m., Jones-Gustafsson prediction: Jon Jones destroys Alexander Gustafsson. And no way does Dominick Cruz believe Gustafsson wins. Silly. Gustafsson is just good enough on his feet to get good and hurt standing.
8:43 p.m., prefight: Wilson Reis has the prettier record, and stature, but his record is built on a lesser diet of foes and he was mediocre against Bellator guys -- and this is his UFC debut. Menjivar has been better against elite competition, so watch for Menjivar to win. But again, we shall see.
-------------------------------------------------------------
Welterweight Division (170 lbs)
Chris Clements - 11-4-0, 1NC vs. Stephen Thompson - 7-1-0
8:42 p.m. Round 2: Thompson dropped Clements early in the round with his hands -- a change of pace for a guy known for a devastating headkick KO in his UFC debut vs. Dan Stittgen -- and then knocked him out with another punch. KO win for Stephen Thompson.
8:36 p.m. Round1: I tell you what, Clements is bizarre (and exceptional) at the striking game himself. Holy moly, he did some weird spinning techniques, and some of them landed. Close first round, both landing sporadically, but Clements slipped late and Thompson spent 30 seconds on top, then rose and landed a few strikes before enjoying a brief full mount to close the round strong. I give it to Thompson, 10-9.
8:23 p.m. Coming up soon ... as an FYI, I don't see Clements surviving Thompson's bizarre stand-up. We shall see, but it takes an immortal to beat Thompson standing .... and Clements ain't.
------------------------------------------------
Bantamweight Division (135 lbs)
Mitch Gagnon - 9-2-0 vs. Dustin Kimura - 11-0-0
8:17 p.m. Big step up in competition for Gagnon, whose biggest career mistake came at UFC 149 when he let that weasel Bryan Cawaway beat him. I don't like Caraway, Miesha Tate's boyfriend and a real derp. Anyway, Gagnon with the win by choking Kimura out cold with a guillotine late in Round 1 after winning the standup as well. Kimura went for the takedown, but launched himself into the guillotine.
8:11 p.m. Name like Kimura, if he doesn't wrap Gagnon's arm behind back, what a letdown. Here we GO!

This fight will start at about 8:10 p.m. Stick around. I'm not going anywhere!
----------------------------------------------------------
Lightweight Division (155 lbs)
John Makedssi - 11-2-0 vs. Renee Forte - 8-2-0
7:42 p.m. Makdessi nearly had a one-punch KO 2 minutes into the fight, but Forte came to his senses quickly enough to let Makdessi take a few more shots at him. Late stoppage, as Makdessi kept hitting Forte when Forte was clearly not capable of defending himself before the referee finally stopped it. Second big KO of the night.
Lightweight Division (155 lbs)
Michel Prazeres - 16-1-0 vs. Jesse Ronson - 13-2-0
7:34 p.m. Judges get it right in another split decision: 29-28, 29-28, 28-29 for Prazeres. But if he wants to make any noise at all in this division (or any division), he has to get better on his feet. A lot better.
7:32 p.m.: Prazeres ended the round on top, but Ronson dominated the round on the feet against the tiring Prazeres for a 10-9 Ronson round ... but a 29-28 victory for Prazeres, says me. Official judging on the way.

7:25 p.m. Ironic that Prazeres is cornered by Jacare Souza, because they're the same as early fighters: no stand-up, all BJJ (though Jacare's stand-up has improved!!!). But great at BJJ, and another 10-9 round dominated on ground by Prazeres. He's up 20-18.
7:17 p.m.. Prazeres dominated that round. Much better at BJJ than Ronson who I thought was Prazeres. Honest. Easy 10-9 round for Prazeres.
7:10 p.m. Lightweight fight. Michel Prazeres (16-1-0) vs. Jesse Ronson (13-2-0). Ronson once fought at 185, and is a big-time BJJ guy. I like his chances against Prazeres, who doesn't even have a Wiki page. How good can he be? Sigh.
Bantamweight Division (135 lbs)
Roland Delorme - 9-1-0, 1NC vs. Alex Caceres - 8-5-0, 1NC
7:07 p.m. Judging is in, and Caceres gets the win via split decision: two 29-28 scores for, one 29-28 against. Delorme looked beaten up. Caceres did not. Right result.


7:04 p.m. Delorme ended the round, and the fight, on top ... but Caceres dominated the first 4 1/2 minutes of the round and should win it 10-9 -- and the fight, 29-28. We'll see. Official result soon.
6:58 p.m. Caceres is the much better striker, but has a suspect chin. He got tagged only a few times, but was rocked. That said, Caceres dominated the round, so it's 10-9 for him, 19-19 overall entering Round 3.
6:53 p.m. Caceres was dropped by Delorme, and Delorme got on top and controlled the final three minutes from a variety of dominant positions. Several submission attempts for Delorme, none that close. A 10-9 round for Delorme.
6:45 p.m. Now it's bantamweights: Roland Delorme (9-1-0, 1 NC) vs. Alex Caceres (8-5-0, 1 NC), one of the most irritating fighters ever to come out of the TUF reality show.
Heavyweight Division (165 lbs)
Nandor Guelmino - 11-4-1 vs. Daniel Omielanczuk - 15-3-1, 1NC
6:43 p.m. WOW!!! One-punch KO for Omielanczuk. Straight left for Omielanczuk and Guelmino walked right into it. Couldn't get up after it was stopped.

6:40 p.m. This third round will feel like 25 minutes. Neither guy has anything left in tank.
6:38 p.m. Omielanczuk rocked Guelmino early and looked close to finishing, but ran out of gas going for a kimura and Guelmino controlled the last 3 1/2 minutes. I suppose that makes it a 10-9 round for Guelmino, though again, Omielanczuk nearly finished it. Screw it -- I say 10-9 for Omielanczuk because I think Pride judging is the best way to go.
6:32 p.m. Nandor Guelmino looks better; Daniel Omielanczuk fights better. First round is 10-9 for Omielanczuk based on a wider variety of strikes. Both strike pretty ... interestingly ... for their size. Neither is a threat to Cain Velasquez.
6:25 p.m. Two heavyweights about to make their UFC debuts. Nandor Guelmino (11-4-1) vs. Daniel Omielanczuk (15-3-1, 1 NC). Don't know a thing about either one, but Guelmino scares me on sight alone. The look in his eyes ... looks like a predator. Shiver.
Welcome to CBSSports.com's UFC 165 Jones vs. Gustafsson Live Blog. We will be bringing you round-by-round commentary of every fight from the online prelims through the main event, which will feature Jon "Bones" Jones defending his UFC Light Heavyweight title against Alexander Gustafsson.
Main Fight Card:
Main Event - Light Heavyweight Championship (205 lbs)
Jon "Bones" Jones (c) - 18-1-0 vs. Alexander Gustafsson - 15-1-0
Tale of the Tape
 
Jon Jones
Alexander Gustafsson
Record
18-1
15-1
KO/TKO W-L
9-0
9-0
Submission W-L
6-0
3-1
Decision W-L
3-0
3-0
Age
26
26
Height
6'4''
6'5''
Reach*
84.5''
81.2''
Weight*
205
205
Co-Main Event - Interim Bantamweight Championship (135 lbs)
Renan Barao (c) - 32-1-0 1NC,  vs. Eddie Wineland - 20-8-1
Heavyweight Division (265 lbs)
Brendan Schaub - 10-3-0 vs. Matt Mitrione - 6-2-0
Middleweight Division (185 lbs)
Costa Philippou - 12-2-0, 1NC vs. Francis Carmont - 21-7-0
Lightweight Division (155 lbs)
Pat Healy - 31-15-0, 1NC vs. Khabib Nurmagomedov - 20-0-0
Prelims:
Lightweight Division (155 lbs)
Mike Ricci - 9-3-0 vs. Myles Jury - 12-0-0
Bantamweight Division (135 lbs)
Ivan Menjivar - 25-10-0 vs. Wilson Reis - 16-4-0
Welterweight Division (170 lbs)
Chris Clements - 11-4-0, 1NC vs. Stephen Thompson - 7-1-0
Bantamweight Division (135 lbs)
Mitch Gagnon - 9-2-0 vs. Dustin Kimura - 11-0-0
Lightweight Division (155 lbs)
John Makedssi - 11-2-0 vs. Renee Forte - 8-2-0
Lightweight Division (155 lbs)
Michel Prazeres - 16-1-0 vs. Jesse Ronson - 13-2-0
Bantamweight Division (135 lbs)
Roland Delorme - 9-1-0, 1NC vs. Alex Caceres - 8-5-0, 1NC
Heavyweight Division (165 lbs)
Nandor Guelmino - 11-4-1 vs. Daniel Omielanczuk - 15-3-1, 1NC
Our Latest Stories
It's probably better to just buy your shoes online these days

How to watch the Professional Rodeo Cowboys Association's 2017 National Finals Rodeo event

John John Florence and Gabriel Medina will look to catch the wave to a championship
Settle in for the holidays by watching other people do grueling obstacles like the Funky M...

Talladega is all decked out in white and all of Twitter wants to see some snow tire racing

CBS is excited to announce that Jordan Peele is producing a reboot of 'The Twilight Zone'