UFC 169: Barao, Aldo defend titles with power, class
Renan Barao defended his UFC bantamweight title by knocking out Urijah Faber Saturday, while featherweight champion Jose Aldo defeated Ricardo Lamas by decision. Alistair Overeem beat up Frank Mir, too.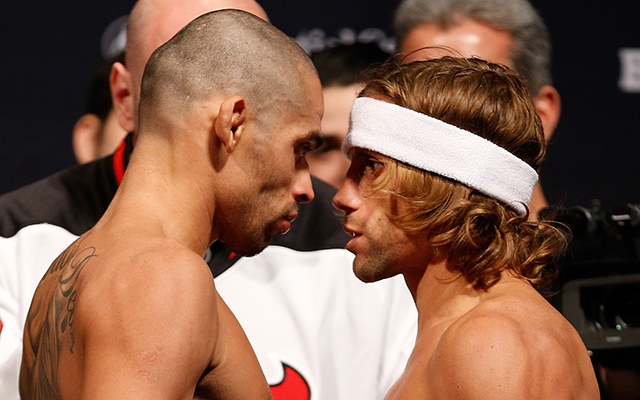 -------------------------------
Editor's note: Tablet or phone? Follow along on the CBSSports.com app.
--------------------------------
Pay-per-vew card
12:47 a.m. Recap: The two champions fought like champions, Jose Aldo burying another opponent under a hail of leg kicks, Renano Barao knocking Urijah Faber down and then out, and winning with class by asking Herb Dean to stop it so Barao wouldn't have to damage Faber any more.
The wins set up a pair of fabulous potential superbouts. One, there's Aldo vs. Anthony Pettis at 155 pounds, with Aldo moving up in class to go for the UFC lightweight title.
Two, Aldo-Barao. Why not, right? Barao hasn't lost in about 40 years, and there's nobody left at 135 pounds but Dominick Cruz, and he can't get healthy. Can Faber training partner Chad Mendes drop down from 145 to 135? No? Then ... Barao-Aldo. Please?
One more request based on this fight card: Please retire, Frank Mir. You're no meathead. Earn money with your brains.
Main Event - UFC Bantamweight Championship (135 lbs)
Renan Barao, champion (31-1) vs. Urijah Faber (30-6)
12:43 a.m. Round 1: Full disclosure, my connection went out for the first two minutes of this round so I don't know what happened! Ahem. Both guys look unmarked, but holy moly Barao drops Faber with a punch right now! Faber rises, so it was a flash knockdown, but that was a hard left uppercut to the jaw. And now a big right overhand, and Faber collapses, and Barao jumps his back and finishes him after pleading to referee Herb Dean to stop the damn thing. And Dean does at the 3:42 mark, Barao by TKO.
12:24 a.m.Preview: Faber is a sweetheart of a guy and a damn good fighter, but barring the sort of lightning strike you sometimes see in MMA, he can't beat Barao. They met at UFC 149 in July 2012 and Barao won a unanimous decision (50-45, 49-45, 49-45). Faber was classy in defeat but wondered how he would have done without a broken rib from Round 1. My thing is: Dude, he broke your rib. Then kicked your legs half to death. Since then Barao has destroyed Michael McDonald and Eddie Wineland. Faber has gone 4-0, also finishing McDonald, but Faber is 34 years old. Barao is 26. Love Urijah -- even in defeat.
Tale of the Tape
 
Renan Barao (c)
Urijah Faber
Record
31-1
30-6
KO/TKO W-L
7-0
7-2
Submission W-L
14-0
17-0
Decision W-L
10-1
5-4
Age
26
34
Height
5'6''
5'6''
Reach*
70''
69''
Weight*
135
135
-------------------------------------------
Co-Main Event - UFC Featherweight Championship (145 lbs)
Jose Aldo, champion (23-1) vs. Ricardo Lamas (13-4)
12:20 a.m.Official decision: All four judges had it 49-46 for Jose Aldo. Lamas applauds as the scores are read and Aldo successfully defends his belt.
12:17 a.m. Round 5: Lamas charges hard and Aldo ducks and dumps him onto his back. We've already seen how good Aldo's jiu-jitsu is, and now he's going for another dominant position. He moves from half guard to side control to mount in one motion. They're against the fence, which is lucky for Lamas, because Aldo has no room to maneuver and is bucked off. Now Lamas is on top, in full guard with two minutes left, and he's trying to drop big elbows as his nearby cornerman yells, "Finish him!" Aldo is exhausted and breathing heavy, and Lamas is throwing hard elbows that aren't quite drawing blood. Lamas is going for it, but it's not easy to generate finishing power in the full guard. Close round, could go either way, but let's say it's Lamas 10-9, so Aldo wins 49-46. They hug at the bell.
12:10 a.m. Round 4: Aldo lands another brutal leg kick, so Lamas bullies him against the cage for a takedown. Instead Aldo elevates against the cage, and now Lamas is holding 145 pounds in the air, wearing himself down and taking nobody down. Aldo spins so Lamas' back is now against the cage and leans into his foe, tiring him down some more. Lamas flirts with a standing guillotine, so Aldo takes him down and now we get to see this monster striker show his black belt on the ground. Aldo is in half-guard, trying to get to mount, and he's close to getting it at the two-minute mark. He hops over the double butterfly guard of Lamas into mount, which I've never seen, and Lamas gives up his back. Aldo has a rear-naked choke going, and it's close. Lamas gets free against the cage! And now is pressing Aldo against the cage. Oh my Aldo is dropping Travis Browne elbows onto the side of Lamas' head. Another 10-9 round for Aldo, 40-36 overall.
12:04 a.m. Round 3: Aldo keeps kicking that left leg of Lamas, and tomorrow morning that thing is going to feel like it was bitten by a rattlesnake. Not that it feels good tonight. But Aldo is keeping Lamas at kicking range, which means Lamas has to dart in to get within punching distance … but his legs are too damaged to dart in. So he's at kicking range with a superior kicker. Interestingly, Lamas' face looks mostly untouched, and yet he is getting beaten up. Because of the leg kicks. Also because Aldo just dug a left hook into Lamas' liver and a right leg kick into his left thigh. Another 10-9 round for Aldo. It's 30-27. He can't lose, unless he gets finished.
11:58 p.m. Round 2: Early in the round Aldo used a lead left hook to distract Lamas, then buried another right shin into Lamas' thigh. No sense of urgency for either fighter, which is why I'm tempted to rip Lamas' hair some more, but Aldo throws a lead back-handed upper deck to the jaw that pops Lamas' head up. Maybe Lamas is content to get into the later rounds and try to come on strong, as Mark Hominick did vs. Aldo. Maybe Lamas doesn't want to engage too much for fear of being crushed. Whatever the case, Aldo is winning this fight on cruise control, and Lamas is letting this opportunity go meekly. Lamas does deliver a strong right to the face, and then a jab as Aldo is kicking his thigh. Lamas went high with a kick as Aldo was landing an uppercut, and Lamas' leg gave out. From the punch? From the leg kicks? Not sure. But the leg buckled. Aldo keeps kicking that left leg. And it's another 10-9 round for Aldo, 20-18 overall.
11:52 p.m. Round 1: Lamas has a mohawk, which I'm all about, and a rat tail, which I'm not. It's like a mo-mullet, and it's unforgivable, and for that alone any right-thinking person should be rooting for Al-- ok, that's silly. But so is his hair. Oh, the fight? Well, nothing has happened for 90 seconds. Why do you think I'm writing about the dude's mo-mullet? Lamas is checking Aldo's kicks, and both guys' shins are red. Aldo throws a 1-2 with a leg kick, and while the 1-2 was mostly blocked, the leg kick buried into Lamas' thigh. And Aldo's leg kicks are not normal. Or mortal. Lamas landed a nice body kick, reddening up Aldo's ribcage, but Aldo followed with a right to the head and a left to the body. Not a great round for Aldo, but a clear 10-9 round for Aldo nonetheless.
11:46 p.m. Yo Bruce Buffer, more volume doesn't mean more drama. Think about it. 
11:35 p.m. Preview: If you're Ricardo Lamas and you get offered this fight, this opportunity at a UFC belt, obviously you take it. But if you're his family, you sure are scared. Because Lamas needs to get this fight to the ground but won't be able to do it, forcing him to stand and trade with the greatest pound-for-pound striker in the world. Lamas already has been knocked out twice, by Yuri Alcantara and Danny Castillo. Here comes No. 3.
-------------------------------------
Heavyweight division (265 lbs)
Frank Mir (16-8) vs. Alistair Overeem (36-13, 1NC)
11:33 p.m. Official decision: All three judges score it 30-27 for Overeem, because all three judges are knuckleheads. There was one clear 10-8 round, maybe two. But whatever. Not even Ricardo Almeida knows what he's looking at, I guess.
11:30 p.m. Round 3: Overeem is taking his time, either willing to get the decision or, at the least, not willing to rush into danger in a fight he is winning big. But they meet in the middle of the cage at the 4:15 mark and Mir is on his back. Overeem stands, and they're on their feet again. Mir dives in because he wants a submission -- can only win if he gets one -- but Overeem is so strong, and Mir is so beaten up, it's not even close to happening. Instead Overeem is scoring with ground shots. Mir's face is hamburger, and his forehead is lumpy. This is a beatdown, and Mir has a nice future as an announcer, and maybe it's time to do that full time. He's a tomato can, is what he is, and Overeem is trying to puncture his face before rising with 60 seconds left. He wants a KO, and comes close with a back-handed uppercut. Mir's head jerked like a Rock 'Em, Sock 'Em Robot, but he stayed awake. Another 10-9 round makes it 30-26 for Overeem. And maybe it was 10-8, and 30-25.
11:24 p.m. Round 2: Ninety seconds of not much, and Mir gets Overeem down and goes for a crouching guillotine on the seated Overeem. Doesn't get it. Stands, grabs guillotine again, drops into guard and … ends up on bottom, with nothing in his hands and Overeem's hammer fists on his face. Oops. Overeem rides him for a minute, throwing occasional ground shots, and Mir's face looks like it did against Brock Lesnar. Which Lesnar fight? Right. Either one. Hamburger face then, hamburger face now. And that was before Overeem twisted an elbow into his nose. Mir rolls around for something, anything, and Overeem stands and then kicks Mir's thigh with 20 seconds left. It's 10-9 for Overeem, and 20-17 overall.
11:18 p.m. Round 1: Overeem looks thick but not as cut, not as … sculpted. No idea why that would be. Moving on, Overeem is taking his time on the outside, just throwing out feints and watching Mir react, and smiling most of the time. They clinch, Overeem throws a knee into Mir's face, and now Overeem has Mir against the fence and one of Mir's hands tied up and is using his other hand to blast away at Mir's temple. Overeem knees him in the body on the ground, and then on their feet when Mir rises. They break away, and Mir's face is a mess, but the fight goes on. At the two-minute mark the strikes-landed tally is 28 for Overeem, three for Mir. They go down with 70 seconds left, and Mir is working on an arm but not close to throwing up an arm bar. Overeem is hammer-fisting Mir's face, and these are world-class hammer fists. This should be a 10-8 round for Overeem.
11:02 p.m.Preview: Mir has lost three in a row and Overeem two, but this is a damn exciting fight anyway because of the matchup. Neither guy has much of a chin left, so both are susceptible to the knockout, but Overeem is such a superior striker that Mir has no choice but to try to put him on the ground and submit him. Not that it'll be easy; Overeem is bigger, stronger and quicker, and in 50 career fights he has been submitted by a BJJ hold just once -- by Fabricio Werdum's kimura in 2006. I like Mir's odds if this fight goes to the ground. But I don't like his odds of getting it there. Instead, I see him getting KT(heck)O.
--------------------------------
Flyweight division (125 lbs)
John Lineker (23-6) vs. Ali Bagautinov (12-2)
10:59 p.m. Official decision: All three judges give it to Bagautinov, 29-28.
10:58 p.m. Round 3: Those body shots in Round 2 changed the fight. Bagautinov is circling from concern, wanting no part of those gut punches, while Lineker is stalking him "like he has a knife," Joe Rogan says. Bagautinov gets him down but Lineker is threatening with a kimura from the bottom, though in half-guard it would be tough to pull off. They're up, and then they're down again because Bagautinov wants nothing to do with Lineker's hands. He maintains good control from the top, though he isn't scoring with much more than pitter-pat stuff. Then again, that's more than what Lineker is scoring with from the bottom, which is to say, nothing. They stand and separate with a minute left, and Lineker needs something big to win this round (and fight). Bagautinov dives in for a takedown and gets it with 30 seconds left, and this will be a 10-9 round for Bagautinov and a 29-28 victory. The fight ends with Lineker going for a leglock while Bagautinov rises, wags a finger and poses like a muscle man.
10:52 p.m. Round 2: Bagautinov feints to take down Lineker to start the round and Lineker unleashes a head-seeking knee with all kinds of power. Bagautinov wasn't there, and thank goodness for that. Would've been ugly. Bagautinov muscles Lineker against the fence and scores, but Lineker scores back, and his shots are harder than Bagautinov's shots. Still, Bagautinov lands more often, in part because Lineker is hesitant to throw for fear of being taken down. Lineker is going to the body now on Bagautinov, and Bagautinov does. not. like. He takes a fourth shot to the body and says the hell with THAT. Bagautinov takes down Lineker, but Lineker scores with elbows while Bagautinov is busy trying to finish the takedown. And never does. Back to their feet for the final 85 seconds. This is a 10-9 round for Lineker, making it 19-19 entering Round 3.
10:46 p.m. Round 1: Bagautinov puts Lineker on his back within seconds and works for position inside the guard while Lineker throws elbows from the bottom. This isn't where this fight was thought to be headed, but that's how it goes. Bagautinov is raising up and unloading in the vicinity of Lineker's face, and Lineker goes for a leg lock. As Rogan is calling it a dumb move, Bagautinov drops down for his own leg lock. Rogan knows stuff, yo, because Bagautinov's submissions are better than Lineker's. They rise up, and Lineker implores Bagautinov to throw punches instead of grappling. Cute, Lineker. Cut your nails, slob. Just for spite Bagautinov catches a kick and puts Lineker back on his rear end. This is an easy 10-9 round to score for Bagautinov.
10:40 p.m. Pre-fight: Never seen this before, but referees outside the cage had to trim Lineker's nails before letting him in the cage. Can't make weight. Can't cut his nails. This guy's a slob.
10:29 p.m. Preview: The fight will be violent and end early. Beyond that, I haven't a clue as to who, how or when. All I know is, these guys are KO specialists. Well, I know one more thing: Lineker, who started as a 5-foot-2 lightweight (!), almost always has a problem making this weight cut several classes and 30 pounds lighter than 155. In his five previous UFC fights at 125, he missed weight three times. It nearly happened again this time, when he weighed in at 127 on Friday night, but Lineker managed to shed the final pound to get to the 126-pound (non-title fight) limit. How much will what was sure to be a grueling weight cut affect him? Not sure it matters, if this thing ends as quickly as I suspect it will.
----------------------------------
Lightweight division (155 lbs)
Jamie Varner (21-8-1 2NC) vs. Abel Trujillo (11-5-0 1NC)
10:26 p.m. Round 2: Varner told his corner between rounds that his arms are tired from that north-south choke, and 45 seconds into Round 2 he's shaking them out, but one of his haymakers staggers Trujillo. And then I'll be damned, Trujillo staggers Varner. And now, I kid you not, Varner drops Trujillo and all of this has happened in the first 90 seconds. Best fight of the night, and it's not close. This is Griffin-Bonner with Trujillo almost out and then WHAT! He knocks out Varner. Out cold. Varner went for the finish, and got caught with a huge right to the button. Lights. Out. KO win for Trujillo, 2:32 of Round 2.
10:21 p.m. Round 1: Varner is picking him apart early, not with a ton of volume but with nasty accuracy, while Trujillo is throwing haymakers. One landed after about 75 seconds, buckling Varner's knees, and Varner started throwing haymakers in return. Trujillo went for the takedown but Varner landed on top and took his back with 2:45 left. Apropos of nothing, Jamie Varner looks like Colin Farrell, and at this moment Farrell Varner has Trujillo in a north-south choke. It's close, and Trujillo puts his hand on Varner's shoulder as if to tap. The crowd murmurs, but it's not there for Varner and he lets it go. With a minute left they're on their feet, and it's a brawl, both swinging with all they've got. Both land, too. Great round, 10-9 for Varner.
10:09 p.m. Preview: Varner is a gatekeeper kind of lightweight, the kind of guy a really good fighter can beat, but only a really good one. Trujillo? He has fought just one really good fighter, Khabib Nurmagomedov, and was thrown around like a rag doll en route to a decisive decision loss. So what we have is proven veteran (Varner) with history of losing to -- but occasionally beating -- some excellent foes. Against a guy with half the experience and no victories against anyone of note. Sounds to me like a fight Varner wins by decision.
--------------------------------
FOX Sports 1 Prelims
Lightweight division (155 lbs)
John Makdessi (12-2) vs. Alan Patrick (11-0)
9:59 p.m. Official decision: Unanimous decision. One judge scored it 30-27, and two 29-28, for Patrick! I'm brilliant. Rogan says, "What ... no comment, I'm going to throw up." To Rogan, I would say this: Watch the fight again, and forget about reputations. Watch what happened. And what happened was, Patrick won. Damn I'm good. Also, Kevin Lee got screwed.
9:57 p.m. Round 3: The round starts with Rogan saying, "Patrick has to know he's in desperation mode," or something like that. To which I say: Why doesn't Makdessi have to know the same thing? What has he done? Makdessi looks like he's sparring; Patrick is actually fighting. He's not as skilled, but his aggression is better than Makdessi's precise nothingness. Nice left by Patrick, which came after a headkick that had the crowd ooohing. But Makdessi stuffs another takedown attempt -- his ninth stuff of 10 tries -- and there is value in that sort of cage control. Tough fight to score, I tell you. "This is an unfortunately uneventful fight," Rogan says, which has me screaming at the TV: THAT'S BECAUSE MAKDESSI ISN'T DOING ANYTHING! Patrick gets him against the cage, Makdessi bleeds on Patrick's shoulder, and the referee breaks them apart with 45 seconds left. Round ends, and I give it 10-9 to Makdessi, so it's 29-28 for Patrick. But I'll be wrong. Even if I'm right.
9:51 p.m. Round 2: More striking, not a lot of scoring, and Patrick launches into a takedown with 3:15 left. But again Makdessi avoids being dragged to the ground and Patrick is forced to go back to Makdessi's specialty, the stand-up game. Makdessi is bleeding from the bridge of his nose, which underscores the fact that, while Makdessi has the bigger rep and the prettier style as a stand-up fighter, Patrick is holding his own. I fear the judges will score this round for Makdessi because it's on the feet, and Makdessi is better on the feet, therefore he has to be winning this fight. Right? Well, it's not that clear. Even Rogan is downplaying what Patrick is accomplishing, but what has Makdessi done, besides knock out some guys a few years ago? That doesn't count tonight. Does it? Close round, but I give it to Patrick's aggression, 10-9, making it 20-18.
9:44 p.m. Round 1: Patrick grabbed ahold of Makdessi early but couldn't get him down, and for several minutes they exchanged on their feet -- and Patrick did OK. He's playing with fire, but he has been holding his own in the striking game. If you're not watching this fight on TV, holy smokes is Patrick enormous. That is a monstrous 155-pounder, and he has a reach edge on Makdessi, and with 45 seconds left he explodes for a takedown and gets it ... for a few seconds. Makdessi rises and they clinch against the fence, where the round ends. I'm gonna draw a straw from a hat and give this round to Patrick, 10-9. But I'm that stupid judge who sees a late takedown and goes, wow!
9:34 p.m. Preview: Makdessi is a scary striker who usually gets matched against other top-notch strikers -- Sam Stout, Daron Cruickshank -- and beats them. In his last fight he knocked out a BJJ fighter, Renee Forte, but Makdessi hasn't faced a BJJ specialist like this before. Alan Patrick is a black belt who has been training with world champion Jacare Souza on getting Makdessi to the ground and finishing him there. Will he do it tonight? Well, since you're asking: Yeah. As a matter fact, Alan Patrick will do just that.
---------------------------------
Flyweight division (125 lbs)
Chris Cariaso (15-5) vs. Danny Martinez (17-4)
9:32 p.m. Official decision: The judges saw a round I didn't, but overall the result was the same, all three of them scoring it 29-28 for Cariaso.
9:29 p.m. Round 3: Best shot of the night is landed early, a straight right by Cariaso that staggers Martinez, but the late addition to the card is tough. Not all that good, but plenty tough. He wades in with huge lefts and even lands a few of them, but then he dives in for another takedown attempt that does nothing but kill 30 seconds. Martinez goes for another takedown and his tenacity is rewarded, though Cariaso gets up almost immediately and does that pop-pop-pop thing some more on Martinez's face. Cariaso will never knock out Martinez with the way he's throwing, but he's scoring while Martinez's punches, thrown with much more bad intentions, aren't finding a home. This is another 10-9 round for Cariaso, and a 30-27 victory in my opinion.
9:23 p.m. Round 2: Martinez came out differently in Round 2, throwing huge, looping punches, but they weren't landing, so all they did was tire out the guy who threw them. Cariaso meanwhile is scoring with crisp jabs, so Martinez says screw this and goes for another takedown. It's a grueling, ugly style, but it's Martinez' only hope against a much more technically sound fighter. Cariaso disengages and goes back to pop-pop-popping on Martinez's face. Cariaso lands a 1-2-3, then a leg kick, and Martinez responds by waving him in for more. As if that will fool the judges. Martinez stops preening and goes for a takedown, making it happen, but Cariaso rises and they are clinching against the fence as the crowd boos. The round ends with nothing happening, meaning another 10-9 round for Cariaso, making it 20-18.
9:17 p.m. Round 1: Cariaso is scoring with kicks. Martinez is trying to get inside the kicks, and inside the punches, and make this an ugly fight. Cariaso so far having none of it until the three-minute mark when Martinez works Cariaso against the cage but gets nothing accomplished, aside from some cage control. For the most part this round is right out of Catone-Watson, meaning nothing much is happening. Martinez scores a takedown with 65 seconds left but is able to do nothing but try to drag Cariaso all the way to the ground. Instead Cariaso gets up and they stand, and Martinez dives in again, and it's grueling but not scoring. Until the final 10 seconds when he scoops up Cariaso and dumps him. Close round, late takedown, but still this is a 10-9 round for Cariaso.
9:04 p.m. Preview: Martinez is a nice local fighter making his UFC debut as an injury replacement for Kyoji Horiguchi. Cariaso is a legit top-10 UFC flyweight who has fought some of the best in the world (and usually lost, including defeats to Renan Barao, John Moraga and Michael McDonald). Cariaso isn't going to be a champion, but he's a solid UFC fighter while Martinez is a nice local fighter. UFC fighters beat local fighters. It's just how the food chain works.
----------------------------------
Middleweight division (185 lbs)
Nick Catone (9-4) vs. Tom Watson (16-6)
9:01 p.m. Official decision: Split decision, 29-28 Watson; 29-28 Catone; and 30-27 for Catone. I bet that 30-27 judge was Almeida. We knew what we're doing :)
8:57 p.m. Round 3: Turns out former UFC fighter Ricardo Almeida is one of the judges tonight, so it's not like these people don't know the sport. Not sure I'd want to fight a local fighter with another local fighter as a judge, but what can you do? I'm not at all saying Almeida, or any judge, would willingly get a score wrong for someone they know. I'm saying, absolute neutrality is hard. The subconscious is powerful. Anyway ... Watson is stalking Catone because he knows his foe's takedowns in the first two rounds, coupled with his own inability to mount decisive striking attacks, will make it easy for the judges to give this to Catone. And with 45 seconds left in the fight Catone has his back on the ground. This is the way to end a round, and it will be 10-9 for Catone, 30-27 overall.
8:51 p.m. Round 2: Don't have much to say about this round, because not much is happening. I'm tempted to give it to Iaquinta myself. It's like these guys don't realize their UFC careers are hanging in the balance. Winning might not even be enough, not this way, not against that guy. Catone scores again with a right, and Watson with a leg kick, and the crowd is booing because it's like I said; this fight sort of sucks. Catone responds to the raspberries by taking down Watson at the 1:45 mark, though Watson gets up immediately, and with 70 seconds left they are standing up ... until Catone drives in for another takedown. Back to their feet. Against the cage. I'm giving this one 10-9 to Iaquinta Catone, making it 20-18.
8:46 p.m. Round 1: Slow start for both guys, but Catone has landed the best two shots early, a pair of overhand rights, although Watson is scoring with leg kicks. Catone's shots scored now; Watson's will take a toll later. Catone shoots in and is stuffed, and with two minutes left they go back to their slow standup fight. This round is so bad, and these judges are so bad, I bet Al Iaquinta wins it. Maybe even 10-8. Idiot judges. At the one-minute mark Catone gets him down, though he doesn't score with ground-and-pound because Watson perches himself up on one knee. The round ends with Catone tipping Watson over like an empty bottle, more than enough for a 10-9 score for Catone.
8:40 p.m. Preview: Neither of these guys is ever going to be a star in the UFC -- Catone is 3-4 in the organization; Watson is 1-2 -- but Watson has slightly better credentials, given his wins against Murilo (not Shogun) Rua, Matt Horwich and then-undefeated Stanislav Nedkov. He has beaten fighters better than Catone, who has never beaten anyone as good as Watson. Nor will he today, losing to Watson as the fan-friendly berserker evens his UFC record at 2-2 via knockout. 
-----------------------------------
Lightweight division (155 lbs)
Al Iaquinta (7-2-1) vs. Kevin Lee (6-0)
8:31 p.m. Official decision: Judges scored it 29-28, 29-28 and 28-27 for ... Iaquinta. Huh? Awful decision. Terrible. One of the worst I've seen. Young man got ripped off.
8:29 p.m. Round 3: They grapple for a minute to start Round 3, and Iaquinta emerges bleeding heavily from the mouth from some elbow strikes. He grabs a single leg, and Lee responds by using that as the anchor to kick him in the head with his other foot! Seen that before, but not often. Lee really is a dynamic striker and a slick grappler, though it's a mark against him that he couldn't finish Iaquinta in Round 2 from such a dominant position. That said, the young man's for real, and he's finishing strong on his feet. If the judges were to score strictly by how the fighters look, it would be an easy decision for Lee, who looks almost untouched while Iaquinta is a bloody mess, including his chest, which is drenched with the blood from his mouth and maybe nose. So much blood, hard to tell where it's coming from, or not coming from, on Iaquinta. I give this round 10-9 to Lee, and the fight 30-27 or 30-26 to him as well.
8:23 p.m. Round 2: Lee is on his back and dragging him down and sinking in the rear-naked choke. Yikes. This happened fast, and Lee has a body triangle with his legs, but Iaquinta avoided the submission although Lee remains on his back, with the body lock. It happened fast, Lee clinching Iaquinta and then spinning around like the wrestler he is. From there it has been all control for Lee, who responded to Iaquinta's attempt to spin into his guard by cracking Iaquinta's jaw with an elbow from the bottom. Never saw that before. Iaquinta stopped trying to spin, too, and Lee remains in control of his back, finishing the round by burying elbows into Iaquinta's ribs. At least one judge in the house is willing to give a 10-8 round, and that judge should score this round 10-8 for Lee. So will I, making it 20-17 Lee on my card. But this is so close, and judging so unpredictable, I can see it being a 19-19 tie too. Maybe Iaquinta won Round 1 and just lost this one 10-9, you know?
8:16 p.m. Round 1: Counter left hook from Iaquinta gets Lee's attention in the first five seconds. Lee answers with a big overhand right, but Iaquinta is unimpressed and wading forward with huge, looping rights. He sees a home run KO in his future, seems like. Lee darts in on a single-leg takedown, and on his way down Iaquinta dives for a leg of his own and sets up a heel hook. And I'm wincing because it looks deep. Lee survives and stands, but Iaquinta won't let go of the damn ankle. Finally he has no choice but to let it go as Lee threatens to get his back against the cage, which Iaquinta uses to get to his feet and slide away. This is a really close round and will come down to how much judges value aggress and cage control. Iaquinta scored more, barely, with damaging shots but Lee easily controlled the tempo. I'm giving it to Lee 10-9.
8:05 p.m.Preview: This is the UFC debut for Kevin Lee, a rising star who has a wrestling background, knockout power and an improving submission game. He's going places in the UFC, and Al Iaquinta -- a New Yorker sure to be the crowd favorite -- is the first step on that journey.
Online Prelims
Middleweight division (185 lbs)
Clint Hester (9-3) vs. Andy Enz (8-0)
7:57 p.m. Official result: The judges gave it to Hester: 30-27, 30-27 and 30-26 (!!).
7:54 p.m. Round 3: The third round isn't much better for Enz than Round 2. It's fought on the feet, and Hester is stronger than he is. Enz is tough, but not all that skilled. Hester is powerful, and those two brutal shots in Round 1 pretty much won this fight. What should be an eventful final round, a sprint for Enz, isn't coming to fruition. He's going for it as best he can, I bet, but there just isn't enough left in the tank. Hester, meanwhile, has enough left in his gas tank to go forward in this round and winning this kick-boxing round. Should be 10-9 for Hester, and 30-27 for him.
7:47 p.m. Round 2: Brief exchange on the feet led to a takedown for Hester, but Enz avoided damage and got up and jabbed Hester away from him. Another exchange, and another Hester takedown into half guard. Enz gets up quickly, but Hester drills him with a head kick and then a right to the head. Hester is clearly slowing down, but at the same time Enz isn't doing enough to take control of this fight; he's probably not at full strength himself from those two knockdowns early. A better round for Enz, but still a 10-9 round for Hester and a 20-18 lead. (I can see a judge giving it to Enz 10-9 though.)
7:41 p.m. Round 1: Hester floored Enz with a looping left hook, then dropped him again with a big right less than 90 seconds into the round. Enz weathered the storm, but he's still hurting. On the bright side for Enz, Hester is slowing down at the 2:30 mark of Round 1. Enz drilled Hester with a left head kick, rocking Hester but not knocking him down. Enz is moving forward, hitting Hester with leg and body kicks, but Hester pops him with a counter right. What was at one point a 10-8 round for Hester now should be 10-9, but still for Hester of course.
7:30 p.m.
Preview:
Hester has the scary power and explosion and even the advantage in experience, but Enz -- making his UFC debut -- is a different kind of guy. Like Hester, he tried out for season 17 of The Ultimate Fighter reality show. Enz drew terrifying Uriah Hall just to get into the house and had his arm broken when he blocked a kick early in the fight. Enz kept fighting and lost a decision, but still. This is a tough guy who was raised in the gym by a father who trains boxers, and my suspicion is he will survive Hester early and then wear him down late.
------------------------------------
Lightweight division (155 lbs)
Tony Martin (7-0) vs. Rashid Magomedov (15-1)
7:26 p.m. Official result: All three judges gave it to Magomedov by a 29-28 decision.
7:24 p.m. Round 3: Magomedov started the round with a straight right onto Martin's damaged right eye, which had Martin diving in for the takedown. They stalemated against the cage for nearly 90 seconds before Magomedov sank in a guillotine and used it to take Martin down. Martin escaped, but that was close to a submission. Round-winning, fight-winning close. Magomedov landed another brutal ground strike, then a huge kick on their feet to Martin's nose against the cage, and this round is all Magomedov. Martin is bleeding all over Magomedov's chest against the cage, and they are separated at 55 seconds. Martin goes for the takedown but can't do it, and the referee stops it for a moment to let a doctor look at Martin's face. They resume fighting, and Martin is trying to get a takedown, but the round ends. Should be 10-9 Magomedov, 29-28 Magomedov.
7:18 p.m. Round 2: Immediately Martin bullied Magomedov against the cage, tried to spin him to the ground and lost it on the way down, ending up on the bottom. Magomedov landed some big shots, and Martin's left eye looks hurt. Like, the eye socket could be broken. So it appears that Magomedov's arm is OK, somehow, but man his left eye is a mess. That's going to be shut soon, but at the 2:30 mark they're on their feet and Magomedov is getting the better of it. Seems pretty clear: Martin needs to grapple to win. In fact, he's not even engaging on the feet very much. It's all Magomedov as far as aggression and control in this round, which makes it a 10-9 round for Magomedov and a 19-19 tie entering Round 3.
7:12 p.m. Round 1: Took 40 seconds for someone to throw a kick, and it was Magomedov, and it took more than a minute for Martin to throw his first strike. He did try to drag Magomedov to the ground, and made it happen into side control after 75 seconds, but soon found himself in half-guard, and then into Magomedov's full guard. Halfway into the round Martin had a shot at a kimura and rolled Magomedov onto his back and was close, close, close to finishing this fight. From there he rolled into an arm bar, and Magomedov was grimacing in agony before spinning around and even getting to his feet. But that was Martin possibly damaging Magomedov's arm, and Martin winning that round 10-9. Holy moly. I can't believe Magomedov didn't tap. That was Rousey-Tate I. That ugly.
7:03 p.m. Preview: This is a rare double-debut for two UFC newcomers, though Magomedov will be a familiar name to some MMA fans given his status as the M-1 Global welterweight champion. He's dropping weight in the UFC, which could go either way, and in Martin he's taking on a rangy lightweight who can strike but excels at submission finishes. Magomedov is pretty much a one-dimensional banger, but he's awfully damn good at that one dimension. Tough debut for Martin.
----------------------------------
Welterweight division (170 lbs)
Neil Magny (8-4) vs. Gasan Umalatov (14-2-1)
6:57 p.m. Official result: The judges got it right, giving it to Neil Magny by scores of 29-28, 30-27 and 30-27.
6:54 p.m. Round 3: Rogan and Mike Goldberg are effusive in their praise for Magny, saying this is -- ding ding! -- the best Magny they've ever seen. And they're right. This guy isn't a disappointment. This guy is a long striker who has takedown defense for days and has taken the sambo fighter Umalatov's back twice. The best moment for Umalatov of the fight came at the 2:30 mark when he got Magny down and had his back tentatively, but Magny spun away and got to his feet, where he peppered Umalatov with some more jabs while slipping Umalatov's wild hooks. Umalatov has all the aggression in this round, and has enjoyed slightly more success, and went for a standing guillotine late. I can see this round being 10-9 for Umalatov, but an easy 29-28 or even 30-27 decision victory for Magny.
6:48 p.m. Round 2: More of the same early in Round 2, with Magny dictating the fight with his jabs and 1-2 combinations, and Umalatov being unable to reach Magny consistently and, surprisingly, unable to take Magny down. Let's say this: Magny has improved, and this is -- as Joe Rogan likes to say about various fighters -- the best Neil Magny we've ever seen. Umalatov waded in late in the round for a takedown, but Magny fought it off again. Another easy 10-9 round for Magny, who ended it on Umalatov's back.
6:42 p.m. Round 1: Magny has a 10-inch reach advantage (!!!!) and he used that to tap Umalatov's glove and then jab him in the face in almost the same motion. Not cool, but whatever. They stood for 90 seconds and Magny was winning, which is when Umalatov shot in and threw him down. He started with an arm-in guillotine, didn't sink it in, then backed off and ate an up-kick. Back to their feet at the 2:30 mark, where Magny scored better if not decisively so. Still, this is his round, and it's not all that close. He shrugged off some takedown attempts, kneed Umalatov against the cage, and basically controlled the Octagon, even taking Umalatov's back in the final 20 seconds. Easy 10-9 round for Magny.
6:25 p.m. Preview: Let's start this thing off by calling it as we see it: Magny has been a disappointment in the UFC. He has enormous range and effective if not terrifying hands, but for whatever reason he hasn't put it together yet. Umalatov is the first of three Russian fighters on tonight's card, and probably be the last fighter Magny faces in the UFC if the American loses his third straight. Given Magny's huge edge in reach and Umalatov's prowess at submissions, watch for the Russian to get this fight to the ground and end it there.
-------------------------------------
UFC Bantamweight champion Renan Barao will put his 135 pound crown on the line this Saturday against Urijah Faber in the main event of UFC 169. In the co-main event, featherweight king Jose Aldo defends his belt against Ricardo Lamas. 
We will be bringing you round-by-round coverage of every fight with a live blog, so come back on Saturday to keep up with all the action.
Our Latest Stories
Kyle Busch is in danger of being eliminated just weeks after dominating the Round of 16

Kevin Harvick and Joey Logano will have a chance to tie Jimmie Johnson's wins record at Ka...

This is good parenting, folks
He's the most glamorous defensive coordinator to ever step foot on Earth

Keselowski passed Ryan Newman on the final lap to clinch his spot in the NASCAR Playoffs Round...

NASCAR Playoffs Round of 12 contender sits in 7th place heading into this weekend's race at...