UFC 170: Rousey finishes McMann with first-round TKO
UFC women's bantamweight champion Ronda Rousey defends her title with a TKO of Sara McMann at UFC 170. Other winners: Daniel Cormier by TKO over Patrick Cummins, Rory MacDonald by decision over Demian Maia and also Mike Pyle, Stephen Thompson and Alexis Davis.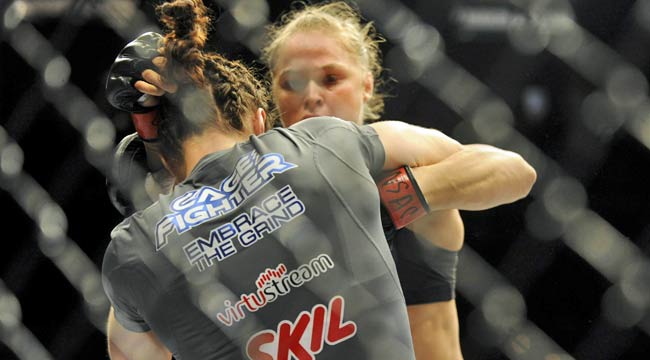 12:08 a.m. Final thoughts: What we had tonight was the UFC trying to turn chickens--- into chicken salad. Sara McMann wasn't ready for Ronda Rousey. Patrick Cummins wasn't ready for Daniel Cormier. But the stable of championship-level women's fighters is still mostly empty, and Cummins was a late replacement for injured Rashad Evans. People want to see Ronda Rousey, so the UFC fed her McMann. Cormier wanted to fight at 205, and the card needed his star power, so the UFC fed him Patrick Cummins.
And then the UFC tried to sell this card as if the two biggest fights were worthy of headlining a PPV show. They weren't. They were fun to watch, though, because who doesn't enjoy a finish? But these fights showed just how good the best of the best are, and how unlikely -- nay, impossible -- it is for a raw fighter to knock off the best of the best. MMA has come too far. Rocky won't happen here.
Hindsight? Nah. I predicted both results before those fights started. That doesn't make me smart. It means I've been paying attention to MMA for several years. Great fighters don't belong in the same cage with newbies. That's what the UFC provided tonight, and we saw two beatdowns.
Were you not entertained?
UFC women's bantamweight title:
Ronda Rousey (champion, 8-0-0) vs. Sara McMann (7-0-0)
11:59 p.m. Round 1: McMann is blasting Rousey with overhand rights to the temple, and those are gonna leave a mark. Ouch. Rousey clinches and scores with knees and dirty boxing, but when they separate McMann looks dangerous ... until Rousey drops McMann with a knee to the liver that causes Herb Dean to stop the fight. Too soon? Maybe, yeah. McMann was on the ground using one of her hands to hold her stomach while Rousey was using both hands to finish. Rousey by TKO, about a minute into the fight.
11:44 p.m. Prediction: McMann has the best wrestling credentials, male or female, in UFC history. She's an Olympic silver medalist, and wrestling is a great foundation for MMA. But I've seen tape of McMann, and she's not ready for Rousey. Not good enough on her feet, and not dangerous enough with ground-and-pound to keep Rousey from submitting her, assuming she's able to get Rousey to the ground. Another armbar win for Rousey.
--------------------------------------------------------
Light heavyweight bout (205 pounds):
Daniel Cormier (13-0-0) vs. Patrick Cummins (4-0-0)
11:39 p.m. Round 1: Cummins looks decent on his feet, landing jabs and a body kick, until Cormier does a dirty-boxing uppercut to Cummins' jaw that slows down Cummins immediately. He looks hurt badly, and Cormier drops him, and drops him again, and at the 3:43 mark Cormier wins by TKO.
11:29 p.m. Prediction: Lot of hype about Cummins, but I can't tell if that's the UFC selling this fight for PPV profits, or for real. Whatever the case, Cormier has beaten fighters 60 pounds and 25 fights better than Cummins, and I can't with a straight face pick Cummins to do what great heavyweights couldn't do, and beat Cormier. On a week's notice, Cummins won't win. Come on.
-------------------------------------------------------
Welterweight bout (170 pounds):
Rory MacDonald (15-2-0) vs. Demian Maia (18-5-0)
11:24 p.m. Official decision: MacDonald wins 29-28 on all three judges' cards.
11:22 p.m. Round 3: MacDonald coasts for one minute for Round 3 and still wins this minute easily, then starts the second minute with a straight right to Maia's face. MacDonald stops another takedown, his 12th successful stuff of Maia's 13 takedown attempts. Maia is throwing punches in slow motion, like he's punching through water, but musters the strength to grab a single leg and turn it into a double-leg pickup and takedown. Maia is on top with three minutes left, and if he can stay here until the final bell, he wins this round and this fight. Even if all he's done for the first minute is bleed all over MacDonald. And then MacDonald uses his butterfly guard to flip Maia off him! With two minutes left they're up, and Maia goes for another takedown and MacDonald sprawls. And sprawls again. And again, and when they get up MacDonald plans an uppercut into Maia's face. More target practice for MacDonald on Maia's face, then another sprawl, and this is a beatdown. MacDonald won this round 10-9 and this fight 29-28.
11:17 p.m. Round 2: MacDonald is scoring early in Round 2 with punches and (almost) an axe kick, and on Maia's first takedown attempt he sprawls and escapes. Maia scores with a big left, but MacDonald answers with a glancing headkick. Maia's second takedown attempt is stuffed, and MacDonald continues to score on his feet, with a great body kick that crumples Maia for a moment. Maia tries a third takedown, then a fourth, and the fourth is pathetic. He basically fell forward, and MacDonald stepped to the side for an air-ball on a takedown attempt. Never seen that before, really. MacDonald has wobbled Maia. He's hurt, woozy, and that body kick was nasty. Now Maia is bleeding from the bridge of the nose, and this fight might not last much longer. Maia is outclassed on the feet and too tired, too hurt to get MacDonald to the mat. MacDonald is using Maia for target practice, much as he did to B.J. Penn late in their fight, and this is as decisive a 10-9 round for MacDonald as Round 1 was for Maia. Maybe moreso, because Maia never really hurt MacDonald in Round 1. Maia is hurt in this round. Hurt badly.
11:11 p.m. Round 1: Maia wants no part of MacDonald on the feet. He shoots within 10 seconds, then again 10 seconds later, and at the 4:30 mark Maia is on top, on the mat. Maia is trying to get away from MacDonald's butterfly guard and into mount, and he's close. He gets it at the 3:15 mark. Full mount, Demian Maia. He lands an elbow and MacDonald almost gets out, but does get something akin to half-guard. Maia isn't close to finishing MacDonald, but he's completely in control and winning this round big. Not 10-8 big, but still, a big 10-9 round for Maia. And that's even with MacDonald getting to his feet for the final 45 seconds. Truth is, Maia fought MacDonald even on the feet in those last 45 seconds. Easy 10-9 round for Maia.
10:55 p.m. Prediction: Maia has the best jiu-jitsu MacDonald -- or anyone in the UFC -- has ever faced, but MacDonald is crafty enough to avoid bad positions, and way too good on his feet for Maia. Also MacDonald is motivated after losing to Robbie Lawler in a listless showing his last time out. MacDonald gets back into title talk with a big win here.
----------------------------------------------------
Welterweight bout (170 pounds):
Mike "Quicksand" Pyle (25-9-1) vs. T.J. Waldburger (16-8-0)
10:51 p.m. Round 3: Waldburger has his best minute of the fight to start round 3, scoring with leg kicks and hard punches to the face, but Pyle stuns Waldburger with an overhand right to the face. Waldburger almost crumples but keeps his feet and dances away. That creates space for a spinning back-fist that Pyle delivers to drop Waldburger for a second. Against the cage Pyle smashes Waldburger with two elbows, boom boom, and then a knee to the head. Waldburger looks like he's out for a second, and Rogan blurts, "He's out!" But Waldburger comes to. This fight should be stopped. Waldburger is almost asleep and Herb Dean doesn't see it. Finally he does with a minute left, way too late for Waldburger, who "was just lying there," as Rogan said, while Pyle was delivering brutal elbows and punches. TKO for Pyle.
10:45 p.m. Round 2: Pyle tries a kick that Waldburger catches and goes for a heel hook. He loses that position but grabs Pyle's neck in half-guard. Pyle escapes that and moves into side control but got greedy and went for the mount and let Waldburger use butterfly guard to stand. Waldburger is bleeding from the nose but he scores with a left hook to the head and then a straight right to the body. Pyle looks like the smarter, craftier fighter, but Waldburger is more explosive and stronger. But smart works in grappling, and Pyle gets side control after a takedown, though only for a few seconds. They finish the round on their feet, and it was a close round that I'm giving to Pyle 10-9 because he looks untouched while Waldburger is dripping blood. He's ahead 20-18, though it's so close I could be wrong and wouldn't be angry about it.
10:39 p.m. Round 1: Waldburger scores with leg kicks and pushes Pyle against the cage, while Pyle was slow to get started. Waldburger was not, landing left hooks and leg kicks, but they clinched and Pyle tripped Waldburger to the mat with 2 minutes left. Pyle moved into side control at the 1:40 mark and is dropping short right elbows to Waldburger's face before Waldburger gets up at the 1-minute mark. Pyle scores with knees in the clinch off the muy thai plumb. Tough round to score, but Pyle's dominance in side control and overall control in the final two minutes makes it a 10-9 round for Pyle.
10:27 p.m. Prediction: Waldburger beats decent guys but loses to good ones. Pyle beats good ones but loses to great ones. Means Pyle > Waldburger. Just watch.
-------------------------------------------------
Welterweight bout (170 pounds):
Robert Whittaker (12-3-0) vs. Stephen Thompson (8-1-0)
10:23 p.m. Round 1: Thompson is winning the standup battle against a guy, Whittaker, who isn't accustomed to being beaten on his feet. Thompson is bleeding somewhat, and Whittaker is landing consistently to the nose with his jab, but Thompson is scoring in a variety of ways and drops Whittaker with a huge power punch to the jaw and then finishes him on the ground with more huge punches to the head. TKO for Thompson, 3:43 of Round 1.
10:09 p.m. Prediction: Thompson can be beaten by mid-level fighters, but only if they have the mental stamina to just wade forward and grind out a brutal, ugly win. Cough cough Matt Brown cough cough. Whittaker isn't that guy, which means he's not beating one of the best pure strikers in MMA.
------------------------------------------------------
Women's bantamweight bout (135 pounds):
Alexis Davis (15-5-0) vs. Jessica "Evil" Eye (11-1-0)
9:59 p.m. Official decision: The judges had a split-decision of 29-28, two for Alexis Davis for the victory. Crowd booed. I don't get crowds.
9:56 p.m. Round 3: Eye delivers the best two punches of the first minute, and Davis responds by smiling and walking forward anyway. Eye keeps scoring with jabs and 1-2 combos, and while she's winning this round, that just means a decision loss (in my eyes). Eye isn't showing any urgency to finish the fight or overwhelm Davis. She's content to out-box her for a 10-9 round, which won't get her the 'W'. This is a clear 10-9 round for Eye, which means it'll come down to the close round 1.
9:50 p.m. Round 2: Eye wins the first minute on the feet, so Davis takes her down and hammer-fists her for about 10 painful seconds. Davis doesn't score much else, but is winning this round with boredom control while toying with the right arm of Eye, which could be kimura'd if she isn't careful. Bad round for the fans and Eye, but a 10-9 round for Davis for a 20-18 lead.
9:44 p.m. Round 1: Eye goes for the stink-eye during introductions, while Davis looks as pleasant as pleasant can be. Advantage, Eye! Davis scores with a leg kick but Eye muscles her to the cage and delivers a fast combination to the head. Davis responds with a front kick to the face, glancing but still scoring, to which Eye says: Back to the cage for you. Eye is much stronger and using that to win the clinch game, but when they separate Davis scores with leg kicks and quick flurries. She's not so pleasant after all! With 30 seconds left in a close round Davis scores a takedown, and ends the round on top. It's so close, I don't know who to give it to ... so here I go, giving it to the fighter who scored the late takedown. 10-9 for Davis.
9:35 p.m. Prediction: Davis is one of the best 135-pounders in the world, but Eye is on a roll that only some weed has derailed. Her victory last time out, against Sarah Kaufman, was ruled a no-contest when she tested positive for marijuana. Unless she got high in the last few days, nothing can stop Eye from winning this one and move into position to fight for the title next.
------------------------------------------------------
Bantamweight bout (135 pounds):
Raphael Assuncao (20-4-0) vs. Pedro Munhoz (10-0-0)
9:30 p.m. Official decision: All three judges scored it 30-27 for Assuncao, which means all three saw Round 2 the wrong way. Ah well. The right guy won.
9:28 p.m. Round 3: Assuncao turns this round into a repeat of the first, winning the early stages with kicks and punches while Munhoz dances and takes it. Munhoz is the aggressor, but Assuncao is the guy throwing most of the shots and landing all of them. Head strikes landed, according to Fox: 90 by Assuncao, 9 for Munhoz. Pretty much. Munhoz stalks Assuncao but is getting beaten up for his troubles. This is an easy 10-9 round for Assuncao, which makes it a 29-28 victory for him. At least one judge will see it 30-27 though.
9:22 p.m. Round 2: Munhoz is winning on the feet so Assuncao puts him down and drops a few punches before Munhoz gets back up. Both are black belts in BJJ, but other than a quick attempt at a heel hook by Munhoz, we've seen none of that. This is all about the striking -- Munhoz's leg kicks vs. Assuncao's hands and kicks. Munhoz is winning, seeing how he has forced Assuncao to switch stances to protect his (normally) front left leg. All of which has Assuncao going for another takedown and getting it with 75 seconds left. Munhoz avoids damage but spends the final 75 seconds on his back, enough for fool the judges into giving him the round. But not me. I see it 10-9 for Munhoz, and 19-19 entering Round 3.
9:16 p.m. Round 1: Assuncao is winning on the feet with two leg kicks, two punches, then a left hook to the temple. Munhoz is a black belt in BJJ, and he'd better get this fight to the ground soon. Munhoz is scoring with leg kicks, but Assuncao is scoring with that and more, much more. Assuncao accidentally poked Munhoz and tried to get the referee to stop it so Munhoz could recover, but Munhoz said he was fine. Love the class of UFC fighters when this happens. They touched gloves and went back at it. Munhoz's leg kicks are all he has, but they're adding up. Assuncao won this round 10-9, but keep an eye on his movement as this progresses.
9:07 p.m. Prediction: Brutal UFC debut for Munhoz, who gets the No. 3-ranked bantamweight in the world in Assuncao. But it's a brutal fight for Assuncao too, because Munhoz doesn't have any UFC credibility but is awfully damn dangerous. I'm thinking Munhoz is going to do some damage in this weight class, but Assuncao is 5-0 since dropping from 145 to 135. And his 'O' isn't ready to go; Munhoz's is.
------------------------------------------------------
Bantamweight bout (135 pounds):
Cody Gibson (11-3-0) vs. Aljamain Sterling (8-0-0)
9:03 p.m. Official decision: All three scored it 29-28 for Sterling. I can't predict worth a damn, but I can score! Should've been a judge. Or a farmer.
8:59 p.m. Round 3: Sterling scores the first takedown early in Round 3, attempts the D'arce choke and looks to be close to finishing. Joe Rogan thinks it's close, and who am I to argue BJJ with Joe Rogan? I'm nobody. But Sterling can't hang on and at 2:50 they're up. At 2:35 they're down, because that's what this fight is: a whole lot of takedowns. Sterling wins the takedown again after either slipping or being dropped by a shot to the back of the head -- hard to see in real time -- and Sterling is on top for a minute, stretching out Gibson and pounding on his ribs. With 75 seconds left Gibson says the heck with that and gives up his back, and this is the most dominant round of the fight. For Sterling. He makes a move for the rear-naked choke with 30 seconds left, doesn't get it, but Sterling wins this round 10-9 easily. I see it 29-28 for Sterling.
8:53 p.m. Round 2: Nothing much for 90 seconds, until they clinch and Gibson spins Sterling to the cage and works the clinch there before tripping Sterling to the mat. Gibson does little for about a minute but spins to the back, though Sterling escapes that and gets to his feet and starts burying knees into Gibson's stomach. They're apart at the minute mark, but Gibson darts in for the takedown and has Sterling's back briefly. Gibson ends the round going for a guillotine, finishing off a 10-9 Gibson round for a 19-19 tie entering Round 3.
8:47 p.m. Round 1: Sterling threw everything he could at Gibson, spinning kicks and backfists and front kicks, and Gibson avoided all of it. Sterling went to Plan B at the 3-minute mark, taking down Gibson. He toyed with a front choke as Gibson got to his knees, then threw knees to the chest as Gibson got to his feet. Against the cage they went, and Sterling won the position and threw knees at Gibson's thighs and body. Close round, but 10-9 for Sterling.
8:35 p.m. Prediction: Sterling chops down Gibson with leg kicks, then chokes him out. Honestly I have no idea. Can't wait to see what both have.
----------------------------------------
Flyweight bout (125 pounds):
Zach "Fun Size" Makovsky (16-4-0) vs. Josh "The Gremlin" Sampo (11-2-0)
8:31 p.m. Official decision: The judges saw it as I did, because it was that easy for all of us: a pair of 30-27 scores, and one 29-28, for Makovsky by unanimous decision.
8:28 p.m. Round 3: Sampo and Makovsky engage and Makovsky slips and now Sampo is on top 30 seconds into the round. Let's see what he can do on top ... and the answer is nothing. Lot of maneuvering, no positions achieved, and Makovsky gets up with 2:45 left. Makovsky tags Sampo with a left, and there's blood on Makovsky's chest, but it's Sampo's blood. And he'll get more of that on Makovsky after being taken down, again, with 90 seconds left in the round. This fight will end here, with Makovsky taking the closest round yet by another 10-9 score for a 30-27 victory, in my opinion.
8:22 p.m. Round 2: Makovsky threw a kick that Sampo ducked into, meaning Makovsky's knee drove into his face. Ouch. Makovsky then landed a straight left and went for another takedown, but Sampo got quickly to his feet, where he dropped blood from his nose to the mat. And then another takedown for Makovsky, who is making anyone who picked against him look stupid. He's striking and wrestling at another level from Sampo, whose most dangerous-looking attack is the up-kick. And when that's your best attack ... you're in over your head. They're up with 90 seconds left, but neither lands much and Makovsky dumps Sampo with 20 seconds left. Another 10-9 round for Makovsky, 20-18 overall.
8:16 p.m. Round 1: Makovsky and Sampo trade kicks in the first minute before Makovsky goes for a takedown and picks up Sampo like he's a small sack of potatoes before throwing him down. That was explosive power by Makovsky. Not much happens on the ground for two minutes as both maneuver for positioning, which means Makovsky is winning seeing how he's on top. Just the way it goes. Sampo gets up with 1:20 left in the round and lands a 3-2 combination (left hook, straight right!) for the best two shots of the round. Enough to win a round he spent mostly on his back? Nope. Makovsky 10-9 this round.
7:45 p.m.
Prediction:
Makovsky is ranked 10th in the world at 125, while Sampo isn't ranked. What does it mean to me? It means Sampo is about to rise up the rankings, because he wins this fight. Wrestling style.
----------------------------------------------------
Lightweight bout (155 pounds)
Rafaello Oliveira (15-6-0) vs. Erik Koch (13-3-0)
7:39 p.m. Round 1: Koch dropped Oliveira with a straight right one minute into the round, hopped on top and started ground-and-pounding -- five lefts, then 10 rights -- until the referee stopped it about 30 seconds later. Koch by TKO, 1:24 into Round 1.
7:31 p.m. Prediction: Koch is making the unusual move up in weight, from 145 to 155, but at 145 he was a title contender (who had his title shot interrupted by injury), while Oliveira is a guy who keeps losing to good fighters at 155. I bet Koch is good at 155. And I bet Oliveira loses this one, too.
-------------------------------------------------------
Lightweight bout (155 pounds), about 7 p.m.:
Ernest Chavez (7-0-0) vs. Yosdenis Cedeno (9-2-0)
7:28 p.m. Official decision: Judges had a split decision for Chavez, 29-28, 28-29, 30-27 (huh?).
7:25 p.m. Round 3: Cedeno is being stalked by Chavez, whose cardio is vastly superior and who wants to get his hands on Cedeno to take the baby him to the ground. Nothing much has happened for 2 1/2 minutes, so Chavez is winning this round by aggression and octagon control. Chavez pins him against the cage and is lighting up his legs with knees. Cedeno is taking it, and the referee separates them with 100 seconds left. The more I see Chavez, the more I think maybe he should fight at 135. Lotta pudge on that belly, and not a ton of muscle anywhere. He's unimpressive at 155, would look so-so at 145, but might scare somebody at 135. As for this fight, it blows. Cedeno is actually throwing more, and landing more, on their feet to end this round. Tough round to score. Bad round. Can't they both lose? I'll give it to Chavez 10-9 and 29-28, but don't care to see either guy again.
7:19 p.m. Round 2: Between rounds Chavez's corner told him of Cedeno, "He's a baby on the ground." Cheeky commentary, given that Chavez is merely a purple belt. Good, but ... not exactly an elder in BJJ. More like an adolescent. Cedeno went for another spinning head kick, missed, and Chavez took him down again, 90 seconds into the round. And immediately Chavez moves into side control. And you know what? Chavez's corner is right: Cedeno is a baby on the ground. Chavez's teenager is vastly superior in BJJ to Cedeno, who looks like a one-dimensional striker, and those guys don't last long in the UFC unless they can strike like, say, Melvin Guillard. And Cedeno can't. He's up with 1:45 left in the round, but Chavez bullies him against the cage and Cedeno is exhausted. So, one-dimensional and no cardio? Terrific, Yosdenis. Did you think you were just gonna knock out your UFC foes in the first round? This ain't the local circuit. Turns out both guys are making their UFC debut on short notice, which could explain Chavez's pudge and Cedeno's exhaustion. Mostly uneventful round ends, 10-9 for Chavez. It's 19-19.
7:12 p.m. Round 1: Cedeno has a rait tail mohawk, which is more ridiculous than his nickname, "Pink Panther." But Cedeno is a powerhouse of a striker, using maximum force on his leg kicks and his spinning kick to the stomach. Chavez is just standing there and taking it. Also, Chavez is soft. He's a 145-pounder in the 155-pound division, filling out the weight with fat on his stomach. Hey, no judgment ... but he's in the wrong weight class. These guys look so different, I'd almost venture to say the UFC brought in Chavez to be a quality (he's undefeated) loss for Cedeno's UFC debut. Chavez is fearless, I'll say that for him. Moving forward, trying to engage. But Cedeno is longer, quicker and more powerful. Cedeno missed a spinning wheel kick, and Chavez took him down into side control and nearly put him into a mounted crucifix. With 40 seconds left Chavez is in the mount, and he takes Cedeno's back. But Cedeno gets loose, they're up, and the round ends. Gotta give it to Cedeno, who won the first 3 1/2 minutes, 10-9.
6:08 p.m. Prediction: Both guys are fairly old to have so few fights, and to be making their UFC debut -- Chavez is 30, Cedeno 29 -- and there's not much info available on them. But this I know: Both want to strike, and Cedeno is a black belt in karate who fancies all kinds of fancy techniques. I figure one of them lands and either finishes Chavez, or hurts him enough to carry Cedeno to a decision victory.
UFC women's bantamweight champion "Rowdy" Ronda Rousey puts her title on the line at UFC 170 against former Olympic wrestling silver medalist Sara McMann, in a fight that also sees both women put their respective undefeated streaks on the line. Also on the card, Daniel Cormier fights Patrick Cummins in a showdown of former Olympic wrestling training partners.
We will be bringing you round-by-round coverage of every fight with a live blog, so come back on Saturday to keep up with all the action.
Tale of the Tape: Rousey vs. McMann
Ronda Rousey (C)
vs.
Sara McMann
8-0-0
Record
7-0-0
0-0-0
KO/TKO W-L
1-0-0
8-0-0
Submission W-L
3-0-0
0-0-0
Decision W-L
3-0-0
27
Age
33
5-6
Height
5-5
66 in.
Reach*
66 in.
135 pounds
Weight*
135 pounds
Our Latest Stories
Find out if you're as smart as you think you are

Truex Jr. automatically advances to the Round of 12 and will have five more bonus points carried...

Martin Truex Jr. leads the way as the NASCAR playoffs begin Sunday at Chicagoland
Kyle Busch will be on the pole for the start of the NASCAR playoffs

The former champ pumps the brakes on the Danica Hall of Fame talk and says he likes his playoff...

He's young enough (32), has 40 career wins and makes headlines on the track and in the pit...