'Unrealistic' for US to win World Cup? Klinsmann can't be from around here
'It's not realistic' for Team USA to win the World Cup, coach Jurgen Klinsmann says. He should have kept it to himself because that's not motivation.
More: Klinsmann: US can't win |

US-Ghana, Mon. 6 ET | Schedule: WC starts June 12
In Jurgen Klinsmann's defense, he's not from around here. To his credit, he knows it. That's why his latest mealy-mouthed commentary about the US men's soccer team, as it enters a World Cup it apparently can't win, was followed by the following disclaimer:
"If it is American or not," Klinsmann said this week, "you can correct me."
Don't need your permission to correct you, Jurgen. See, here in America, we don't ask or even need permission to be bold, blunt, aggressive. Another thing we don't do: We don't apologize for losing before the game even starts. In America we don't, or we didn't, say what Jurgen Klinsmann said this week about the 2014 World Cup:
"For us now talking about winning a World Cup," he said, "it is just not realistic."
Put that in bronze and mount it outside the US Soccer Federation office in Chicago. Florida football has "The Promise" by Tim Tebow. US soccer can have "The Surrender" by Jurgen Klinsmann.
For us now talking about winning a World Cup, it is just not realistic.
There will be American fans at the World Cup in Brazil this week, enough for every one of them to paint a letter on his or her white T-shirt and spell out that memorable bit of pep-talkery from Jurgen Klinsmann: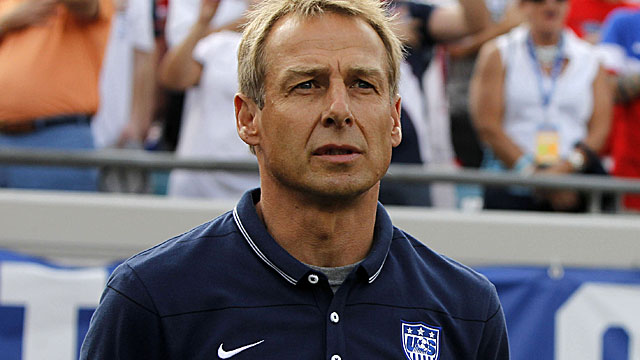 Winning: it is just not realistic.
He's not from around here, so maybe he doesn't know this, but we don't do defeatism. At least, we shouldn't. Even if we can't win? We don't think it. We damn sure don't say it. Why should we?
Why did he?
Klinsmann is a very smart man, and a very smart soccer man. Accomplished? Oh mercy yes. He won a World Cup as a player for Germany in 1990, and he reached the 2006 World Cup semifinals as a coach for Germany, finishing third. So Jurgen Klinsmann knows what a World Cup champion, even a serious World Cup contender, looks like.
Which makes him the absolute last person to be telling our country, and especially our team, that we can't win this thing. Because they just might believe him! The thing is, upsets happen. Hey, they do. They happen in one night, like the time Division II Chaminade beat Ralph Sampson and Virginia in 1982, and they happen over the course of a long and grueling tournament, like the time the US hockey team beat the Soviet Union and went on to win the Olympic gold medal in 1980.
The Miracle on Ice, people called it. If Klinsmann had been coaching that team -- had he been an Olympic champion as a player and then a bronze medal-winning coach from overseas -- the Americans would have saved a pretty penny on food and lodging in 1980 because we'd have left Lake Placid long before that Olympiad was finished. But at least the American public would have taken it easy on Klinsmann, seeing how he'd warned us before those 1980 Olympic Games:
For us now talking about winning a gold medal, it is just not realistic.
And it wasn't realistic in 1980. It was absurd. You know what American hockey looked like in 1980? Like American soccer in 2014. Something decent, something getting better, but something not worthy of sharing the same stage with the international heavyweights.
But US coach Herb Brooks is from around here, and when you're from around here you don't accept defeat. And so this is what Herb Brooks told his 1980 US hockey team:
"You can't be common, the common man goes nowhere -- you have to be uncommon."
And this is also what Herb Brooks told his 1980 US hockey team:
"Great moments are born from great opportunity."
Herb Brooks fires me up. Jurgen Klinsmann pisses me off. And what he said this week to a roomful of journalists? It's the same thing he told New York Times Magazine in December: "We cannot win this World Cup, because we are not at that level yet."
Makes the Landon Donovan dismissal make sense, right? Would Klinsmann like to win now? Sure he would. But it's not "realistic." In four years Donovan will be 36, which means there's almost no way Donovan could make the 2018 US World Cup team -- which means he doesn't belong on the 2014 team, apparently. This team, in Klinsmann's words, "cannot win the World Cup." But maybe by 2018 it will be more, in Klinsmann's words, "realistic." And so this team has at attacking midfielder 18-year-old Julian Green, who could well be the future of US soccer. Donovan's the past, and even if he's the present, so what? The United States didn't win a World Cup in the past, and according to Klinsmann we're not going to win one in the present.
If this were an attempt at reverse psychology, I'd love it. Fire up your team however you see fit, Jurgen Klinsmann. But that's not what this looks like. Not when you factor in the comments in December, the comments this week, and the decision to replace the leading scorer in US soccer history with someone, perhaps even an 18-year-old someone.
We can't win this year. Klinsmann seems sure of it, so I guess I believe it.
Sure hope our players don't.
Everything you need to know for Sunday's race in the Monster Energy NASCAR Cup Series

Micah Roberts pioneered wagering on NASCAR races and just locked in his QuikTrip 500 picks

SportsLine's Mike McClure, a DFS pro with more than $1M in winnings, gives optimal lineup...
SportsLine simulated the Folds of Honor QuikTrip 500 race 10,000 times and has some surprising...

Hamlin wasn't thrilled with Bubba's driving, or his post-race comments

The Richard Childress team went all out after their win on Sunday