2014 team preview: Detroit Tigers
Coming off three straight AL Central crowns and three disappointing postseason exits, how will the Tigers fare in 2014? Let's preview.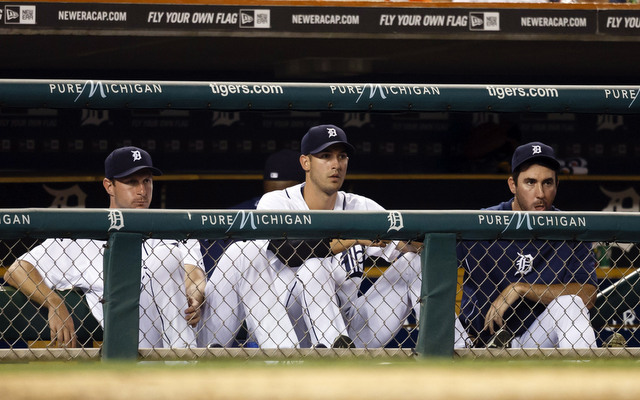 More: Likes, dislikes | Over/unders | All Team Previews | Spring Training
Another season as one of the best teams in baseball, another disappointing postseason exit. The Tigers won 93 games and their third straight AL Central crown in 2013, though they were bumped from the ALCS in six games by the eventual World Champion Red Sox. The offseason brought about big change as GM Dave Dombrowski traded Prince Fielder and Doug Fister, and also allowed Joaquin Benoit to depart via free agency. Long-time manager Jim Leyland also retired and was replaced by rookie skipper Brad Ausmus. It's a new-look Tigers team in 2014, but expectations have not changed.
Probable lineup
1. 2B Ian Kinsler
2. RF Torii Hunter
3. 1B Miguel Cabrera
4. DH Victor Martinez
5. CF Austin Jackson
6. C Alex Avila
7. 3B Nick Castellanos
8. LF Rajai Davis
9. SS Jose Iglesias
Bench -- C Bryan Holaday, UTIL Steve Lombardozzi, UTIL Don Kelly, IF Hernan Perez
I think the only players who are locked into lineup spots are Cabrera and Iglesias. Martinez is a safe bet to remain behind Miggy, but otherwise there could be quite a bit of shuffling throughout the course of the season. It's worth noting Iglesias is currently dealing with shin splits, a problem that has nagged him for years, and it's unclear if he will be ready in time for opening day. Perez would get the call at short if he's not.
Probable rotation
1. RHP Justin Verlander
2. RHP Max Scherzer
3. RHP Anibal Sanchez
4. RHP Rick Porcello
5. LHP Drew Smyly
Smyly was outstanding in relief last summer, earning himself a rotation job this year. It comes at the expense of Fister, who was shipped to the Nationals for a return that had more than a few people questioning the trade. Even without Fister though, the Tigers have arguably the best top three in baseball. Porcello continues to get better and better -- his strikeout rate, ground ball rate and ERA have improved in each of the last three years, and now he has a more defensively competent infield behind him -- and this could be the year he finally breaks out and emerges as a top starter. Even if he doesn't, he's still a fine No. 4.
Probable bullpen
Closer -- RHP Joe Nathan
Setup men -- RHP Bruce Rondon
Middle men -- RHP Joba Chamberlain, LHP Ian Krol, LHP Phil Coke, RHP Al Alburquerque
Long man -- RHP Evan Reed
The Tigers needed a closer and they went out and signed the best one on the free-agent market in Nathan. Dombrowski overhauled his bullpen this winter, with Coke, Alburquerque and Rondon (who threw only 28 2/3 innings) the only notable holdovers. Krol came over the from the Nats in the Fister trade along with Lombardozzi and pitching prospect Robbie Ray.
Under-the-radar offseason transaction
Rajai Davis, easily. His 81 OPS+ over the last three seasons is hardly impressive, but Davis hit .297/.363/.455 against left-handers during that time. He has also stolen 40+ bases in each of the last two and four of the last five seasons, and that's a speed element the Tigers haven't had in a long time. Their station-to-station approach was exposed a bit in the postseason. Davis' scheduled platoon partner Andy Dirks is going to miss a few months with a back problem, so he might play against righties more than he should the first few weeks, but as a stolen base threat and the right-handed half of a platoon, few in the game are better than Rajai.
Fantasy sleeper: Rick Porcello
"Porcello put together the second-best season of his career in 2013, with a 4.32 ERA and 1.28 WHIP. His 142 strikeouts were a career-best, and his 2.1 BB/9 tied a career low. Just 25 years old, Porcello -- who already has 868 2/3 innings pitched in his career -- is just now coming into his prime pitching years. But what really makes Porcello an attractive sleeper in 2014 has very little to do with any of these factors. With the Tigers infield now featuring Ian Kinsler and Jose Iglesias (and Cabrera moving to first), Porcello will have a far better defense behind him. In 2013, Porcello had the second-highest groundball percentage in the majors (55.5 percent) and sported an xFIP of 3.19 (with a FIP of 3.53). In short, his strength -- inducing ground balls -- was essentially wasted by a poor defense behind him. With a new-look infield, many of those balls that got through (or were mishandled) will now be turned into outs, lowering Porcello's ERA and WHIP (while alleviating his pitch count). The downside here is that Porcello's strikeout rate may dip, as he gains confidence in his defense and relies more on groundball outs. But that should be more than equalized by an improvement in ratios, making Porcello a nice sleeper for 2014." -- Nando Di Fino (Full Tigers fantasy preview)
Biggest strength
Even without Fister, I'm still going with the rotation. That top three is just too strong. Even if 2013 was a sign Verlander is starting to fade, we're still talking about three high-strikeout right-handers who are horses and will take the ball every fifth day. Scherzer won the Cy Young, Sanchez led the league in ERA, and Verlander's Verlander. Can't ignore that group. Porcello will benefit most from the new-look infield and could break out this year, as I said earlier. There might be some growing pains for Smyly as he transitions back to the rotation, but the top three is so good the club will still be in fine pitching shape.
Biggest weakness
Middle relief and possibly the entire bullpen in general. Nathan turned 39 in the offseason and he showed some very real signs of decline last season, including his worst walk rate (3.06 BB/9), ground ball rate (32.0 percent) and fastball velocity (92.3 mph) since his days with the Giants, before he even got to the Twins. Chamberlain has been hurt and ineffective the past two years and the trio of Krol, Rondon and Reed are largely untested at the MLB level. They could be great, but kid relievers are as unpredictable as it gets. This is a very high risk, high reward bullpen unit.
Outlook
The Fielder trade was a short-term loss and a long-term win while the Fister trade was just ... weird. Still having trouble wrapping my head around that one. I think the Tigers are a worse team than they were last year, at least on paper, but I still think they're the best club in the division and headed for another AL Central crown. Again, on paper.
The Tigers do have some questions heading into the season -- how will Castellanos perform? How will Smyly handle the move into the rotation? will Rondon become the bullpen force many believe he can be? -- but their offensive (Hunter, Cabrera, Martinez) and rotation (Verlander, Scherzer, Sanchez) cores are strong. I think Detroit has another division title coming but I also think they're more vulnerable now than they have been at any point in the past three years.
---
Coming Friday: Previewing the Chicago White Sox.
If the slow-play for Martinez, Hosmer and Arrieta sounds familiar, it should

The Nats will host the All-Star Game in 2018

The Orioles are looking to trade Machado heading into his walk year
The Cardinals have been linked for a while to the Baltimore star

Gallardo spent the first eight years of his career in Milwaukee

MLB revenues are at a record high right now, but teams aren't spending it on players