All-Time Single-Season Team: New York Mets
Tom Seaver, Dwight Gooden, David Wright and Gary Carter ... it's time for the All-Time Single Season team for the New York Mets.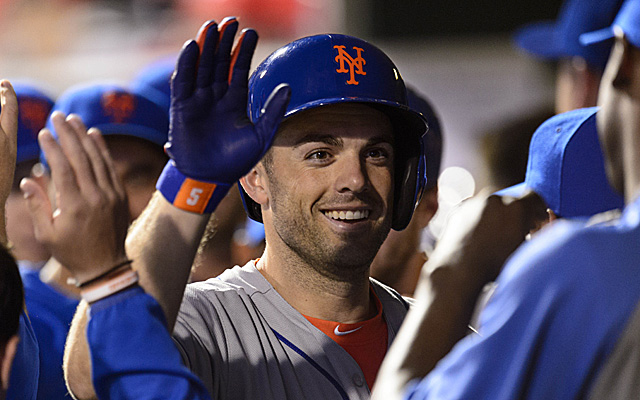 ALL-TIME SINGLE-SEASON TEAMS: CHC | STL | MIL | CIN | PIT | CHW | DET | KCR | CLE | MIN | ARI | COL | SD | LAD | SF | SEA | HOU | LAA | TEX | OAK | BOS | NYY | BAL | TOR | TBR | MIA
We're almost done with the All-Time Single-Season teams, and if you're just now catching up, certainly click on any (all!) of the above links to see some of the teams we've done thus far. The latest installment is a franchise that has won two World Series and has been around since 1962. It's the New York Mets.
Before diving in, some obligatory points.
1. This is only looking at the best single season in franchise history. Thus, don't think about "who is the best shortstop in franchise history" but instead "who had the best season at shortstop in franchise history." There's a difference, one that seems to trip people up from time to time.
2. This is subjective. That means that it's our opinion. We can have differences in opinion without one of us being stupid. Seriously, it's possible. Differences in opinion are encouraged in the comments section. Feel free to make your own lineup and compare.
3. Just for the sake of variety, we've installed a rule that one player can only be used once per team. It'll come especially handy here with the Mets' starting pitchers (ahem, Mr. Seaver).
Now, let's Meet the Mets.
CATCHER - Gary Carter, 1985
Though he finished third in MVP voting the following season and sixth in this one, Carter's first season with the Mets was his finest. He hit .281/.365/.488 (138 OPS+) with 32 homers and 100 RBI while also walking 69 times against just 46 strikeouts. He also handled one of the best rotations in the league and threw out opposing basestealers at a better clip than the league average.
Mike Piazza in 2000 was better on a rate and counting stat basis with the bat, but considering the differences in era -- 2000 being extremely favorable to hitters -- and that the numbers are close on an adjusted basis, Carter's big lead in defense tilts the scales here.
Todd Hundley's 41-homer effort in 1996 was in the mix with a few Carter years and several Piazza years. Paul Lo Duca and John Stearns probably deserve to at least be mentioned, too.
FIRST BASE - John Olerud, 1998
Expecting Keith Hernandez? Olerud's '98 year has any Hernandez season in Queens trumped rather handily. Olerud hit .354 with a .998 OPS that season. Yes, it was an extreme hitters' era -- as mentioned above -- but Olerud's OPS+ of 163 shows he was still significantly better than average.
Olerud also had 36 doubles, 22 homers, 93 RBI, 91 runs and 197 hits. Fangraphs.com's version of WAR shows this Olerud season as the second-best in single season in Mets history.
In addition to several very good seasons for Olerud and Hernandez, Carlos Delgado had a few good power seasons while Dave Magadan (1990) and Eddie Murray (1993) got a quick look.
SECOND BASE - Edgardo Alfonzo, 2000
For an ever-so-brief window, Alfonzo was one of the best middle infielders in all of baseball. It was short-lived, sure, but that doesn't take away from his stellar 2000 season -- in which he helped lead the Mets to the World Series.
That season, Alfonzo hit .324/.425/.542 (147 OPS+) with 40 doubles, 25 homers, 94 RBI, 109 runs and 95 walks against 70 strikeouts.
Bonus points here for Alfonzo hitting .444 with a double, triple and four RBI in the NLCS, which the Mets won in five games.
Overall, second base hasn't been a great position for the Mets in their franchise history. Alfonzo had the two best seasons, otherwise we're picking between Jeff Kent (before he became a star), Gregg Jefferies, Ron Hunt, Felix Millan and Wally Backman.
SHORTSTOP - Jose Reyes, 2011
This was only a question of which Reyes season to use. On a counting stat basis, 2008 would be the pick, but I'm more of a rate stat guy. Reyes missed some time in 2011 due to injury issues, but when he played he was outstanding.
He led the majors with 16 triples (in only 126 games) and the NL with a .337 average. He also walked (43 times) more than he struck out (41 times), stole 39 bases in 46 tries and scored 101 runs. Thirty-one doubles and seven homers helped him to a career-best .493 slugging percentage. His .384 on-base percentage was also a career high.
Thankfully, we had Reyes as an option here. Otherwise, the pickings consist of Rey Ordonez, Jose Vizcaino and Bud Harrelson.
THIRD BASE - David Wright, 2007

He finished fourth in MVP voting that season. Of course, had the Mets not choked away a seven-game lead in the NL East in the last three weeks of the season, he may well have won. Put simply: Wright was awesome at everything in 2007.
He finished in the top 10 in the NL in average, on-base percentage, OPS, OPS+, runs, hits, total bases, RBI, walks, steals and more.
The line: .325/.416/.546 (149 OPS+) with 42 doubles, 30 homers, 107 RBI, 113 runs and 34 stolen bases. He was a 30-30 guy who won a Gold Glove and Silver Slugger. Oh, and you know how I mentioned WAR in Olerud's section above? The person above him was '07 Wright.
Captain America indeed.
Wright did have competition here. Mostly from himself, but Howard Johnson had some very good seasons (look at 1989 or 1991 in particular) and Robin Ventura in 1999 was great as well. It can't hurt to throw Ray Knight and Len Randle mentions either.
LEFT FIELD - Cleon Jones, 1969

The Amazin' Mets won 100 games and the World Series in 1969, and Jones was the best all-around position player. He hit .340/.422/.482 (151 OPS+) with 25 doubles, 12 homers, 75 RBI, 92 runs and 16 stolen bases while flashing good leather in left. He also had a huge NLCS (.429 with two doubles, a homer and four RBI) in a three-game sweep of the Braves.
On career acumen, Kevin McReynolds would have probably gotten the call here while Bernard Gilkey's unlikely 1996 explosion was the runner up here in a single-season judgment. Cliff Floyd and George Foster each had a nice power season and Joel Youngblood's 1979 season was also worth mention either here or in right field.
CENTER FIELD - Carlos Beltran, 2006

It's too bad the small-minded have relegated the 2006 season for Beltran to one at-bat, because the Mets don't come even remotely close to having a chance at the World Series without Beltran.
That season, Beltran hit .275/.388/.594 (150 OPS+) with 38 doubles, 41 homers, 116 RBI, 127 runs and 18 stolen bases. He won a Gold Glove and Silver Slugger.
Now, yes, Beltran struck out with the bases loaded against Adam Wainwright to end Game 7 of the NLCS with a 3-1 Mets loss. That's true. What's also true is that Beltran hit .296 with a 1.054 OPS while Wright, for example, hit .160 with a .596 OPS. Beltran had three of the Mets' eight homers in the series. There were some bad pitching performances, too. The bottom line is that it's ridiculous to blame one man for the collective failure of an entire team to advance -- especially when that man had a good series and others (Billy Wagner?) did not.
So, yeah, Beltran's my pick. Deal with it.
Tommie Agee had several years worthy of consideration, same as Mookie Wilson. Beltran had several seasons toward the top. How about Lance Johnson in 1996? That could have worked.
RIGHT FIELD - Darryl Strawberry, 1987

Remember when Straw was headed to Cooperstown? What a great player he was before his demons got the best of him for a stretch. From 1983-91, Strawberry was absolutely Hall of Fame good and '87 was arguably his best work -- though, I must say, this was an incredibly difficult choice between 1985, 1987, 1988 and 1990.
The line in '87: .284/.398/.583 (162 OPS+), 32 doubles, five triples, 39 homers, 104 RBI, 108 runs and 36 stolen bases.
Strawberry would finish sixth in MVP voting that year, second in 1988 and third in 1990 for the Mets. Pick any of those (or '85, where he only managed 111 games but was excellent) and we're good.
No one other than Strawberry was seriously considered, but Bobby Bonilla in 1993 had a good year and Rusty Staub was pretty damn good in 1975.
STARTING PITCHERS - 1971 Tom Seaver, 1985 Dwight Gooden, 1969 Jerry Koosman, 1998 Al Leiter, 2008 Johan Santana

The Mets are as pitching rich a team as there is from the time of their inception. It was an unbelievably crowded field from their early years up until this past season -- and, yes, Matt Harvey got serious consideration here.
Obviously there might be some disagreement on the season selected from Seaver, because he had so many worthy campaigns. We can't go wrong with Tom Terrific, so feel free to pick nits on that one.
The five seasons I chose ...
Seaver: 20-10, 1.76 ERA, 194 ERA+, 0.95 WHIP, 289 K, 286.1 IP, 21 CG, 4 SHO
Gooden: 24-4, 1.53 ERA, 229 ERA+, 0.96 WHIP, 268 K, 276.2 IP, 16 CG, 8 SHO
Koosman: 17-9, 2.28 ERA, 160 ERA+, 1.06 WHIP, 180 K, 241 IP, 16 CG, 6 SHO
Leiter: 17-6, 2.47 ERA, 170 ERA+, 1.15 WHIP, 174 K, 193 IP, 4 CG, 2 SHO
Santana:16-7, 2.53 ERA, 166 ERA+, 1.15 WHIP, 206 K, 234.2 IP, 3 CG, 2 SHO
Seaver in '71 paced the NL in ERA, ERA+, WHIP and strikeouts, though he still only finished second in Cy Young voting to fellow Hall of Famer Fergie Jenkins.
Gooden, well, what can you say? It's amazing how good he was before self-sabotaging. Top-tier Hall of Fame talent.
With Koosman, we had to have a hurler from that outstanding '69 staff. He was the second-best pitcher on the staff, but the best was Seaver and we can't use him twice.
As for Johan's first season as a Met, he led the NL in innings pitched, batters faced and ERA. Quality run prevention there.
A litany of pitchers were considered, including the likes of Jon Matlack, Pedro Martinez, David Cone, Bret Saberhagan, Frank Viola, Harvey and, of course, the 2012 Cy Young winner, R.A. Dickey.
RELIEF PITCHERS - 1999 Armando Benitez, 1983 Jesse Orosco, 2006 Billy Wagner

Benitez holds the single-season franchise record in saves (43), but his best effort -- rather easily -- came in '99 when he wasn't even the closer until around mid-June. He posted 17 holds and 22 saves against six blown saves with a 1.85 ERA, 1.04 WHIP and a whopping 128 strikeouts in 78 innings. Opposing hitters managed just a .148/.260/.236 line against him.
Orosco is our ironman reliever, one like we've seen pop up on several teams. He worked 110 innings that season while winning 13 games and saving 17. He had a 1.47 ERA (229 ERA+) with a 1.04 WHIP. Perhaps the best illustration of his value is that he finished third in NL Cy Young voting that season despite not being predominantly used as a closer.
In terms of the ironman role, Orosco barely nudged out a few seasons from Tug McGraw.
In Wagner's first season with the Mets, he was outstanding, saving 40 games in 45 chances with a 2.24 ERA (196 ERA+), 1.11 WHIP and 94 strikeouts in 72 1/3 innings.
Others who a worth a mention: Randy Myers, Rick Aguilera, Skip Lockwood, Francisco Rodriguez and Braden Looper.
[NOTE: John Franco was the first guy who missed out. Had I gone to four, he would've been on it. And then I forgot to list his name as others considered initially. My bad.]
---
THE LINEUP
1. 2011 Jose Reyes, SS
2. 2007 David Wright, 3B
3. 2006 Carlos Beltran, CF
4. 1987 Darryl Strawberry, RF
5. 1985 Gary Carter, C
6. 1998 John Olerud, 1B
7. 1969 Cleon Jones, LF
8. 2000 Edgardo Alfonzo, 2B
It definitely doesn't look as stacked as some other teams, but bear in mind the eight-hole had a 147 OPS+. And don't forget about that pitching staff.
Up next: The Boston/Milwaukee/Atlanta Braves
The lefty starter is coming off a terrible season

After acquiring Ian Kinsler and Zack Cozart in recent days, the Angels are trending upward

Cozart's coming off a big season as the Reds' shortstop
The veteran slugger spent the last eight seasons with Cleveland

The Padres may be poised for an active winter

Yes, Bryce Harper is going to make a lot of money next winter