Andrelton Simmons and his historic defensive wizardry
Advanced defensive metrics show Braves shortstop Andrelton Simmons is exceptional. One measure has him with the best score in the past decade already.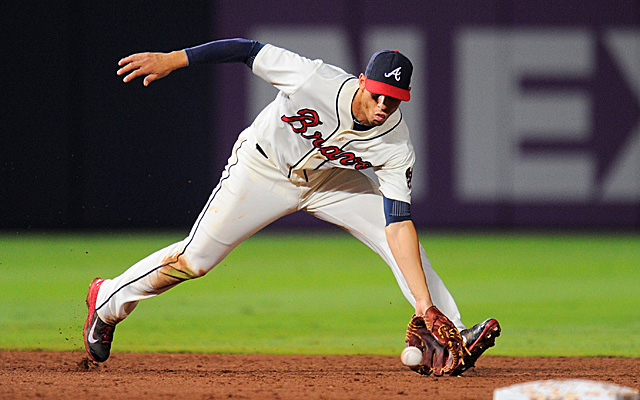 More MLB: Scoreboard | Standings | Probable Pitchers | Sortable Stats | Odds
Braves shortstop Andrelton Simmons is a slick defensive player. We know this. The eye test tells us as much with plays like this:
But just how good is he? Fielding percentage can only tell us so much, considering a player can't make an error on balls he can't get to. That is, range can't be measured with fielding percentage.
Some advanced metrics give it a shot. Fangraphs.com uses Ultimate Zone Rating, for example. Simmons ranks second in the majors behind Manny Machado -- a shortstop playing third base -- in UZR. He has a stupid-huge lead against all other shortstops, as his 23.4 figure dwarfs the 10.9 posted by Yunel Escobar, who ranks second among qualifying shortstops. That's a colossal lead at a premium defensive position.
Over on Baseball-Reference.com, Simmons leads the majors with a 4.7 defensive WAR (wins above replacement). That is, by the measure of that website, Simmons has single-handedly won 4.7 games more than a replacement-level player with his glove and arm alone.
If that doesn't impress you, maybe this will: Hall of Famer Ozzie Smith's single-season career high dWAR was 4.7.
John Dewan of Baseball Info Solutions has been calculating defensive runs saved for the past decade. The calculation process is incredibly complex, but essentially what is being measured is how many runs a player saves (or gives up, because a negative score is obviously possible) his team on defense over the course of a season.
The record heading into this season -- again, remember we're only talking about the past 10 seasons -- was 35 runs saved by Brett Gardner in 2010. The most for a shortstop was 34 by Adam Everett in 2006.
Simmons has 37 defensive runs saved right now (via Bill James Online). Yes, a record already with 35 games left to play. This is a cumulative stat, too, so Simmons can push this figure well over 40 if he keeps playing sterling defense. And why wouldn't he? He's healthy and only 23 years old.
So if you see a .248/.296/.365 line on Simmons and wonder why he plays everyday for the Braves, just remember the importance he has to this team -- particularly in helping his pitching staff. He's so good on defense that you have to consider any offense he provides is gravy.
Obviously, defensive metrics are tough. It's very difficult to put a number on something like "how much ground does he cover." But absolutely every metric out there with a range component says Simmons is having a historically good season with the glove.
In conclusion:
Hat-tip: Baseball Think Factory
The coveted right-hander would certainly be a fit in Milwaukee

We rate the best mustaches from random baseball cards because, why not?

Colon wants to break a Dennis Martinez record
The Twins have been rumored to be interested in Darvish all winter

Rolen is one of the best third basemen of all time, but you wouldn't know it based on this...

Neither Josh Donaldson nor Brian Dozier have talked about a new contract extension