A's look to take next step in playoffs after winning AL West again
With their second straight AL West crown, the A's know how to win division titles. Now, the A's look to advance in the postseason.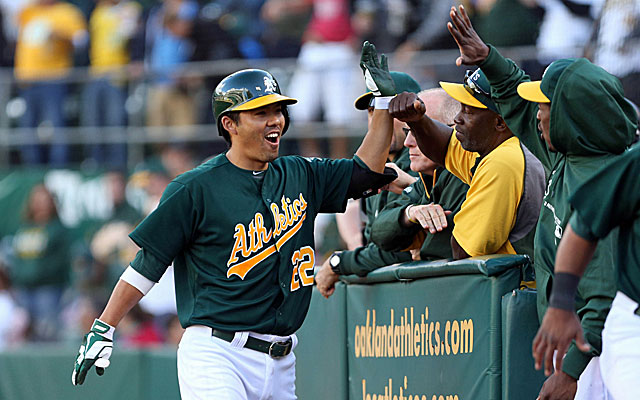 The A's have September figured out.
Don't be surprised if this is the year they figure out October, too.
They won't be favored, of course. The A's rarely are favored. They weren't favored in the American League West last year, and they weren't favored this year.
They won last year, and now they've done it again.
It's a great story they're writing, the story of a group of players who have found a home on a team that can't find one. They play for now in a ballpark best known for its sewage, which shows up in the most unfortunate places at the most unfortunate times.
They play in a park that doesn't favor home run hitters, but they win by hitting home runs. They trade away proven pitchers to teams that think they're ready to win, and take back unproven pitchers and win with them instead.
Their big offseason acquisition was a shortstop, Jed Lowrie, who they traded for when they already had a shortstop (Hiriyuki Nakajima). Good thing they did, because Nakajima either wasn't good or wasn't healthy or was both, and never played a game for the A's this year.
When he traded for Lowrie, general manager Billy Beane said he wanted to try to build on the surprise success the A's had last year.
"We wanted to do everything we could to make the team better," he said.
They did. And they were better.
And after a second straight stellar September, they once again overtook the fading Rangers.
The Rangers are left to fight for a wild-card spot, and to try to figure out why September has been so cruel. Meanwhile, the A's are asked why their Septembers are so good.
Tne theory: Manager Bob Melvin doesn't use a set lineup, and platoons at several positions, and thus the A's don't get worn down over a long season. Brandon Moss leads the A's in home runs, but most often doesn't play when the A's face a left-handed pitcher.
Lowrie and Josh Donaldson, the third baseman who should have been an All-Star and is the A's MVP (although not the AL MVP), are the only players with 600 plate appearances.
"I think it does allow us to be a little fresher than some teams," Melvin said.
The A's didn't have as much ground to make up this time around. Last year, they were still under .500 in early July, and were 13 games behind the Rangers at the end of June. This year's A's have had a winning record in every month, and spent much of July in first place.
One similarity between the two seasons: The A's didn't hit many home runs in the first half of either season, then outhomered everyone after the All-Star break.
No one seems to have a good answer for why that is. No one around the A's seems to really care, and they probably shouldn't.
They only cared about getting better this year, and they have. They cared about winning the division again, and with their second straight September spring, they have.
They go into the postseason this year with Bartolo Colon, who didn't pitch last year because of a drug suspension. The 40-year-old Colon lifts the average age of a starting rotation where everyone else is 26 or under, but he fits in with this group of players who have mostly outperformed expectations in one way or another.
The A's caught and passed the Rangers a lot earlier this time around, and they deprived us of all that final-week fun and excitement there was last year, but that's fine, too.
Maybe this year, they'll make up for it in October, in what could be a Division Series rematch with the Tigers.
The Tigers would be favored, but don't ignore the A's. They may have this thing figured out.
Puig has a healthy relationship with his club of choice and gave the quote of the night

The Dodgers are back in the World Series thanks to a smartly built roster, analytics and m...

Seager missed the NLCS with a back injury
The Cubs foundation is still strong, but Theo Epstein and company have work to do

Turner and Taylor are the third set of co-MVPs in LCS history

Stylistically, the Dodgers seem to match up better against the Yankees and here is why